Chocolate pollies in choccy parliament melt in the global warming?
Mood:
quizzical
Topic: globalWarming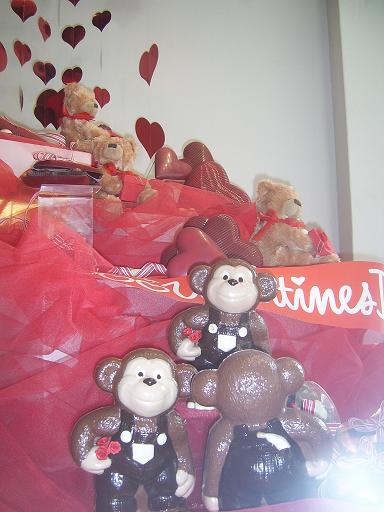 Picture: The current chocolate display Rozelle confectioners Darling St Sydney taken 6th Feb 2007

Our job at SAM website is to push the hard questions, push the alternative news that gets missed, and join the dots as best we can, without fear or favour. Hence the go hard on the '12 metre sea rise' threat from global warming in recent days based on views of superior scientists like Dr James Hansen a director at NASA, Professor Tim Flannery here, Dr Chris West UK Govt Director of Climate Impacts Programme.
The alarming sea rise issue seems to all turn on whether ocean rise of 2 mm per year has escalated to a higher rate of 3+ mm per year and whether this heralds exponential melting rates of Greenland and West Antarctic ice shelf. This small initial sea rise sounds trivial but it's not, like the fable of the grains of rice on the chess board. Or a slow roll of a huge boulder at the top of an entropic hill before momentum takes over. Exponential rates make tiny numbers turn to infinity fast. If Greenland and West Antarctic ice melt turns exponential we are in big big trouble within decade(s).
Hansen for instance is quoted as saying Feb 2nd 2007:
"Now IPCC could not estimate the ice sheet contribution because it is a nonlinear problem and they don't know how to do it. Ah, but I think they should warn people more strongly about that danger because I think it's the greatest danger that humanity faces in the global warming problem. " http://www.loe.org/shows/segments.htm?programID=07-P13-00005&segmentID=1
Mainstream politics is tuning in also to the glaring omission of the latest UN IPCC report, with help from lobbying by this writer. The above scientists are right to sound the alarm too which applies the Precautionary Principle regarding the whole world's future.
We were agog at the cosy reparte of ambitious deputy leader of the Liberal Party Peter Costello with Opposition Leader Kevin Rudd on ABC TV news last night, his ostensible rival. Costello must know sea rise is scary. He knows his own Treasury and Finance boffins were cut out of a boondoggle for the National Party irrigators in a $10B water package by PM Howard recently. Howard is in a policy panic over perceptions of water shortage caused by climate change and it shows.
As Rudd announced a states wide summit for Premiers and others on climate/water situation recently Howard goes the $10 billion sledgehammer with his own water summit this Thursday 8th of February 2007.
All this federal posturing complains NSW Opposition leader Debnam, with his own NSW election to fight, is complaining of no oxygen for his issues.
In the biplay Howard minister Turnbull has clipped the NSW Govt $50M plan
http://www.smh.com.au/news/national/50m-for-a-weeks-water/2007/01/31/1169919402612.html
to take water from the Kangaloon aquifer:
"Less than a day after becoming Federal Environment Minister, Malcolm Turnbull put a stop-work order on the NSW Government's $50 million aquifer in the Southern Highlands because of fears the work could pose a danger to a protected wading bird.": Sydney Daily Telegraph January 26th 2007, p6
So much for letting the States do necessary infrastructure for water, to quote the PM Howard criticism back at him.
As if in a tantrum, Premier Iemma has 6th of February pre emptively announced tender invitations to big construction companies who just happen to be donors, for the dreaded desal plant at Kurnell here:
"The NSW Opposition plans to tap the Botany aquifer to provide up to 5 per cent of Sydney's future water if elected in March, but the Iemma Government has committed itself to building a $1.9 billion desalination plant. "
If it doesn't go ahead the tenderers will get millions in compensation for all the preparatory work.
So Debnam is right to complain that Federal politics is crowding him out as various water dominoes fall around him in a chain reaction. Pollies are melting under the pressure of climate change implications like the chocolate monkeys if they were left in the glaring sun.
Purely by coincidence the inventor of chocolate Freddo Frogs which sell 98 million per year here in Australia died recently at 94 according to the local press:
http://www.smh.com.au/news/National/Freddo-Frog-inventor-dies-aged-94/2007/01/28/1169919206445.html
That coud be a surreal metaphor for ice melting climate sceptic pollies like PM John Howard who is sounding more shrill by the day. In fact the whole of the two party duopoly of the ALP and Coalition in Parliament House might also melt (like this chocolate one below) under climate change leaving The Green Party in government. Time will tell: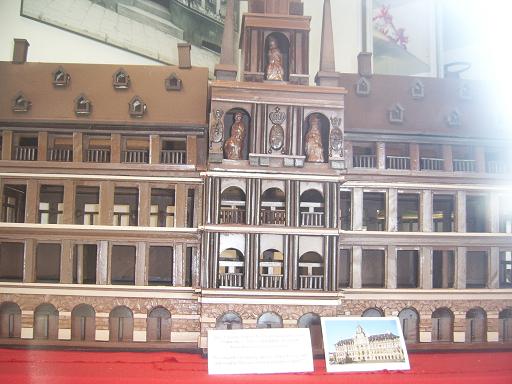 Posted by editor at 8:46 AM EADT
Updated: Thursday, 8 February 2007 7:56 AM EADT