M4 East road plan: ALP Premier's moral veil of therapeutic cloning can't cover environmental atrocities
Mood:
sharp
Topic: nsw govt

In the months leading up to the state election new Premier Iemma's government was mercilessly attacked by both major dailies Sydney Morning Herald and Daily Telegraph for allowing the economy to stagnate. There were widespread fears as here NSW economy a brake on prosperity: PM - Breaking News - National ... affecting the political news cycle.
These fears didn't quite eventuate as reported here NSW economy 'sound' despite low growth. 06/09/2006. ABC News Online and here: Growing NSW economy dodges recession fears - Economy - State
However we wrote a prediction 12 months ago on Sydney IMC website that the environment was in for a thrashing under Iemma as a result. We predicted it would be a lead foot on the accelerator for economic growth at any cost ….to save his venal political career. Similarly we almost got beaten up for writing this outside a polling booth on election day: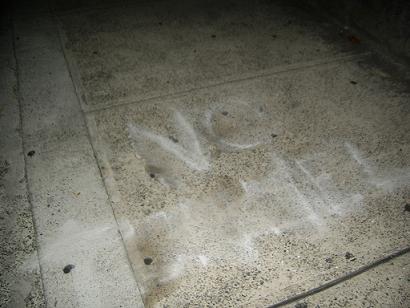 Picture: Embarrassing secret ALP policy? We chalked about 5 of these NO TUNNEL signs and they were washed off presumably by the ALP booth workers within 10 minutes before 7 am corner of Warren Rd and Illawarra Rd 24th March 2007.
In this sense Iemma is no different to predecessor Carr forced out in 2005 for lack of confidence as the moral veil for his atrocities disintegrated. Carr was all for the same Big Business cronyism, nepotism and favours to Big Business in the Union, Construction and Finance sectors involving various public policy atrocities: Tollway roads, congested expansion of centralised port facilities at Botany, pulling the teeth of the Environmental Planning Act. It was an evil ten years facilitated by a moral veil over the wickedness: In Carr's case natural heritage protection with 300 odd national parks.
But Carr did his best to ruin even that with just as much forest destruction at record high rates still going on today: Chipstop Campaign in SE NSW
Iemma's political strategy has been very simple and effective to date in response to the core issue of economic competence – take on huge public debt to finance rollout of infrastructure development at any environmental or amenity cost to pump prime the economy to moderate the savagery of the Big Media. So there was never any doubt about Anvil Hill coal mine approval under his regime as here, only the timing:
Anvil Hill approved: Iemma gutless on coal and climate change ...
Anvil Hill Mine Approved - Investor Relations > ASX/Media Releases ...
They Big Media/Big Business Complex must be fed big chunks of meat for their institutional clients/advertisers to keep the revenue churning over. And so former political numbers man at Sussex St, now Treasurer Michael Costa will roll out this strategy for the NSW budget on 19th June 2007 with some $10 to 20 billion in public debt.

But like Carr he needs a moral figleaf to suspend disbelief at the gorging and rorting at the expense of the public. As a long time participant and critic of NSW politics this writer has learned the public will only suspend their disbelief, even the more naïve plods in companies like Media Monitors, if there is a symbolic higher moral purpose to keep believing democracy is not in fact broken in an appalling money politik gerrymander. In Iemma's case that figleaf is now apparent being therapeutic cloning: MPs to debate ban on therapeutic cloning - Breaking News ... to help find the cure to various illnesses.
Carr – natural heritage. Iemma – curing the sick. And the fact it involves sledging meddlesome Cardinal Pell is a side benefit with Mr Iemma senior reportedly being a bitter critic of the old village priest back in Italy.
It's a cynical strategy for an ALP Govt that has lost its existential purpose and simply funnels money to its mates. But it causes some strange jarring results. Verity Firth MP newly elected in Balmain was busy leading the PR on therapeutic cloning but will have a new M4 East road through her electorate:

No mention of this pre election. The road will certainly generate greater air pollution congestion and cancers needing a cure from cell cloning.
Similarly former minister Carmel Tebbutt and MP for Marrickville will also likely have a tunnel with cancer causing ventilation stacks for the same road. No wonder she bailed out of cabinet on election night, to get some daylight between herself and this thuggish cynical Premier: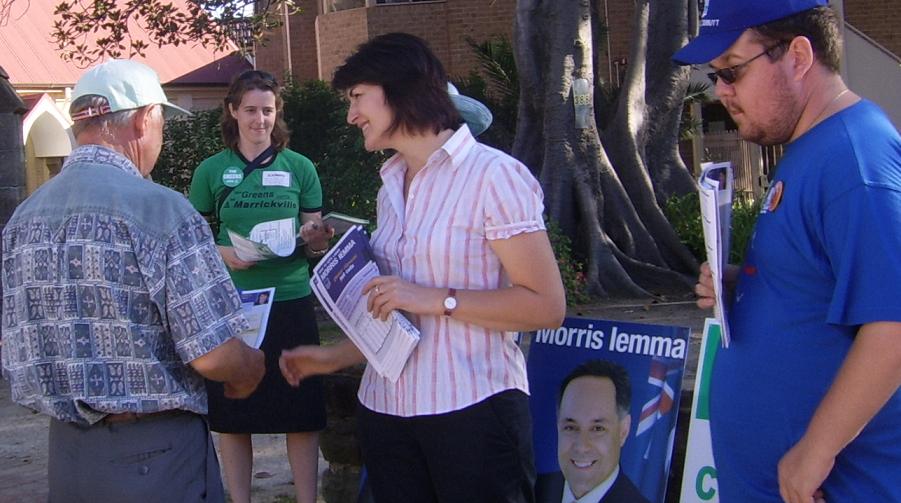 Picture: Taken at 9.35 am election day 24th March at corner of Illawarra Rd and Warren Rd Marrickville, 3 hours after earlier incidents, 24th March 2007: Question: "Tom McLoughlin, SydneyAlternativeMedia news blog. On the record Minister, in relation to the terrible truck accident in the [Burnley] Tunnel in Melbourne, do you think that could happen here in Sydney with so many motorway tunnels?" Answer by Carmel Tebbutt local ALP MP for Marrickville: "I don't know anything about that. I really couldn't say."
MEDIA RELEASE - 13 June 2007

M4 East motorway another post election Labor bad news story

Greens MP and transport spokesperson Lee Rhiannon said today that Premier Morris Iemma and other prominent Labor MPs mislead the people of the Inner West by not announcing prior to the NSW election that they intended to proceed with the M4 East motorway through the inner west.

"Labor knows that the M4 East is a bad news story and they wanted to sweep their plans under the carpet until after the NSW election," Ms Rhiannon said.

"Prior to the NSW state election Marrickville MP Carmel Tebbutt, Balmain MP Verity Firth and Roads Minister Eric Roozendaal denied that the Labor government had any plans to build the M4 East.

"It is now clear that the Labor MPs were wolves dressing up in sheep's clothing.

"The M4 East will increase traffic congestion and air pollution and be a financial drain on the public purse.

"The Richmond Review revealed that inner surburban motorways such as the M4 East would not be economically viable.

"The Iemma government will have to take money out of schools and hospitals to subsidise this motorway.

"The costs of this project far outweigh any so-called benefits to the community. There will be increased traffic congestion, pollution, accident costs and reduced public transport patronage.

"This project does not fit into any strategic network planning for the Inner West.

"The Greens forced the release of papers last year that showed that the M4 East motorway was on the cards but the Iemma government were quick to put a cone of silence around their plans.

"The Iemma government mislead the public on this issue. Sydney will now be lumped with yet another traffic inducing expensive motorway", Ms Rhiannon said.

For more information: Lee Rhiannon 9230 3551, 0427 861 568

………………………..
The last word should go to community group RAPS which has suffered the M5 East all these years as an indicator of what the rest of Sydney is now about to suffer.
R A P S Residents Against Polluting Stacks Inc, Sydney NSW Australia www.nostack.8m.com
---
J U N E 2 0 0 7 N E W S R A P S #1
NEWS......NEWS......NEWS......NEWS......NEWS......NEWS......
---
01 FRUSTRATION AS MURKY M5 EAST FILTRATION PLAN STALLS YET AGAIN
02 DOES THE NSW ROADS MINISTER REALLY KNOW WHAT'S GOING ON?
03 NATIONAL CONFERENCE INTO AIR QUALITY IN AND AROUND TUNNELS
04 'GRIM POLLUTION DEATH WARNING' - DAILY TELEGRAPH 06.06.2007
05 'SOMETHING IN THE AIR' - SMH 01.06.2007
06 'HEALTH FEAR OVER DIESEL' - SMH 01.06.2007
07 'SMOG THREAT FOR DRIVERS IN TUNNEL' - SMH 27.05.2007
08 'SYDNEY ON SMOG ALERT - DAILY TELEGRAPH 26.05.2007
09 SMS POLLUTION ALERTS NOT ENOUGH: GREENS' - ABC MEDIA 26.07.2007
10 'GREENS CRITICISE SMS SMOG ALERT PROPOSALS' - SMH 26.05.2007
11 "SMS ALERTS A DOOMSDAY RESPONSE TO SYDNEY'S KILLER POLLUTION"- NSW GREENS MEDIA
---
B R I E F w R A P S
---
* Sign the global petition for world leaders to take action on climate change, in the lead up to tne next G8+5 summit. http://www.avaaz.org/en/climate_g8/tf.php
* Hello to the Botany Bay and Catchment Alliance which posts our newsletter to its website. Incrased container movements into Sydney will impact the already overloaded M5 East: http://www.botanybay.info/
* Comment on the Independent Port Botany review before June 8: http://www.ipart.nsw.gov.au/search/search_results.asp?sidebarSearchTextBox=port+botany&Search=Search
* Engineering firm Heggies has been contracted by Willoughby City Council to install, operate and maintain an Ambient Air Quality Monitoring Station to assess the impact of the Lane Cove Tunnel on
local air quality. The station will monitor carbon Monoxide, oxides of Nitrogen (NOX), PM10 and PM2.5. http://www.infolink.com.au/articles/Heggies-to-assess-the-impact-of-Sydneys-Lane-Cove-Road-Tunnel-on-local-air-quality_z52104.htm
* Farewell and best wishes to Sun Herald journalist Alex Mitchell, a long time supporter of RAPS who has now retired from the newspaper.
* Residents around the Cross City Tunnel portals can now receive emails from the tunnel operators about planned venting of emissions from portals. Under the Conditions of Approval,vehicle emissions must be discharged from the Tunnel through the stack except in emergencies http://www.crosscity.com.au/DynamicPages.asp?cid=99&navid=9 and air qualityreports:http://www.crosscity.com.au/DynamicPages.asp?cid=100&navid=9. But why just the Cross City Tunnel?
* Read the government health study and compare the results with what residents had to say about the health of the effects of the Port Kembla smoke stacks: https://www.mja.com.au/public/issues/171_4_160899/westley/westley.html and http://www.sep.org.au/cancer/inquiry/index.htm and http://www.sep.org.au/cancer/findings.pdf
* Sydney's transport system is unnecessarily confusing because passengers are not given enough information or encouragement to use major transit hubs, a NSW Auditor General's audit has found.
http://audit.nsw.gov.au/publications/reports/performance/2007/public_transport/publictransport-contents.htm and http://www.smh.com.au:80/news/national/lost-in-transit-were-going-nowhere-fast/2007/06/06/1181089151642.html?sssdmh=dm16.263558 and http://www.nsw.liberal.org.au/public_news_and_events/media_releases/transport_interchanges_labor_has_failed_to_meet_long_term_transport_needs.html and http://lee.greens.org.au/index.php/content/view/1886/50/
* Queensland has become the first state to increase taxes on gas-guzzling cars in an attempt to encourage more motorists to buy fuel-efficient hybrid vehicles. http://www.smh.com.au:80/news/national/car-taxes-to-rise-in-green-drive/2007/05/30/1180205338904.html
---
01 FRUSTRATION AS MURKY M5 EAST FILTRATION PLAN STALLS YET AGAIN
---
RAPS is concerned very little has been done since the March election regarding the M5
East filtration proposal.
Latest news from the RTA is that it could be months before additional information required by
the Department of Planning's February Compliance Audit is gathered : http://www.planning.nsw.gov.au/asp/m5.asp
However, RAPS will now meet with the RTA on June 19th
02 DOES THE NSW ROADS MINISTER REALLY KNOW WHAT'S GOING ON?
---
On 31st May, 2007, in response to a question by the the Hon David Clarke on the
progress of air quality improvements in and around the M5 East tunnel, Roads
Minister Roozendaal told the NSW Upper House that a package of measures
was being put in force to improve air quality in and around the tunnel, that the
government was committed to the installation of Australia's first road tunnel
filtration system and that a revised ventilation strategy would not commence
until the filtration plant was operational.
The Minister's answer, unfortunately, shows that little progress has been made, with
the RTA apparently sticking to its flawed plan, or the Minister not being kept properly
informed.
* Minister's response: http://parliament.nsw.gov.au/prod/parlment/hanstrans.nsf/v3ByKey/LC20070531
* Is the Minister in control? http://www.smh.com.au:80/news/national/minister-in-drivers-seat-on-road-to-nowhere/2007/05/30/1180205338928.html
03 NATIONAL CONFERENCE ON AIR QUALITY IN AND AROUND TUNNELS
---
The National Health and Medical Research Council's 'Air Quality in and around
tunnels' conference was held in Canberra on Tuesday 15th May, 2007.
The aim was to provide advice to Federal Health Minister, Tony Abbot on the need
for new air quality regulations in and around tunnels. It was chaired by prominent
epidemiologist, Professor Michael Moore of Queensland University with experts
on air quality such as Professor Lidia Morowska of Queensland University of
Technology, co-author of the recent WHO document on the design of health
investigations of the impacts of pollution.
In all, there were about 50 attendees from departments of health end environment
around Australia and others from medical and air quality backgrounds. Community
advocates included Graham Lorrimer from Victoria, who advised the community
on the Burnley tunnel and Sydney community representatives Professor Ray
Kearney and Mark Curran.
Although it is clear that the most effective way of controlling pollution is at the source,
by cleaning up the fleet, reducing both traffic and congestion and the use of public
transport, it was also clear that there are significant concerns about the levels of
in-tunnel pollutants and the way in which they are regulated. In addition, there was
concern about the way in which impacts outside the tunnels are addressed.
There was a widely held opinion that the current 'rules' look inadequate and that,
besides carbon monoxide- the only component currently regulated - it is important to
consider nitrogen dioxide and particles, both by themselves, but more importantly
acting together.
The information is still embargoed but there should be an announcement before July.
The M5 looks to be amongst the worst polluted urban tunnels in the developed world.
What is considered bad in Europe is a daily event in the M5.
* Watch RAPS conference webpage for updates: http://www.raps.bur.st/nhmrc/tunnels/index.html
* Background media : http://www.news.com.au/story/0,23599,21623225-421,00.html
* RAPS discussion paper on regulation of pollutants in Sydney tunnels: http://www.raps.bur.st:80/nhmrc/tunnels/index.html
04 'GRIM POLLUTION DEATH WARNING' - DAILY TELEGRAPH 06.06.2007
---
" Air pollution could kill one Sydney resident every four hours by the year 2030
if the city's car obsession continued at its current rate, the lord mayor said today.
The figure is eight times the number of people killed in road accidents."
* Daily Telegraph story from 07.06.2007: http://www.smh.com.au:80/news/news/something-in-the-air/2007/05/31/1180205408805.html
05 'SOMETHING IN THE AIR' - SMH 01.06.2007
---
" Diesel produces fewer greenhouse gases than unleaded petrol but it is more
dangerous to our health.
Demand for diesel-powered cars is soaring. Australians bought more diesel cars
in the first four months of this year than they did in the whole of 2005.
However, the explosive growth is a double-edged sword."
* SMH story from 01.06.2007: http://www.smh.com.au:80/news/news/something-in-the-air/2007/05/31/1180205408805.html
06 'HEALTH FEAR OVER DIESEL' - SMH 01.06.2007
---
" A big increase in the number of diesel cars - including those using so-called clean
diesel - has raised fresh concerns about the health effects of the fuel.
An immunologist, Ray Kearney, said the emissions from diesel had been linked to
asthma attacks, cardiovascular and respiratory disease and cancer. Governments had
been slow to legislate against it, he said.
"Diesel pollution kills people. One in five lung cancer deaths can be attributed to fine
particles from burning fossil fuels," Dr Kearney said.
SMH article: http://www.smh.com.au:80/news/national/health-fears-over-diesel/2007/05/31/1180205431088.html
and commentary: http://www.smh.com.au/news/news/comment/2007/05/31/1180205408796.html
07 'SMOG THREAT FOR DRIVERS IN TUNNEL' - SMH 27.05.2007
---
" NSW motorists may be warned to wind up their windows when entering smoggy freeway
tunnels under a proposal being considered by the State Government.
A report resulting from last year's parliamentary air quality inquiry has recommended motorists
keep their windows up when driving through tunnels.
The Roads and Traffic Authority has continually declined to place health warnings at the entrance
to tunnels, but Parliament could force it to act."
* SMH story from 27.05.2007: http://www.smh.com.au/news/national/smog-threat-for-drivers-in-tunnels/2007/05/26/1179601733713.html
08 'SYDNEY ON SMOG ALERT - DAILY TELEGRAPH 26.05.2007
---
" Sydney residents will be able to register for real-time Government SMS air pollution health
alerts under a proposal Premier Morris Iemma will take to Cabinet next week.
The Saturday Daily Telegraph reports that an email and SMS advance warning system would
be developed in response to key recommendations from a parliamentary air quality inquiry last year.
The inquiry report warned that 1600 people were dying every year from air pollution related illness."
* Daily Telegraph story from 26.05.2007: http://www.news.com.au/story/0,23599,21795534-2,00.html?from=public_rss
* Inquiry website: http://www.parliament.nsw.gov.au/prod/parlment/committee.nsf/0/3ECF8ABFA09039A6CA257187000D2442
09 'GREENS CRITICISE SMS SMOG ALERT PROPOSALS' - SMH 26.05.2007
---
" A NSW government plan for real-time SMS air pollution health alerts is a sign the government
has failed to manage Sydney's transport crisis, the Greens say.
Under the proposal which NSW Premier Morris Iemma is due to take to Cabinet next week,
residents will be able to register to receive text messages providing pollution data across the
Sydney metropolitan area, The Saturday Daily Telegraph reports."
* The Age story from 26.05.2007: http://www.theage.com.au/news/National/Greens-criticise-SMS-smog-alert-proposal/2007/05/26/1179601713645.html
10 SMS POLLUTION ALERTS NOT ENOUGH: GREENS' - ABC MEDIA 26.05.2007
---
" New South Wales Greens say that a State Government plan for an SMS pollution alert is
an inadequate response to the city's air quality problems"
* ABC online story from 26.05.2007: http://www.abc.net.au:80/news/newsitems/200705/s1934063.htm
11 "SMS ALERTS A DOOMSDAY RESPONSE TO SYDNEY'S KILLER POLLUTION"- NSW GREENS MEDIA
---
" Premier Morris Iemma's SMS pollution alert system for Sydney is an admission of government failure to
manage this city's transport crisis Greens MP and transport spokesperson Lee Rhiannon said today.

"It is alarming that the Premier's plan for dealing with Sydney's smog
is to issue a warning rather than increase public transport and so
reduce the volume of traffic that is the cause of this pollution," Ms
Rhiannon said.

"The SMS pollution alert system is a doomsday response to Sydney's
dirty air that is killing more and more people."
* Greens Media release from 26.05.2007 here:http://lee.greens.org.au/index.php/content/view/1886/50/
---
RAPS Inc is an incorporated community group representing residents and workers affected by the M5 East
tunnel, ventilation stack and portals. We meet on one Tuesday night of the month at Earlwood Bowling Club,
Doris Ave Earlwood NSW, Australia.
Please email us if you are thinking of attending to confirm that the meeting is on. cbri7447@bigpond.com
RAPS Inc is funded entirely by $10 membership fees and community donations. We receive no grants from
council or government bodies.
We currently have significant costs, and need to build up funds for ongoing outlays such as public liability
insurance well and professional advice and help. Please help us to keep going by sending a donation to:

PO Box 270 Earlwood NSW 2206 Australia
Telephone: 061 02 9558 8863, 061 02 9573 0052, 061 02 9559 1278
www.nostack.8m.com
RAPS Inc is a member of GASP, Groups Against Stack Pollution, a coalition of community groups with
similar aims and objectives affected by similar stacks from around Sydney's Cross City and Lane Cove tunnels.
http://www.lctag.com
Our email list is maintained in confidence at the sending address only.
To subscribe, unsubscribe or change email addresses for this newsletter reply to this email or send an
email to cbri7447@bigpond.com with "ADD TO MAILING LIST" or "DELETE FROM MAILING LIST" in the subject line.
..............................
So much for integrity in NSW politics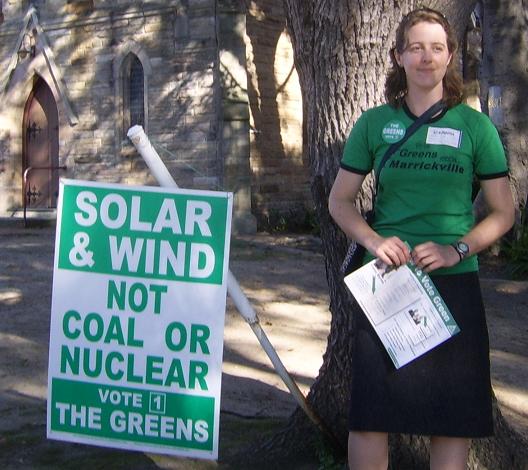 Picture: Green booth worker next to poster, election day March 2007.
Posted by editor at 1:44 PM NZT
Updated: Thursday, 14 June 2007 2:12 PM NZT