New Scientist Feb 10th on global warming - Big Media are sanitising the threat
Mood:
blue
Topic: globalWarming
The Greens here correctly point out that 'clean coal' technology will destroy jobs in the NSW Hunter coal mining region, and will be too late anyway, because there are no geo sequestration sites there, as also pointed out by scientist and Australian of the Year Tim Flannery:
Wednesday, 14 February 2007
Greens say PM's 'clean coal' will cause huge job losses
The transition to 'clean coal', advocated by Prime Minister Howard, will cause huge job losses and economic dislocation the Greens said today.
Last week, Greens Leader Bob Brown called for three years to be taken to plan a transition from coal exports and to reduce emissions in Australia. This was rejected by Mr Howard.


Echoing comments by Australian of the Year Professor Tim Flannery yesterday, Senator Brown and Greens Energy spokesperson Senator Christine Milne said 'clean coal' technology cannot be used to convert Australia's existing 35 power stations.


"Proponents of clean coal, such as the Prime Minister, never talk about the jobs it will destroy. John Howard is effectively planning an end to the NSW coal industry as we know it," Senator Brown said.

"In the NSW Hunter Valley, for example, there are not feasible sites for storing CO2 from a clean coal power station, even if someone knew how to build one. Workers at Eraring, Vales Point, Bayswater and Lidell power stations in NSW will all lose their jobs in a 'clean coal' technology future, as would the workers at coal mines that
provide coal to those power stations."
"But, unlike the Greens, the Prime Minister has no plan to assist the miners and communities into in a coal-constrained future," Senator Brown said.
The coal industry says 'clean coal' technology is more than a decade away. Sir Nicholas Stern, former World Bank Chief Economist, warned last year that the world has only one decade to avoid catastrophic climate change.
"Solar thermal, geothermal and biomass technologies are the future. They are proven technology to provide baseload power. Solar thermal is available now. It can create hundreds of jobs. All it requires is a price on carbon and emissions trading," Senator Milne said.
A contributor now provides this cribbed grim alarm from New Scientist, and we note with 'amusement' (not) how the climate change deniers ignore mainstream science when it confronts their vested interests as in this patronising editorial from The Australian:
and here with space for federal industry minister
"GREENS leader Bob Brown wants to shut down the coal export industry in the next term of government. But his latest assault on the growing Australian economy would have ramifications far beyond what would be a devastating outcome for our coal industry."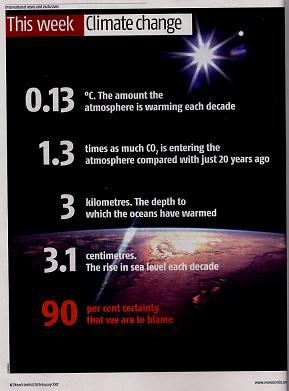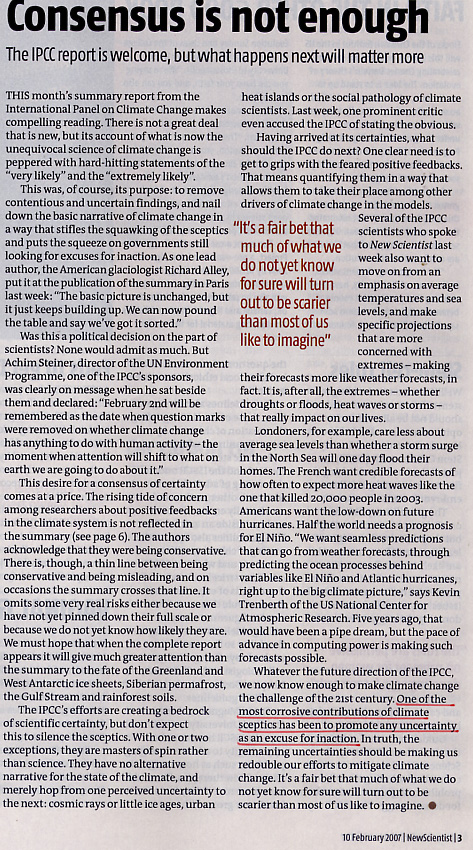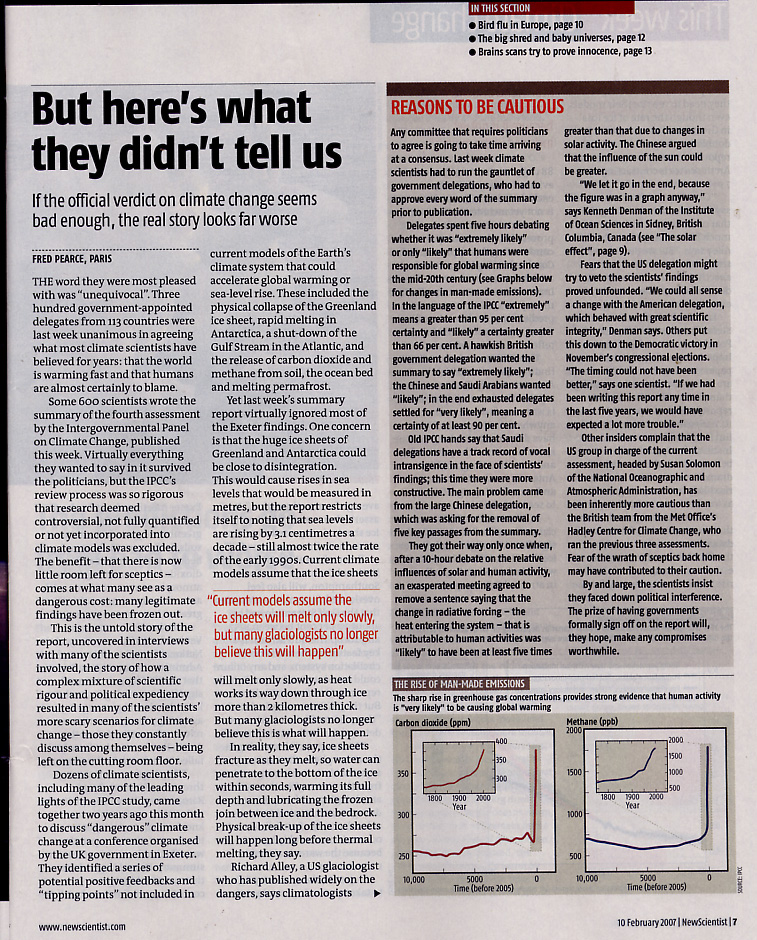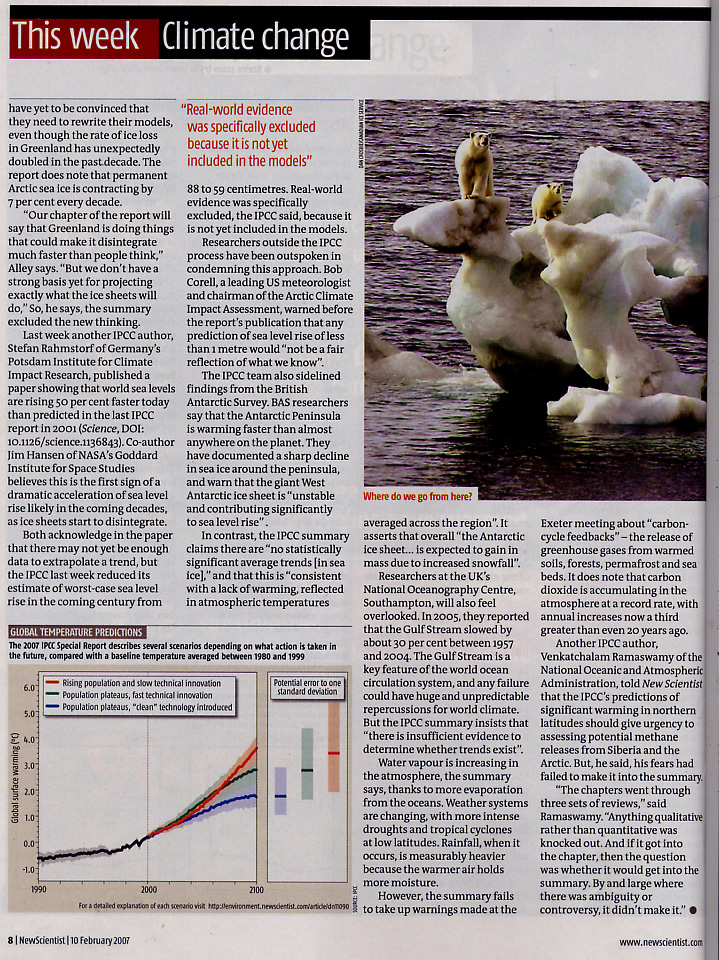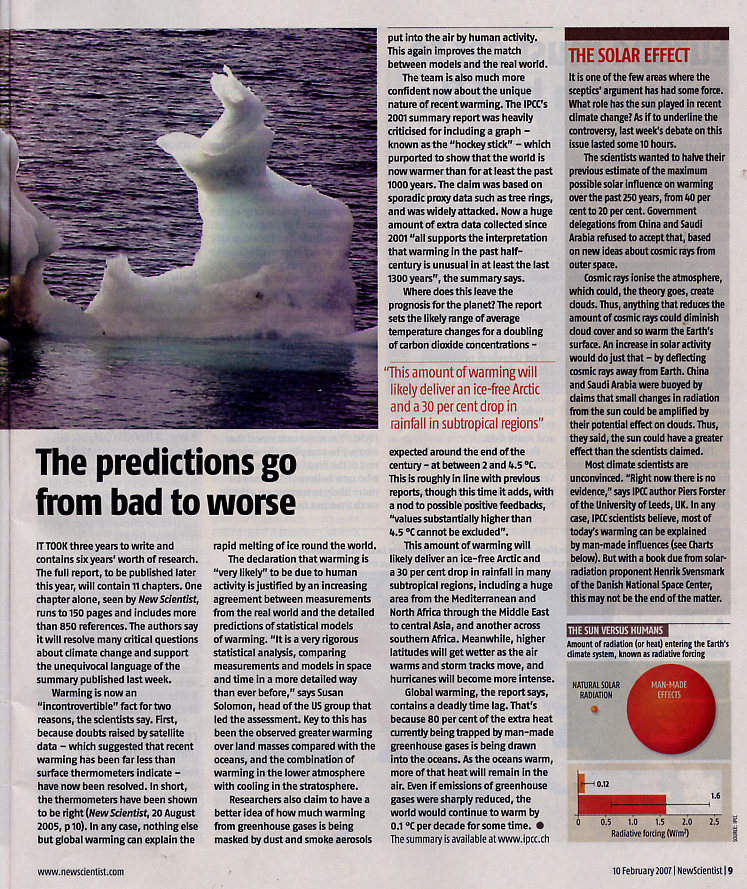 Posted by editor at 9:12 AM EADT
Updated: Thursday, 15 February 2007 9:48 AM EADT