Premier Morris Iemma's 'civic theatre' for the ALP bruvvers and sisters
Mood:
party time!
Topic: election nsw 2007
Picture above: This surly lad has a curious expression and doesn't seem too comfortable with democratic protest perhaps. The irony of the 'civic theatre' signage was well demonstrated outside on this occasion.

SAM's editor could not resist the democratic frisson around the State ALP campaign launch and tracked down to Hurstville this morning 18th February at 10.30 am. To give the Iemma team credit it was held in a down to earth location like Hurstville civic centre without the big headed "luminaries" and that approach does have a resonance. The party elders look like so many snouts in troughs, cliquey closed shop condescending hierarchical elitist snobs, not least ex Premier Bob Carr.
The burdensome symbols of lengthy ALP history are not the message the 'new fresh' Iemma Government wants to send after 12 years. They want more time a bit like W Bush and John Howard do in Iraq after 5 years, because they have "more to do" and are "heading in the right direction". So they all say.
There is a real sense of resentment about ALP arrogant born to rule postures, and apparently there was not one 'ALP' slogan anywhere, hence this report next day by Anne Davies Monday 19th Feb which itself echoes one of the major tv stations the night before (7 or 9) of the 'disappearing ALP':
It appears there's a new political party in NSW, writes Anne Davies.
After 12 years in this ALP city and state SAM found some at the security cordon at the front of the hall pretty defensive about democratic cut and thrust too, both police public servant and ALP functionary, and there may be some crossover as will be revealed. The latter couldn't quite hide that sense of arrogance that comes with power.
Perhaps the worst was the attempt by a junior copper to send this activist, admittedly geared up in "woodchipping sux" stickers, off the frontage of the hall to the other side of the road with the rest of the protest display 'rabble', until I told her it was "public land", "an unlawful direction", and flashed my solicitors card at her and told her to "follow the NSW Police Handbook".
The tv cameras got a bit interested and a senior ALP party functionary looking lean and hungry like Cassius (pictured below) tried to order me away too. Perhaps they were worried to keep the protesters bundled up. But I was having none ot it. A more senior police man tried the same tactic and even when I said it was an unlawful direction he said he was still asking me to leave for the other side. I said no.
I took this older copper's image but it's shaky given the above exchange left me a little intimidated. Interestingly the same copper got a big hand-shake only moments later from a very large man, I was told soon after his name is one Brian Robinson a councillor (presumably ALP) at Canterbury Council. Robinson refused to give his name to me directly and refused any questions about how long he'd known the policeman. You can draw your own conclusions.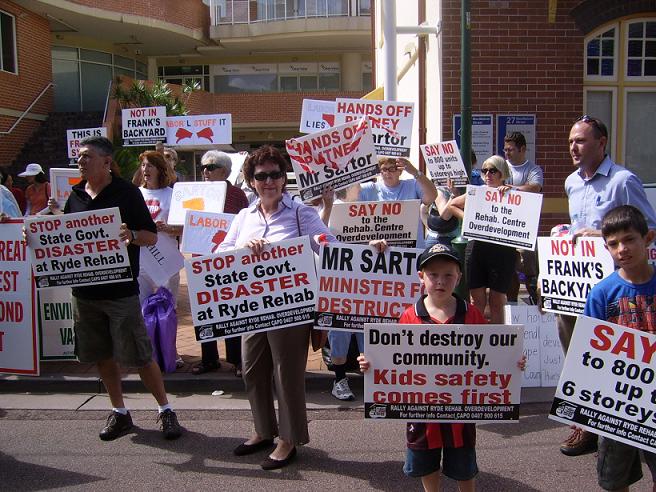 Picture above: A small well organised section of the crowd.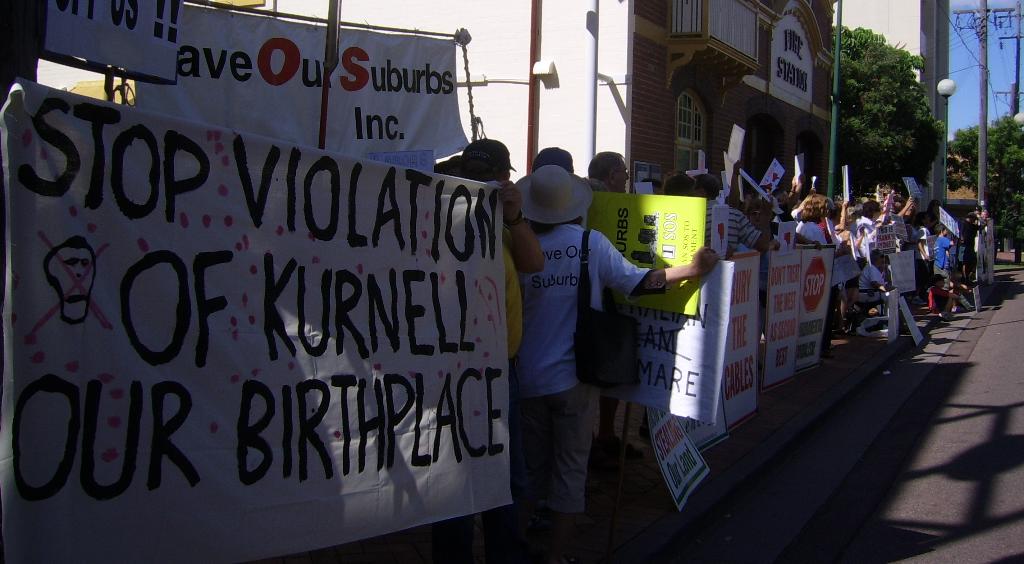 Picture above: Opposite the Civic threatre, about 50 metres of placards, banners, singalong amplified music, chanting and harangue of Frank Sartor who got a big boo, Treasurer Michael Costa, Joe Tripodi (I was the one who called out 'go on a diet Joe' which was quite gratuitous but it was a parade of laughs by that stage)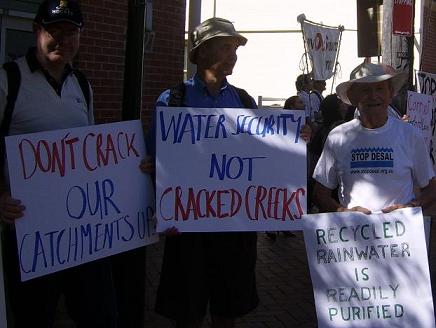 From Right: Bob Walsh, Keith Muir and Graham Daly, all well known environmental campaigners in Sydney

The transcript of the leaders debate on tv last Friday is here in due course Stateline NSW The debate was well reported in mainstream press such as here with other related coverage:
Trust me: leaders plead for a chance
This is a water referendum, says Debnam
Creating a stink: election scare tactics in the offing
Rivals want more - but do viewers?
No answers to the tough questions
Gloves are off as campaigns get dirty
Ads turn nasty as parties get out the dog whistles
Shooters' group factions clash on political funds
But it was notable for the ABC confirming its own role in the open ALP/Coalition conspiracy to gerrymander the electorate such that the 30% who don't vote for either get no leader's debate, as per the prefacing comments of host Quentin Dempster. In other words democracy here is broken and the ABC are part of the problem. Notice Ben Wilson for instance in the revolving door from ABC to chief media manager for Premier Iemma as a case study. All legal and quite broken in democratic terms. The best democracy money can buy.
Iemma last Friday looked notably tired with circles under his eyes. And more grey hair showing than I can recall. Was it the lighting angle or genuine fatigue from the intensity of the campaign trail? TV is a cruel medium. He did come across as bright and dedicated and achieving real change in the infrastructure budget especially, but Debnam looked a lot more personally appealing and relaxed, if less expert and maybe "risky".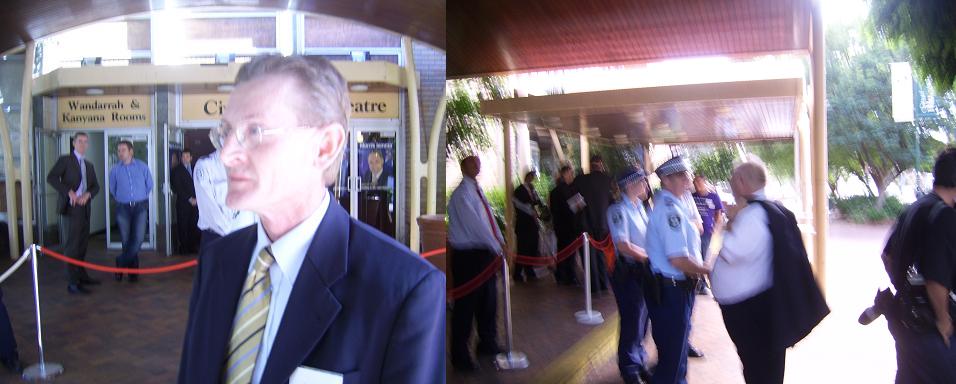 Picture: Left, a Mr Allen from memory, tries to pompously order me off the street frontage in a ham fisted attempt at micro managing the protester/alternative media work of this author with camera in hand. He backs off a little when I take his picture. At right the senior copper who also tried to shoo me away a moment later shaking the hand of one chunky ALP functionary Brian Robinson.
Next picture reveals it's a hopeless objective of the authorities to keep the public off their own street as the mob of supporters, protesters and the curious close around us in a pretty happy atmosphere with the ABC TV's Simon Santow towering over the crowd. At bottom right is one Shoquette Moselmane former mayor of Rockdale who was happy to chat and suggested Debnam has a Hansonist agenda going on against ethnic Australians.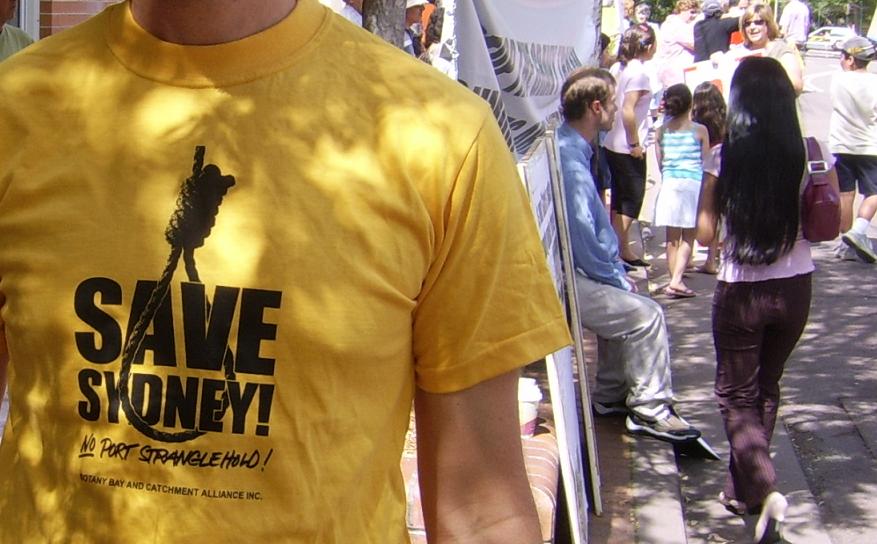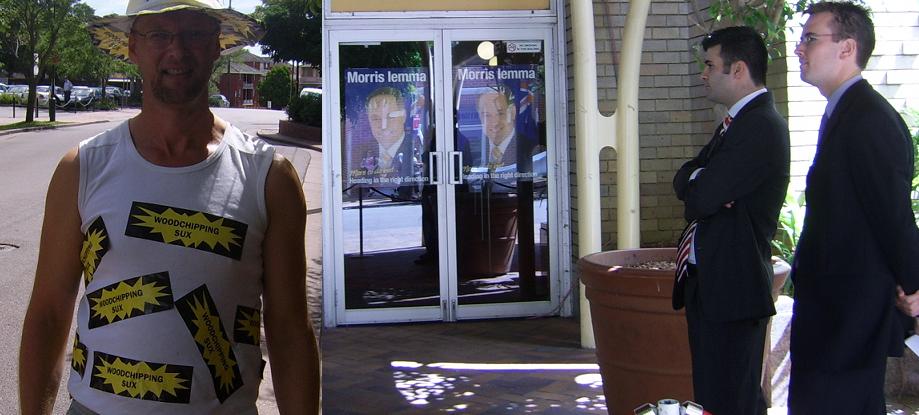 Picture immediately above: The author in daggy protester mode, and at right two ALP 'Josh Lyman wannabes'.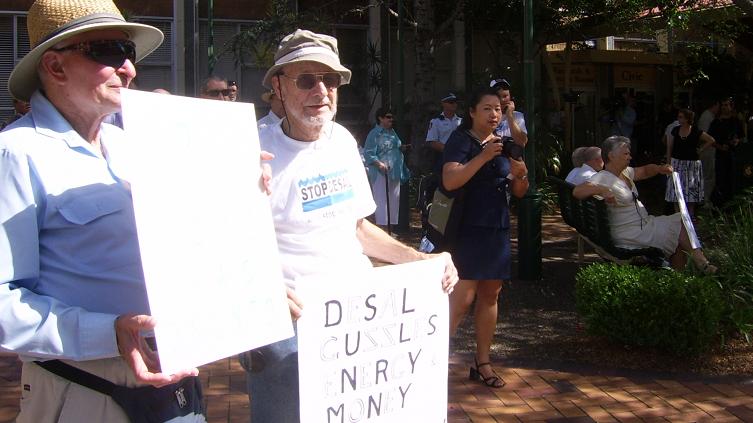 Picture: Jim Towart retired oyster grower with placard "Desal guzzles energy and money" and colleague Milton Cockburn both of umbrella group Botany Bay & Catchment Association (BBACA) this author is also a member of, covering 33 local groups and the catchment of roughly 2 million Sydney siders.

Picture above: Some other 'trouble makers' on the street frontage to the Civic Centre Hall with the author. At right appropriately in white hat is Andrew Woodhouse President of the Australian Heritage Institute Inc, "an Australia wide umbrella group of local heritage societies" tel. 0415 949 506 protesting against "Sartorisation - overdevelopment at the expense of our heritage - has reached epidemic proportions": Media release 18th Feb 07 referring in particular to North Head Quarrantine Station, East Darling Harbour scheme, Royal Rehab. Centre at Ryde/Putney.
Postscript #1
An agitator writes to us as follows:
----- Original Message -----
Sent: Wednesday, February 21, 2007 8:07 AM
Subject:
Three and a half hours at Hurstville, it is a shame there weren more protesters!
SAM, (Thanks Many of us have missed the opportunity provided by "free press" of [Sydney Independent Media website, still offline])
There were well over a hundred protesters at the Hurstville Civic Centre on Sunday 18 February, and if you include the Special Protective Services, fifty police to secure a whole city block! Education Minister Carmel Tebbutt was there and made a little media speech on the way out. It is interesting to note the education department is supposed to protect school children in uniform from political exploitation. But the Labor "family man" hit the hustings with music and the support of a large gathering of local school girls in uniform, showing why the Labor Party is in trouble their usual contempt for community rules. Why am I not surprised.
[author sign off]
Posted by editor at 1:03 PM EADT
Updated: Wednesday, 21 February 2007 12:50 PM EADT