Maxine McKew timing for Bennelong follows Cheney at Australia-America Leadership Dialogue
Mood:
d'oh
Topic: election Oz 2007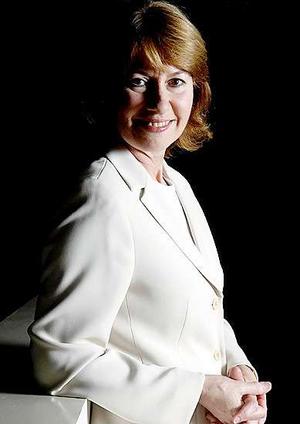 SAM's editor wrote of Maxine McKew, distinguished ex ABC journalist in her own right (partner of ex National secretary of the Australian Labor Party referred to here back in 2002 PM - Bob Hogg endorses ALP power change ), several months ago. It was on www.sydney.indymedia.au (SIM) website which has been a bit patchy lately.
Here is a big media report at the time of her leaving the ABC Maxine McKew to leave the ABC. My piece at the time was about 'who is she kidding that she is really going to an ALP job?' though her line back then is summarised in this quote in that story:
"She says she is taking time off to consider new challenges."
Here [now] is this editor's take via SIM 4 months ago: Does the Herald, Crikey and Maxine McKew think we are all so gullible? and worth quoting in full from 25th Oct 2006
"
McKew will be nominating as a candidate for the ALP or in some other party political capacity before the next federal election.
Neither reports in Crikey, or the Herald today note this possibility. Doh!
She is on record as having considered the move before in 2004 and ruling it out. She is an obvious Beazley barracker in the the Latham leadership period.
I mean does one really have to lay out the detail of the situation not to mention domestic arrangements.
McKew, minister for .... something in the next Beazley government, just like Mary Delahunty in the Victorian Parliament for the ALP. The trend in the polling has tipped her hand. Stay tuned for the next choreography.
Her picture in the precincts of her own home in the Herald today was over egging the pudding if you ask me but who can pay for exposure like that?"
Famously now McKew is on all the front pages of the press yesterday 26th Feb 07, having nominated herself, with the ALP leader's blessing, to tackle PM John Howard in his own seat of Bennelong:
Look who's taking on the PM in Bennelong
We at SAM know that seat of Bennelong a bit having helped with driving and distribution work for the Not Happy John (NHJ) against PM Howard campaign in 2004 who used an amusing cartoon on the PM in their materials (below).
We met John Valder of NHJ a few times in 2004 as former president of the Liberal Party of Australia, yet sworn enemy of John Howard.
If memory serves McKew let it be known her intentions re Bennelong late on Sunday at a function opposite Kirribili House, though certainly it was via big chorerographed amplification in the Big Media yesterday Monday 26th Feb 2007 .
But something else happened just last Friday as well which could be curiously related timing: Dick Cheney was reported doing this:
Cheney in Australia
And Maxine McKew is a known supporter of the http://www.aald.org/ and most likely did attend that forum. For her support of the AALD note this:
"A 30 year background in television reporting has seen Maxine cover a wide spectrum including state and national politics, business reporting and a period as foreign correspondent that took her to posts in both Washington DC and to New York. As a result Maxine maintains a strong interest in American political and economic issues and is a regular participant in the privately funded annual Australian and US Leadership Dialogue."
at http://www.aimconvention.com.au/Speakers/ConventionModerator
[bold added]
My own impression of Maxine McKew - just another nepotistic conservative opportunistic ALP crony who only moved to announce for Bennelong after the 2004 election with
- The Greens 16% unrusting many voters off the Coalition,
- as well as the Not Happy John unrusting work (that this writer worked with),
- the electorate redistribution in ALP's favour,
- the Rudd strong polls,
- the revealing www. crikey.com.au (Morgan) polling reported from their subscriber material a week old below,
- the Oz-Chinese voting population that Rudd can talk to in Mandarin
- Cheney's blessing of the loyal ALP Opposition to the US Alliance, war mongering in Iraq and Iran notwithstanding, or our troops withdrawal.
McKew surely is just another Establishment revolving door jobbie between Big Media and Big Politics, a wage slave of Packer owned The Bulletin, former Channel 10 commercial tv, and conservative ABC ranks supportive of the current Howard controlled Board 'reforms' of the 'Marxist national broadcaster'.
SAM's editor also feels pretty sure Rudd got McKew to go the high publicity route in all the press a month back now (contrary to her own advice the 'Josh Lyman type' advisers stay invisible) for this reason: To prove to the ALP family, and to hurt inconveniently noisy Beazley, that McKew was now Rudd's political property, formerly Beazley's. This was at the time the old Bomber ex leader was getting a bit too interested in publicity again as the ex leader in the SMH features etc, inevitably drawing comparisons of his experience compared to new leader Rudd.
Rudd effectively signalled to the ALP family he was the future with talent like Maxine working for him now (both pictured above at Canberra's federal Parliament House yesterday lifted from Sydney Morning Herald, photo by their Andrew Taylor). His political property. It's all pretty calculated from my viewpoint.
Cheney is also known to have had a quite undemocratic confidential meeting with Rudd, so much for values of transparency and governing for the people rather than the hierarchical elites.
McKew is on the ABC radio with Trioli 702 this morning as we write saying she had decided some 3 weeks ago and was sitting on the news but in reality it was only yesterday's coverage that crossed the Rubicon, after the Cheney visit.
Cheney was reported over the weekend stating the US-Australia alliance is "rock solid" which was widely reported as a let off to the ALP for wanting to withdraw Australian troops from Iraq:
Interview: Kevin Rudd
Political editor Laurie Oakes speaks to Opposition Leader Kevin Rudd about Labor's election chances, Australia's alliance with the US in Iraq, the battle of ideas for Australia's future and Labor's national clean coal initiative...Watch the video more
Presumably Cheney said as much at the AALD forum as well:
Was McKew at the AALD last Friday? Did she go big on her candidacy only after Cheney's diplomacy
The other significant involvement of SAM's editor is that I sent a package of the crikey poll on Bennelong to Valder's mob of NHJ about a week ago to encourage them to play a role in 2007 in Bennelong: Tthey used this cartoon by Moir lifted from the Sydney Morning Herald: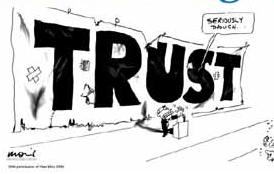 I notice Valder who I met a few times in 2004 back in the news again today barracking for McKew.
My email was as follows:
Sent: Wednesday, February 21, 2007 5:42 PM
Subject: not happy john to live again in 2007? crikey morgan poll is suggestive - last Monday 19th Feb
1. PM would lose his own seat: Crikey Morgan Poll
Christian Kerr writes:


Prime Minister John Howard would lose his own seat of Bennelong if a federal election was held today, a Crikey-Morgan Poll has found.
And it gets worse for the PM: a majority of voters in his electorate say Kevin Rudd would be a better prime minister – and 38% of the PM's own constituents believe he should retire before the federal election.

The findings come from a telephone poll of 394 Bennelong electors conducted by Roy Morgan Research last Wednesday and Thursday nights.

Labor support in Bennelong is running at 55% on a two party preferred basis, compared with 45% for the Liberal Party,

Forty per cent of Bennelong electors would give their first preferences to the Prime Minister (down 9.9% since the last election). Forty one per cent would cast a primary vote for Labor (up 12.6% since 2004), 11% for the Greens and 5% for others. Only a low 3% of voters were undecided.

A higher proportion of Bennelong voters say Labor leader Kevin Rudd would be a better Prime Minister than Mr Howard – 49% to 47%.

More Bennelong electors disapprove of the way Mr Howard is handling his job as Prime Minister than approve – 47% to 44%. In contrast, 75% approve of the job Mr Rudd is doing as Opposition Leader, compared to just 11% who disapprove and 14% who can't say.

Full results and tables are available here.
---
2. Battlezone Bennelong
Christian Kerr writes:


Bennelong will be a frontline seat in this year's federal election. A redistribution of the electoral boundaries in NSW last year cut John Howard's margin down to just four per cent on the Mackerras pendulum – but some authorities say the figure could be even lower.
"My seat has been made a bit more marginal by the distribution," the Prime Minister has said this morning. But boundary changes aren't the only thing making Bennelong bodgie for the Libs. Demography also appears to be working against the PM.
Bennelong has seen a rapid influx of new, mostly Asian, migrants in the past decade. Some observers say these new electors are more likely to vote Labor, making that four per cent buffer generous.
The census data from last year isn't out yet, which makes it difficult to assemble a snapshot of the state of the PM's seat. However, NSW Labor backroom boy Shane Easson has speculated that a swing to Labor in the state of three per cent "would be enough for Labor to win Bennelong in 2007" in a detailed analysis of the seat on Mumble Politics . A uniform swing of 3.3 per cent across the nation would see a change of government.
Labor polled poorly in NSW at the last election. Its 2004 two party preferred result of 48.07 per cent was its second worst performance since the Whitlam wallopings of 1975 and 77. Labor sources say that a recovery in the party's vote to more usual levels would pump up the pressure on the PM in his own seat.
Of course, the election is still a long time away. It could be held as late as December 15.
The Government appeared to be in trouble at this time in both 2001 and 2004, yet went on to resounding election years.
Now, though, things may be different. We have new style Labor leader in Kevin Rudd – on a much firmer footing in the polls than Mark Latham last time round.
"There's a long time between now and the election," pollster Gary Morgan warns. "However, the electorate's concern over issues such as IR, Hicks and Iraq running against Mr Howard, combined with Kevin Rudd's elevation to the Labor leadership, has had a significant impact on the standing of Mr Howard and the Coalition."
The PM won't be pleased with the Crikey Morgan Poll's findings on these issues, which we'll publish through the week.
And after today's poll results, he'll want to know who his Labor opponent will be.
The ALP has not yet preselected a candidate for Bennelong – although there have been intriguing hints that someone strong may be preparing for a run.
Intriguing hints – and persistent speculation that the Labor could be another cricket tragic. A bloke name Steve Waugh.
Posted by editor at 9:47 AM EADT
Updated: Wednesday, 28 February 2007 10:18 AM EADT