Electioneering in dirty NSW - Police porn email scandal prefaces sex shops raid, covert Big Party candidates, sand mine payoffs
Mood:
incredulous
Topic: election nsw 2007
Years ago on Stateline abc tv show barrister Paul Matters alleged for his client in the Industrial Relations Commission that western Sydney state MP Gabrielle Harrison, a junior minister for the ALP at the time, had said to her staff words to the effect of:
'This government is the most corrupt in the history of NSW'.
Harrison, a widow with young son, denied the claim but then disappeared from Carr government. If she did say it she is almost certainly right which is saying something given the Wood Royal Commission of the mid 90's, the Askin Government, the Rum Corps 200 years back.
Here are our favourite hints, the tip as it were of the iceberg of corruption in NSW government and business sector in the context of this current NSW election:
1. NSW Police porn email
Back on February 14th the NSW Police Commissioner, Police Minister Watkins, and Iemma Government were embarrassed by this lurid story in the hothouse atmosphere of the election:
Police in porn email scandal | NEWS.com.au
By Gemma Jones, February 14, 2007 02:00am, Article from:
HUNDREDS of police are caught up in an email scandal after inappropriate material, some of it sexually explicit, was found in police in-boxes.
An audit of the in-boxes by the professional standards command in New South Wales has revealed up to 150 officers and civilian workers have been sent disturbing emails.
Police halfway through a widespread investigation were yesterday unable to rule out hundreds more police being involved.
Professional standards officers have begun interviewing police while independent auditors are interviewing civilian workers.
While police yesterday confirmed some of the emails were of a sexually inappropriate nature, they would not be drawn on whether any were pornographic.
Police would not comment on the investigation, refusing to reveal how many police and civilian workers were being investigated or how severe any punishment could be.
The investigation began after an audit was undertaken within sections of the police, with the results prompting swift action.
The in-boxes of some staff in the Sydney police radio room are being examined but it is understood most caught up in the probe unwittingly received an inappropriate email and had no part in distributing it.
A memo has been sent to all NSW police in the wake of the findings, warning them of the appropriate use of the police email system.
Head of the professional standards command, Assistant Commissioner Catherine Burn, confirmed that inappropriate emails had been identified.
She said disciplinary action would be taken if the outcome of the investigation warranted it.
"NSW Police does not condone any abuse of the police email system," she said.
"This investigation clearly indicates that we take this issue seriously and we are dealing with the matter appropriately.
"We don't tolerate inappropriate material being distributed via the police email system."
A report into the police force inquiry held at the end of last year revealed that some police believed sexually explicit talk and even pornography were acceptable.
The review by senior counsel Chris Ronalds into sexual harassment and discrimination in the police, called for management to taker a harder line against sexually inappropriate conduct.
It found some police were using mobile phones to show disturbing images to bypass the monitoring of work computers.
In 1999 it was revealed that several officers had used the police internal computer system to email pornographic images.
Police computer records and email in-boxes are audited annually by the professional standards command.
[bold added]
It is government Public Relations AO1 to cancel a bad story with another bigger or equal story preferably of confusingly similar subject matter: Got a bad RTA leak document story, do another RTA story about controlling hoon cars. Got a nature destruction scandal, do a new conservation decision story. It's all cynical choreography rather than good public policy as such.
Later that day February 14th "just after midday" according to Big Media press report below the NSW Police, purely by coincidence we are expected to believe, and based on
"a six-month investigation triggered by a case involving child sex offences"
raided 7 Kings Cross sex shops allegedly illegally selling X rated items that as best we understand are not illegal to possess or view as non-violent erotica by consenting adults, but are illegal to sell here in NSW. They are legal to sell apparently in some other parts of Australia (?):
Here is the background in both major daily press widely covered February 15th 2007 in this tough cruel and yes sleazy city of Sydney, as well as the ABC:
Sex shops raided in porn hunt | The Daily Telegraph
Sex-shop sting: police arrest seven at the Cross - National - smh ...
Kings Cross child porn raid: seven charged - National - smh.com.au
Seven charged over sex shop raids
One can see by a google search of "nsw police porn email" with few results, compared to a google for "nsw police raid sex shop" that the PR benefit to the NSW Govt not to mention the conservative minded voters was highly successful. Indeed the earlier embarrassing story disappeared altogether.
The Herald even invited tips from readers to this email address: "What do you know about this case? scoop@smh.com.au" We at SAM might just send this article to them.
We had reason as a sometime media lawyer to research this turn of events and cannot help thinking this is very cynical timing. One might even suspect it was self interest and corrupt timing to protect jobs in government. The matter is up for first hearing today March 7th 2007 and the penalties from this patchily enforced ban on X rated real sex on screen in NSW are very very serious.
2. Covert big party candidates.
The reality has been well covered by the Big Media: the 12 year old ALP Iemma government's election launch at Hurstville airbrushed any history and indeed the "ALP" brand itself. This is understood.
In Marrickville the ALP's Carmel Tebbutt was installed in a byelection in September 2005 at the time Planning Minister Frank Sartor and the ALP Govt, we say, corruptly covered up the existence of a plan for a huge $5 billion Inner West Tollway with toxic ventilation stacks and subsidence issues in …marginal seat of Marrickville full of busy Green Party agitators. Tebbutt won the election by a bare few points from the Greens Sam Byrne in September 2005 who later that year was made local Mayor. Byrne would have won if the Inner West Tollway plan was revealed at the time, as it was front page of the Daily Telegraph here: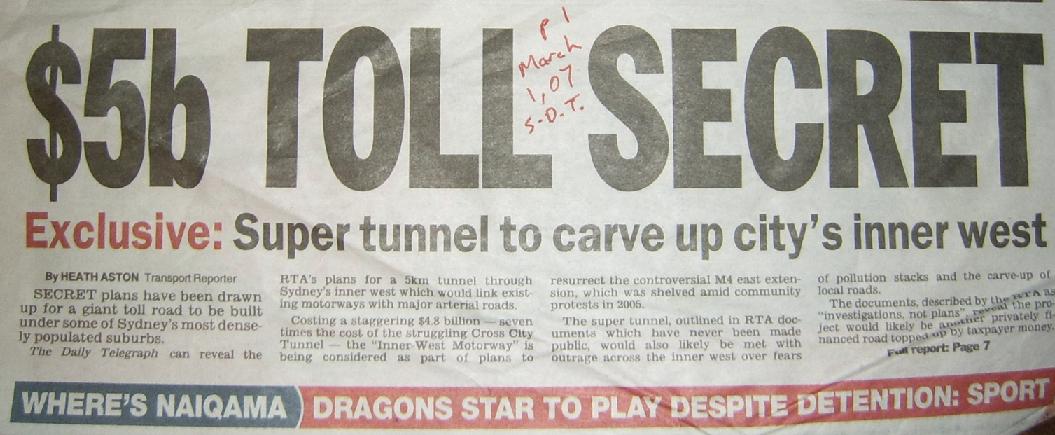 Perhaps not surprisingly the ALP's Tebbutt has no mention of brand ALP on her electioneering materials going into the local letterboxes here in Marrickville. She rather is "your local MP", not a mention of the "ALP" to whom she owes her whole political career: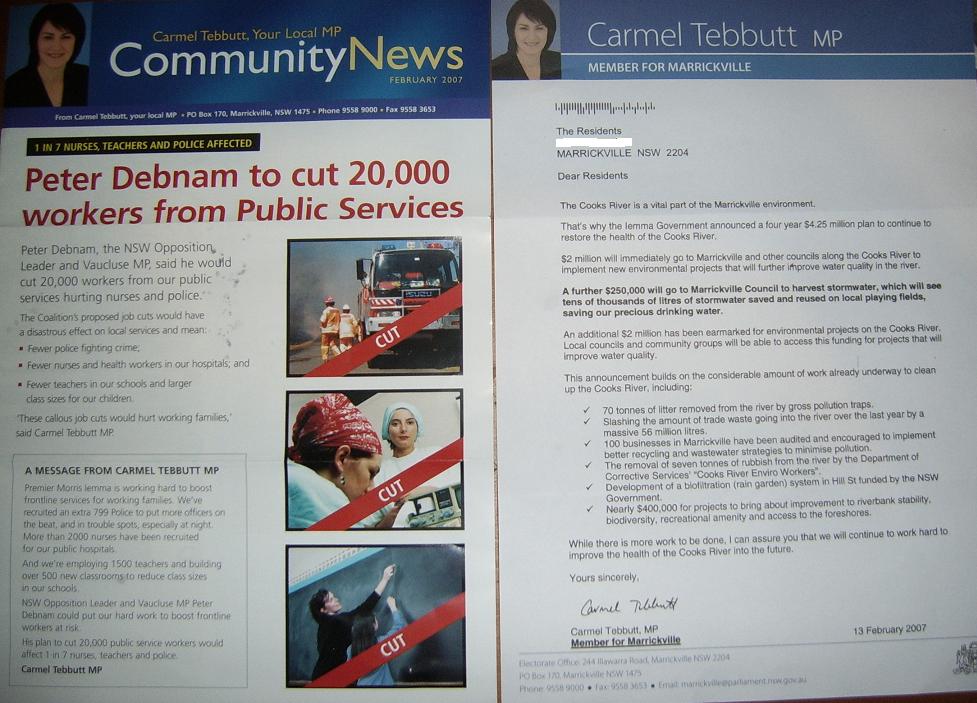 But it is not only the ALP which is on the nose it seems. We have also noticed this upper house candidate for the Liberal Party who is an entrepeneur of 10 or so organic markets across Sydney as well as a computer expert: Stephen Choularton. We don't know much about his candidacy and remain open minded but find it curious he doesn't reveal brand Liberal Party as best we can tell from this: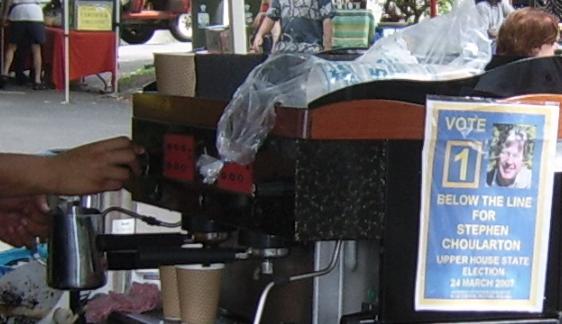 We can even sympathise after what happened to that rare creature in the Liberal Party here in NSW, the moderate environmentally conscious MP for that party, such as hapless John Ryan MLC:
Sure enough we have now at the time of writing found this website for Choularton:
with some savage comments about the ALP:
"What has a decade of Labor done for us:
public corruption,
decaying infrastructure, and
administrative incompetence.
Let's not turn hard labor into a life sentence!."
and
" Today the single largest source of greenhouse gas emissions in NSW is the Carr-Iemma Labor Government"
If you look hard you will find this under Biography "1996 Joined Liberal Party after arriving in Australia."
But it sure is hidden away. Yep another covert candidacy.
3. Rampant bribery in the sand mining sector in Sydney region?

We met our source yesterday and provided some pro bono legal advice. As such we are under obligations of confidentiality also as a solicitor client situation. However on the public record $50,000 was paid in 2006 by a sand miner Birdon Contracting Pty Ltd for a protester to go away (after suffering firebombing, death threats, shots at their home, family breakdown, over the last 13 years), when they complained about a current sandmine next to Wollemi World Heritage area. Yet the protest continues.
The Environmental Defenders Office has generated a 5 page legal advice of interest.
Our source tells us some staff at both Baulkham Hills and Hawkesbury Council officers have been sacked or resigned in the last 5 years under the shadow of alleged developer financial co option by various sandminers. Here is one curious report of Dec 23 2004:
http://www.smh.com.au/news/National/Council-suspends-manager-who-turned-its-fortunes-around/2004/12/22/1103391839237.html
Baulkham Hills especially is a part of town where tricky games with money and politics has been reported before
1. regarding visa for a developer and state/federal MPs back in July 2003:
http://www.smh.com.au/articles/2003/07/25/1059084203392.html
2. developers monstering public parkland for housing construction, per Sylvia Hale MLC (Greens) http://www.sylvia.nsw.greens.org.au/modules.php?op=modload&name=PagEd&file=index&topic_id=18&page_id=233&tabno=7#section2
Our source reports a senior sand mining figure told him of corruption in the sector "It's $30,000 to keep your sand mine safe". Meaning if you don't pay it they [council regulatory officers] come down like a tonne of bricks on you.
We keep an arms length view, and particularly non financial public interest, of all these controversies but in NSW we tend to believe where
1. the big construction industry,
2. lots of cash and
3. NSW governance
are involved, that there is plenty of slurry to be thrown and most of it does stick, just as Gabrielle Harrison was reported to say and withdrew in a panic (as noted above).
The Green Party are right about developer corruption here, and no doubt it's at the ground floor of sand mine inputs critical to the sector. In fact this is why democracy in NSW is in fact broken by dirty money politics.
Posted by editor at 8:46 AM EADT
Updated: Wednesday, 7 March 2007 10:58 AM EADT