A sea of yellow hats and head lamps an election bribe or just damn good timing for Morris Iemma?
Mood:
lazy
Topic: election nsw 2007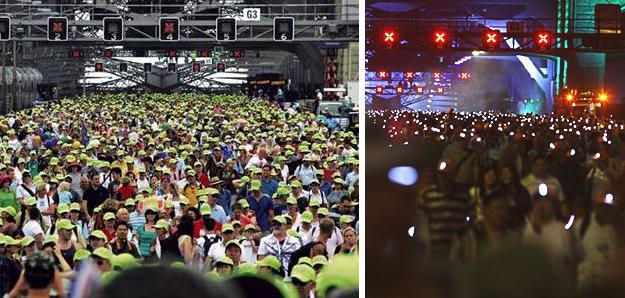 Picture: images lifted off the Fairfax web site this morning, with thanks for this important public interest aspect to the cunning politicisation of an icon.
When is an election stunt actually a breach of the electoral laws against inducements to buy votes?
We wrote in late 2006 on Sydney indymedia
(and here it is 14th August 2006 Easy being green washed as huge coal loader destroys credibility of free light globes PR at inner city electorates? )
of the free light globes Easy Being Green programme http://shop.easybeinggreen.com.au funded by the NSW Govt in marginal green shaded seats of Balmain and Marrickville in 2006. Were these effectively buying votes on March 24 2007?
Well those give aways suddenly stopped theoretically two months after our IMC article (with credit due to Sydney Indy Media function and this writer), what a coincidence, after an audit showed (to paraphrase) 'the budgeted take up has been filled': 'Lightbulb giveaway is switched off' The Australian - 14 Oct 2006.
Or the threat of prosecution for election corruption looming against the Iemma Govt?: Compare Qld with very draconian penalties for any hint of corrupting influence on the integrity of their democratic system after the bad old Bjelke/Fitgerald Royal Commission days. Mike Kaiser who is a senior election organiser for Iemma, and from Qld, has come a cropper for the same strictures up there in Qld. Similarly witness the overkill jailing of Pauline Hanson in recent years for alleged misdemeanours reversed on appeal.
And notice the sensitive Marrickville seat was still being duchessed in November 2006 with freebie give aways via NSW public purse as per this PR froth Marrickville householders get help to turn their house green free ... again presumably funded indirectly by the NSW Govt public budget. This is the seat where the ALP has lied about a Marrickville Truck Tunnel plan both in the 2005 byelection lead up, and similarly exposed front page of the Daily Telegraph recently.
Now we see the brilliant PR free advertising for the Iemma Govt around a visual feast of yellow hats on the big meeja last night and today. Clever. Costing say $100,000 (?) in free hat ware and a reward for those who took the trouble to register and be organised to assist in the worthy goals of safety in a crowd, and to promote sun smart behaviour especially for kids. The free night time head lamps purely decoration?
Picture: Our ugly but lovable toll gouging coat hanger because in the end it is indeed ours, but is it ALP Premier Morris Iemma's? Image lifted from tourism company http://www.bridgeclimb.com/
So you might think giving away hats IS justifiable and good public policy, but you might also call it very cunning leverage of incumbency to the morning and night political tv news bulletins. A real triumph of PR positioning all at taxpayer expense like those water adverts, and green light globes.
Iemma's team can all refer to the 75 year chronology as simply good luck one week before the vote that festivities precede the state election. A schedule, we say, that has been cynically exploited to this writer's impression by the incumbent government to throw a free party, the PNG version of killing and cooking pigs for a free feed for the voters.
This event in fact was so highly choreagraphed it has been revealed it was 'months in the planning, involving hundreds of people to organise' according to the Sydney Harbour Bridge Walk: 75th Anniversary spokeswoman on Adam Spencer 702 abc radio morning show this morning: How calculating and very unsurprising. It might even explain why bureaucrats took their eye off the ball with recent transport stuff ups when big ships visited here and unlucky failed maintenance caused a melt down. A bureaucracy under pressure to deliver the political premium rather than bread and butter daily competency?
A good party with a free yellow hat or headlamp for maximum PR visibility but a lousy provider? We think so.
Indeed the Opposition acknowledge just how political the event is by having their big ticket roads policy on today Monday 19th March 07 in an attempt to meet this orchestrated PR coup.
Even an apparent suicide at North Sydney station yesterday according to radio reports was unable to stop the Iemma PR juggernaut, he is that 'good'.
The Herald today in its wrap around went with a front page equivalent of the manipulative PR yellow sea of hats being the headlamp hats for the night walkers (another $50k plus?), but the tv bulletins dwelled on the daylight yellow caps yesterday, and this carried over to the wrap the Daily Telegraph. There's heaps of votes in that free coverage. Paid for by .... you the taxpayer: Politics won't be denied on Bridge's big day | NEWS.com.au
How cheap are peoples votes in our NSW Democracy - the cost of a yellow cap, or a little head lamp? Probably.
Posted by editor at 9:21 AM NZT
Updated: Monday, 19 March 2007 11:35 AM NZT