It's Small Thursday for Morris Iemma, thanks to nasty sticky note trick, but Greens do well too
Mood:
surprised
Topic: election nsw 2007
Well who would have thunk it: A sticky note doing over hapless Mr Debnam of the Liberals on our Herald today front page hovering above a very happy pro federal ALP headline Rudd raids Telstra fund for supernet (pictured below). This follows the 'Big Wednesday' (after the surf movie of same name) of nasty Big Media like a dumping surf on Morris Iemma's ALP yesterday. Thus we have dubbed today 'Small Thursday' instead.
This complements of course Ruddy, Opposition Leader Kevin Rudd, adding his "star" power to an Iemma set piece speech today apparently. It also exposes as rubbish our theory yesterday of a 3 day combined press perfect storm against Iemma at the end of the election period. The Telegraph today similarly runs on a human interest story unrelated to the NSW election. But then again there are still two days to go.
Does the sticky note have an authorisation text on it for the electoral laws? Yes indeed over the back if you ever checked it
"Authorised by S. Kaine, ALP 377 Sussex St, Sydney. Printed by Adprint Visual Pty Ltd, 25-29 Wangaratta St, Richmond."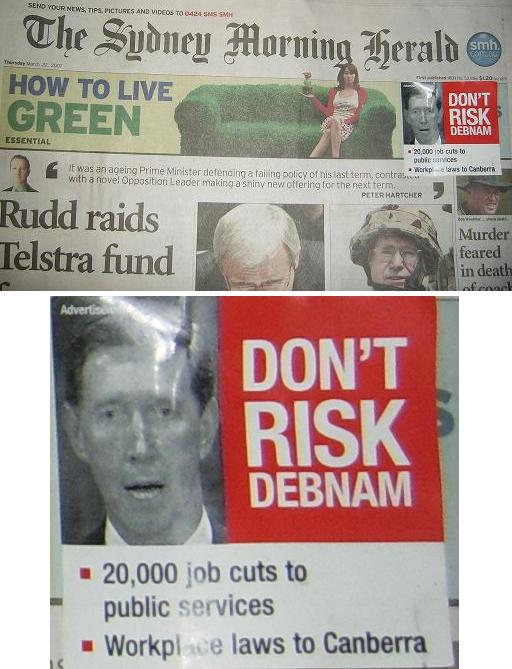 But what caught our eye next was the bold deep green supplement "How to live GREEN" also advertised on the front page with a spunky model on lawn sofa. If that's not subliminal advertising for a certain minor party I don't know what it is, totally free.
(It contrasts with a very nasty head kick by the Telegraph back in 2003 where they placed a Greens Party paid for colour advert next to a same shade of green image of a big paddy field where an Indonesian terrorist Bali Bomber hails from. Talk about conservative malice.)
Actually our sticky note was over the pneumatic said model but here is the supplement cover in full: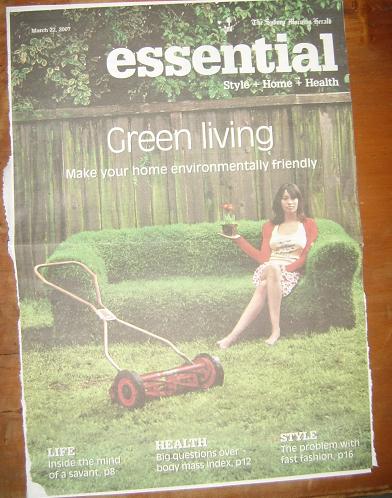 Ian Cohen MLC (Greens) has issued this devastating critique of the Coalition rednecks aka The National Party:
The Greens NSW Media Release March 22 2007


Nationals' scorched earth policies ruin Opposition's credibility on environment, say Greens.
The NSW Opposition cannot hope to win any credibility on the environment as long as the National Party continues to call for wind backs of land management practices, said Greens MLC Ian Cohen.
"The Labor government has let down the conservation movement in key areas of land management, leading to massive amounts of land clearing and destruction of threatened species. The Greens are the only viable opposition on this issue, as the Opposition would make the situation far worse." Mr Cohen said.
"While the Greens work towards improving the government's land management, the National Party threatens to take us back 50 years. The Opposition will not win middle ground on the environment with the millstone of the National Party around their necks.
*The Nationals have promised to:
- Reverse National parks in western NSW
- End sanctuaries zones in Marine Parks
- Send coastal rivers westwards with no consideration of environmental impacts
- Allow cattle to graze in National parks
- Allow commercial logging to be considered a routine agricultural management activity and not be subject to environmental regulation.
"Land clearing in NSW generates as much as 35 million tonnes of greenhouse gas emissions each year, which is the equivalent of more than 7 million new cars on our roads. The NSW Labor government needs to show its commitment to ending broadscale land clearing, which it promised to do by the year 2000.
"The Greens will work towards closing the loopholes in Native Vegetation legislation including:
- Ensuring that a stringent code of practice is introduced and enforced for Private Native Forestry.
- Amending the loophole for 'invasive native species' clearing to ensure sustainable management of thickening native scrub.
- Mandating the use of appropriate satellite technology for monitoring landclearing.
- Ensuring that on the ground monitoring and compliance are enforced."
Further Information: Ian Cohen: 0409 989 466
Well said.
Posted by editor at 10:28 AM NZT
Updated: Thursday, 22 March 2007 9:18 PM NZT