Logger union effectively working for Howard's work choices agenda?
Mood:
down
Topic: election Oz 2007
This is the newsagent banner for The Australian newspaper October 7th 2005. It refers to a $4M sweetheart deal with the logger union in Tasmania and the Howard federal government, as a pay off for their support in the 2004 federal election.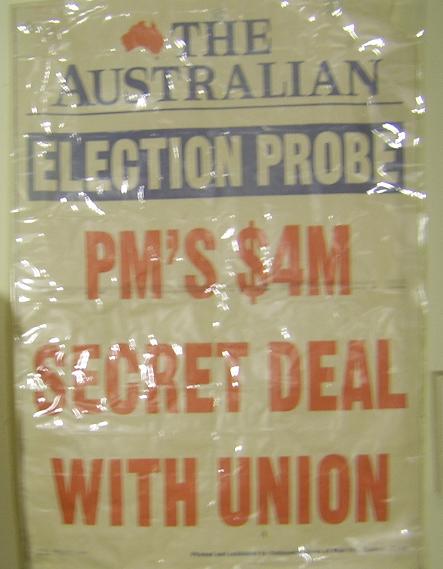 This is the union that Michael O'Connor in the news today says deserves the right to log where ever and whatever they want despite the urgency of climate change, the urgency of threat to biological diversity in an increasingly exhausted natural world, as per this report:
Rudd facing union backlash on forests
KEVIN Rudd is facing a backlash from the union that helped sink Mark Latham's 2004 election campaign, amid fears Labor's new forestry policy will cost Tasmanian jobs.
This is the same logger unionist who is implicated as an apologist for political terrorism at Wandella near Cobargo on the NSW South Coast, and in Victoria before that:

6th Dec 2006 - Logger terrorism under the Howard federal government
Posted by editor at 2:15 PM NZT
Updated: Monday, 2 April 2007 2:37 PM NZT