Sunday political talkies: Big Media revenge on Sunrise for C7 pay tv litigation farts more greenhouse pollution at Rudd?
Mood:
caffeinated
Topic: election Oz 2007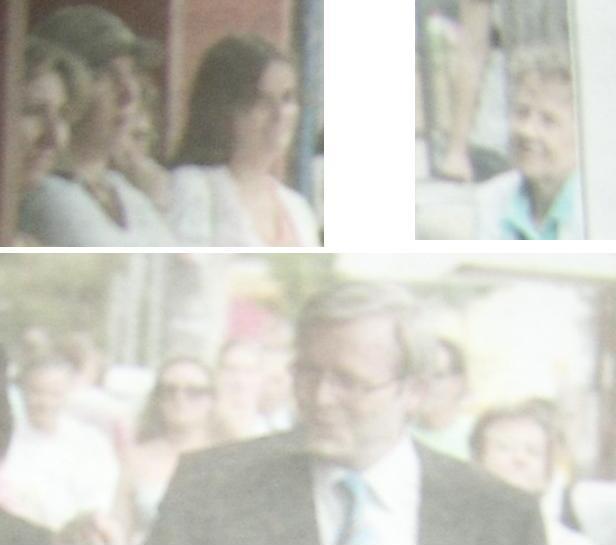 Picture: Rudd love in the eyes of voters in the NSW state election, image from memory in The Glebe newspaper last week of the campaign around 22nd March 07.
Author's general introductory note (skip this if you know this regular weekly column):
This is not a well packaged story. It's a contemporaneous traverse of the Sunday television free to air political talkies indicating the agenda of Establishment interests: Better to know ones rivals and allies in Big Politics and Big Media.
Indeed it's the tv version monitoring task similar to what Nelson Mandela refers to here in his book Long Walk to Freedom (1994, Abacus) written in Robben Island prison (where he was meant to die like other African resister chiefs of history in the 19C), at page 208
"..newspapers are only a shadow of reality; their information is important to a freedom fighter not because it reveals the truth, but because it discloses the biases and perceptions of both those who produce the paper and those who read it."
Just substitute 'Sunday tv political talkie shows' for "newspapers" in the quote above
For actual transcripts go to web sites quoted below except with Riley Diary on 7. And note transcripts don't really give you the image content value.
10 Meet the Press 8-8.30 am
Paul Bongiorno. Bob McMullan sounding persuasive and firm, Jennifer Hewitt and Glenn Milne, all veterans show. Sounding pretty relaxed.
PM Howard running his election ammo early, maybe too early, eg wall to wall ALP govt's, Kevin Rudd's cred on his family story baiting by major press, Sunrise Anzac day broadcast baiting.
[Sunday Sunrise itself looks as bright and happy as usual, no mention so far as best I can tell flicking from 10 to 7.]
Nicholson Rubbery figures very amusing re Peter Garrett's principles burning with the ALP, and nuke blast from Rudd as the band drummer metaphor of upcoming ALP conference.
Prof Amin Sykle (spelling?) of ANU re Afghanistan mission for Australian troops. Will be casualties? Agrees much more dangerous, hopes not.
Transcript in due course www.ten.com.au/meetthepress
7 Weekend Sunrise, 8.35-40 am Riley Diary
Riley Diary – edgy and amusing as usual. Fearful and friendly focus FM interview, Rudd doing okay actually showing sense of humour, talent but also under some pressure. A bit of semi serious criticism of habitual pollywaffle.
Still no mention of Sunrise show in the news today in the Howard Coalition blowtorch:
SEVEN Network chairman Kerry Stokes raised serious doubts about Kevin Rudd's now controversial involvement with the Sunrise program shortly after he became federal Opposition leader last year.
Which all suggests Kerry Stokes as owner of 7 has put the ruler over Sunrise and endorsed their approach and is playing tough like he has done all the way over C7 pay tv litigation against the Howard business mates/bully boys in the other big media. Which is a good outcome for democracy actually.
[I wonder if Rudd should go to Vietnam and do the dawn service, no tricks, just support the survivers of that awful war. It would be a PR coup and the right thing to do for the right reasons.]
Very amusing Red Symons YouTube of Paul Keating doing the dessicated coconut here:
all tip and no iceberg
Tags:
Added:

5 days ago

in Category:
Music
From:
rocsims
Views:

8,733
Web page here but no transcript usually: http://www.seven.com.au/sunrise/weekend
Sunday 9
Feature on Asian airline safety. Long long feature.
Sunday show website here:
Oaks interview Joe Hockey Minister as Coalition rep on Sunrise. Failed to bag Kevin Rudd. Oaks targets Sunrise 7 network [doing ch9 dirty work] Hockey says better to not get between feuding networks. Leaves it to Rudd. Says motives of Sunrise show to promote ANZAC day were good.
Should he give up the show? Declines to answer for others.
[All smacks of revenge beat up for C7 pay tv litigation by Kerry Stokes, backgrounder here via honest broker Alan Kohler:
"ALAN KOHLER: Showing all the panache of being a one-time owner of the Hollywood studio MGM, Kerry Stokes' production of 'C7 - the Litigation' is a blockbuster. With 22 respondents, including the Murdochs, the Packers, Telstra, a few football codes and a superstar lawyer from London, it's got a cast worthy of Cecil B. DeMille. The plot thickens daily, conspiracies abound, and the denouement may involve a billion-dollar windfall and a big shake-up of Australia's media. Stephen Long reports……."
Ellen Fanning shows how far she has sold out at Ch9 since the excellent SBS broadcast Fine Line documentary series on ethics in the Big Media by pandering to the beat up of Ch7 Sunrise with her loaded poll question 'will the fake dawn service affair on Ch7 damage Kevin Rudd?'.
I mean who the fuck cares if its one hour one way or another around dawn on Anzac Day? Certainly not the blokes who died in the mud blood spattered all over the field. It's a corrupt joke by the Big Media out to get 7 on any pretext, and Rudd with it if possible over the fabric of our media landscape after the C7 litigation.
And every one knows how pompous and officious the war machine (sorry Defence Dept and Bureaucracy) are about big junket ceremony when the actual diggers were the most irreverent buggers who ever drew breath, which was what made them so damn adapatable and gritty too.]
http://sunday.ninemsn.com.au/sunday/default.asp
Insiders 2
Minister Bishop looking ever the velvet glove of the SS economic stormtroopers, as federal govt education minister. Sounding as tediously dogmatic and certain of herself as usual.
WA holding up for the Coalition in the polls. Bishop says its good economic times there. But polls not looking good elsewhere. Says a lot of time yet till poll day.
Everyperson group bunch of pro business fit swimming types from the upper north shore perhaps. Scepticism at Howard economic boasting.
Panel (below) sledges COAG.
Paul Kelly: says states playing politics. Not credible for states to run a carbon scheme without the feds and it will feed into the federal election. Predicts Howard will use 60% greenhouse target of ALP and Work Choices repeal in big lights.
Panel is Lenore Taylor (moderate, Fairfax AFR), George Meglogenis (moderate The Australian, News Ltd), Andrew Bolt (extreme right, News Ltd)
Interesting discussion of internal media politics of Rudd on Sunrise show at 7 allegedly unsustainable for jealousy and rivalry reasons, distringuish from talk back radio for being less exclusive from Faine to Laws to Jones.
Pathetic footage of pandering of Rudd and Howard to bigot broadcaster Alan Jones caught red handed in white supremacist 'one culture many races' mode with ACMA finding of promoting of political violence against Jones/2GB.
Goes on to note polling so high in marginals for ALP.
Replayed at 11.10 am on radio PNN 630 AM band.
Home page is http://www.abc.net.au/insiders/
Postscript #1: Glen Milne writes an hysterical, ironic line today from the rabid News Ltd traditionally tragic Sunday press. On the front page is a prince under headline "Royal Split" about some ditsy girlfriend and William in a breakup in their respective media fishbowl.
But what is hilariously incredulous is Milne writing in his political feature "How it finally dawned on Sunrise and Rudd" referring to Ch7 he says
"The show is about entertainment, not information."
Oh and the Sunday Telegraph is about what exactly .....?
Postscript #2 Sunday night 14th April 2007
Notice this report on Ch9 60 Minutes last night, a high ratings show that trumps 7 Sunrise, appeases the rival network, is done quite sympathetically by reporter Liz Hayes, and is credible given it was a based on a week of insider following of his daily routine:
"Team Rudd Right now, he's the hot favourite. After five months, the infatuation with Kevin Rudd is still going strong. According to the polls, if they had an election tomorrow he'd be our new PM. A dream run and all the more amazing when you consider how little we actually know about this man."
That's a signficant political response to the attack re Sunrise fracas. Fran Kelly on radio national similarly notes the 60 Minutes story on her radio national slot this morning confirming its a serious influence and now Sunrise has lost its talent after the political space provided by 60 Minutes:
Sun sets on Rudd's Sunrise slot
10:58am | Kevin Rudd and Joe Hockey end their weekly spot on Seven's Sunrise morning program.
Posted by editor at 10:44 AM NZT
Updated: Monday, 16 April 2007 1:34 PM NZT