Woolworths staffed with 'greenies' on the shopfloor, senior management dump local Ecobot nappies
Mood:
incredulous
Topic: local news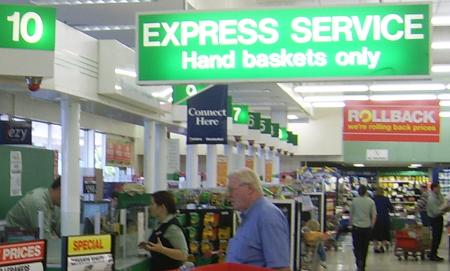 Picture: 4 staff members in the local supermarket today, in their friendly green uniforms. Unfortunately the product lines promoted by the monolithic supermarket sector is not necessarily as green as it could be.
This story ran on March 29th p27:
Woolies dumps green nappies
ENVIRONMENTALLY minded consumers are willing to drive hybrid cars but putting a biodegradable nappy on their child might be a stretch.
Sydney Morning Herald 29/03/2007 Cost - $2.20 537 words
Hope you appreciate the crude pun in the headline(s) too.
The article is not free via google as you can see but a paper clipping has been on my messy desk for 4 weeks. I keep trying to throw or file it but something held me back. Now I know why - those rather contradictory green uniforms I just noticed today at the local Woolworth's.
As explained in the article the ecologically friendly nappies are made by Australian Pacific Paper Products, sold as 'Ecobots'. Paul Klymbenko, CEO of Planet Ark is quoted:
"It's popular alright, it's just that it is not popular enough. ... This is not about a choice based on price but one based on what is best for the environment."
The article states "A replacement product - from Sweden called Nature Babycare - will be in the stores in a fortnight".
That would be about mid April 2007 so our next visit will have to include a scan of the relevant aisle for a change (!).
Postscript #1 The Sydney Morning Herald science blogger has this take: Tuesday, April 17, 2007
Politics and religion are classically regarded as the divisive topics best avoided if you want a quiet life.
However, if you want a really vicious dinner party debate, forget the prospects of the Howard Government or the latest Sharks result - try bringing up the topic of nappies.
Nothing quite polarises sentiment or induces more outrage among the environmentally conscious than the question of whether you use (or used) cloth nappies or chose disposables.
Posted by editor at 12:06 PM NZT
Updated: Friday, 4 May 2007 8:57 AM NZT