NSW loggers move today to destroy chunk of sacred Gulaga Mountain forest on south coast
Mood:
irritated
Topic: ecology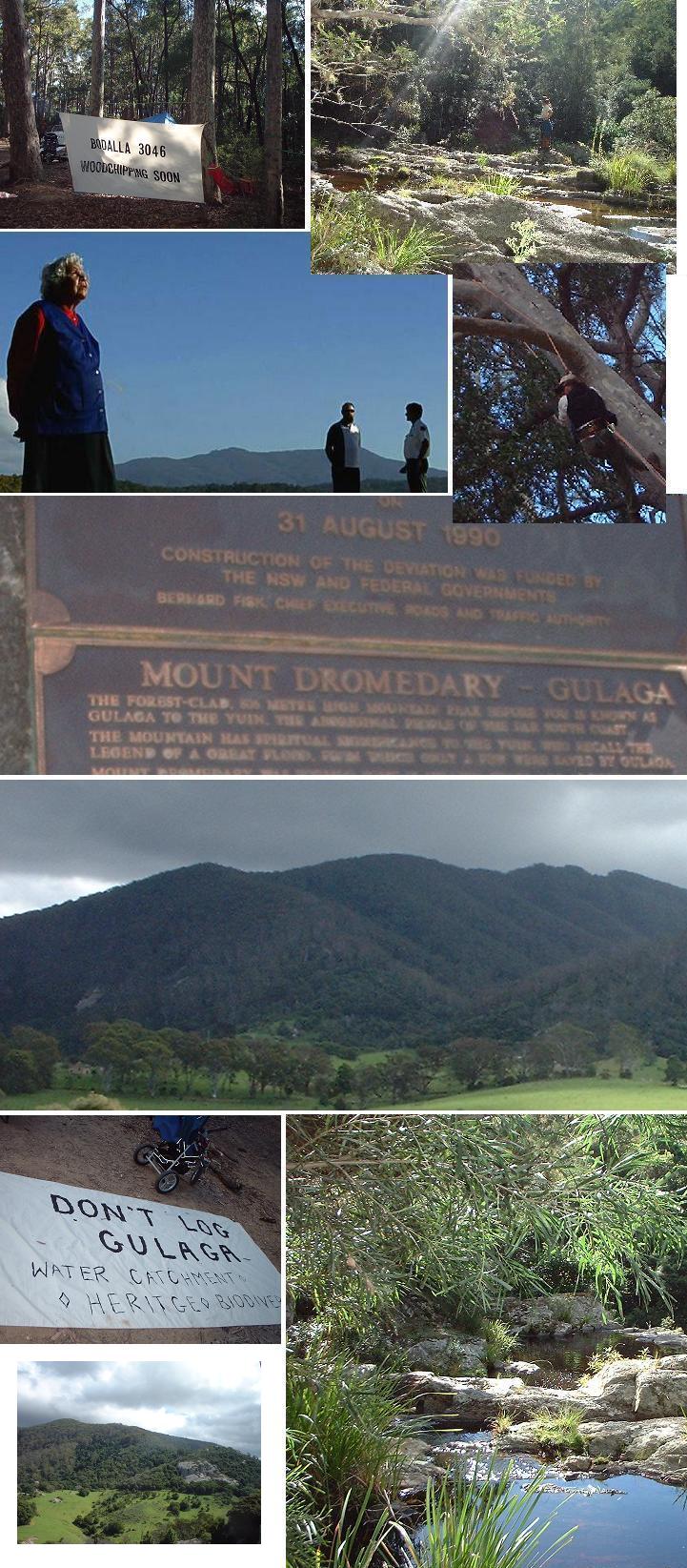 Pictures: successful protest against logging of the foothills of Gulaga Mountain on the NSW South Coast in 2005, about to be trashed from today Monday May 7th 2007. Aboriginal folks pictured are from Sydney Morning Herald in partial hand back ceremony 27 April 2006. All the other pictures by SAM reporter Tom McLoughlin.
Guboo Ted Thomas RIP stopped the loggers and their bulldozer in the 1970ies on sacred Gulaga Mountain on behalf of his people. I met him a few years ago and he told me "you're on the right track" trying to stop the woodchippers logging our native forest cultural and natural heritage.
This was against the wishes of some pro logging Eden based Aboriginal interests.
Now the loggers are back over the memory of this great warrior for the environment. Maybe the local Blacks have been beaten down to accept it. Maybe the laws under Morris Iemma are so draconian it can't be stopped. But it's still wrong. Very wrong. Shameful.
Guboo would say it if he were alive today, Black or White. Harriet Swift from ChipStop in Bega writes on the weekend as follows:
Sent: Sunday, May 06, 2007 4:22 PM
Subject: [chipstop] gulaga logging
Logging of compartment 3046 of Bodalla Forest (Gulaga Mountain) is scheduled to start tomorrow, 7 May. If you are interested in joining the campaign against this logging, see the campaign website at: http://www.tilbalogging.com

People may recall that this area, important to the local Aboriginal people, was scheduled for logging a year or so ago, but was deferred until after the election.
harriett
CHIPSTOP campaign against woodchipping the SE forests, PO Box 797 Bega NSW 2550 Australia, http://www.chipstop.forests.org.au
Posted by editor at 10:38 AM NZT
Updated: Monday, 7 May 2007 11:21 AM NZT