Macquarie Bank bosses paid 100x our political leaders just another name for corporate fascism
Mood:
irritated
Topic: corporates
When Premier Bob Carr quit his 'low paid' job in mid 2005 as elected Premier of NSW within weeks he was working for the main organ grinder in Sydney, NSW and Australia - Macquarie Bank, as here
The Hon. Bob Carr joins Macquarie Bank as part-time consultant
And the whole political community understood the significance, with leading citizens asking whether he didn't care about his reputation after politics anymore, and wide coverage:
Bob Carr joins Macquarie Bank - Business - Business - theage.com.au
This confirmed the understanding of most experienced non government groups promoting the public interest here: That Macquarie runs land use, transport, planning policy.
Bob Carr joins the Millionaire Factory Bob Carr
Carr is one of a long line of very senior ex politicians who are on the Macquarie shill.
The reason we have a million extra cars serviced by tollways and air pollution and massive congestion in Sydney is Macquarie Bank.
The reason developers finance the major party gerrymander against authentic democracy is because of Macquarie's control of big planning decisions over infrastructure.
This is the corporation that parades its philosophy as doubling their money by cutting a hole in a coin, two from one.

And that's what they have done in NSW and Australia - cut the heart out of our democracy.
Indeed as the documentary The Corporation makes very clear such entities as Macquarie Bank are psychopathic organisations exhibiting:
Callous unconcern for the feelings of others
Incapacity to maintain enduring relationships
Reckless disregard for the safety of others
Deceitfulness: Repeated lying and conning of others for profit
Incapacity to experience guilt
Failure to conform to the social norms with respect to lawful behaviors
Of course they have PR trimmings to confuse the situation, just as any clever drug dealer donates to the local emergency ward, as here in combo with Mission Australia but it's a fascade in juxtaposition to the obscene salaries of their bosses.
Crikey.com.au published this table yesterday that tells you in rare form who in effect is running the government, and the parliament, and the corporate media, on their salary and benefits close enough to 100 times bigger than the most senior politican. Even PM John Howard an avowed supporter of capitalism was moved to say on ABC World Today show yesterday 'its a very big amount of money':
CHRIS UHLMANN: To another company, Mac Bank's announced its profit, and that's a great thing. But is Allan Moss, the head of that bank, worth $33.5 million?

JOHN HOWARD: Well I think some executive salaries are over the top and I can understand the…

CHRIS UHLMANN: Is that one?

JOHN HOWARD: Well I… well $33 million is a lot of money isn't it? I mean -

CHRIS UHLMANN: It's a lot more than you make, Prime Minister.

JOHN HOWARD: Ah yes, but more importantly, it's a lot more than most people listening to this program make. And I mean, I am in favour of the capitalist system, I really am, and I don't think it's the business of government to put caps on people's salaries.

But if you ask me as a citizen, do I think that's a lot of money, you bet I do. And I can understand why some people who are genuine battlers, and I'm not a battler, I mean I don't earn anything like that as you all know, but you know I have a comfortable salary, I'm not complaining.

I'm more worried about people who're trying to raise a family on $40,000 or $50,000 a year. They're the people I worry about and they're the people that the Budget was directed to helping.
Over to crikey here 15th May 2007 :
Business
26. Macquarie millionaires rolling in cash
By Stephen Mayne, inventor of the Millionaires Factory moniker

In what is probably the biggest remuneration report ever produced, pages 48 to 90 of Macquarie Bank's 2007 annual review give chapter and verse on who is getting what at the Millionaires Factory.
And record profits mean record bonuses that will surely finally place a handful of Macquarie Bankers onto the 2007 BRW Rich List when it is released later this month.
If bankers collecting $20 million a year caused a storm 12 months ago, what will the $33.45 million pay packet of CEO Allan Moss do this year?
In fact, as the following table shows, the top six Macquarie Bank executives shared a staggering $160.32 million in the 12 months to 31 March, 2007.
Top Six Pay Packets
| | | | |
| --- | --- | --- | --- |
| Executive | Position | 2007 pay | 2006 pay |
| Allan Moss | CEO | $33.45m | $21.21m |
| Nicholas Moore | Investment banking boss | $32.89m | $20.58m |
| Bill Moss | Property boss | $30.61m | $12.40m |
| Michael Carapiet | Infrastructure boss | $22.92m | $15.88m |
| Andrew Downe | Treasury boss | $21.49m | $14.26m |
| David Clarke | Executive chairman | $18.96m | $11.42m |
As usual, the bonuses represent more than 90% of all pay packets as none of these lads are guaranteed more than the $670,811 base pay of Allan Moss.
Chairman and co-founder David Clarke has gone out with a bang with a final payout of $18.96 million before he becomes Australia's highest paid non-executive chairman on a base fee of $680,000 a year.
Clarke offloaded 326,135 shares during the year but retains 651,113 shares worth $58.3 million, albeit with a $30 million loan still owed back to the bank.
Despite the mind-boggling numbers, don't be surprised when shareholders give the remuneration report another 90%-plus voted at the AGM because the disclosure is excellent and this group ahs lifted Macquarie Bank shares from $6 to $90 since the 1996 float.
The bank's bonus system has a strong long-term focus which locks executives into the future, so it's no coincidence that the same names have been appearing in Macquarie's top pay packet lists for the last few years.
The bank finished the year with just over 10,000 staff who shared an average pay packet of $360,000. Exactly 50% of the bank's $7.18 billion in income goes to employees and the remuneration report points out this as in line with its competitors and US consultant Towers Perrin has approved it.
Shareholders have absolutely nothing to complain about, it's Macquarie customers, clients and counter-parties who should perhaps be scratching their heads about getting out-smarted by what is now arguably the world's biggest private equity firm.
Send your tips to boss@crikey.com.au or submit them anonymously here.
Postscript #1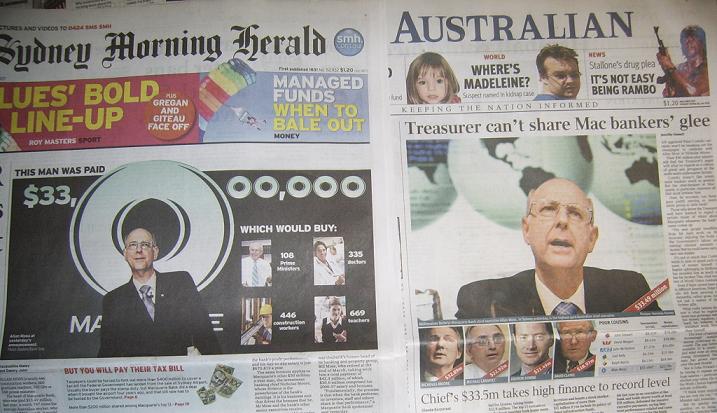 At the time of writing yesterday morning we didn't realise (believe it or not) that the front pagers of Sydney Morning Herald here
The fineprint: a $33m pay cheque Bank boss Allan Moss is worth 669 graduate teachers or 108 prime ministers. ...but you will pay their tax bill
and The Australian
Treasurer can't share Mac bankers' glee | News | The Australian
as pictured above 16th May 2007, both went the Big Sledge on sleazy Macquarie Bank with their huge salaries. To see these late last night was very heartening really because truly it is said the root of all evil is the love of money.
We felt it was a big story courtesy of Stephen Mayne's piece in Crikey.com.au a full 12 hours before the traditional press, and woke up keen to echo his work, having spent the night feeling beaten over the ongoing forest destruction in my state of NSW and East Gippsland (Gulaga story as above and below), and it seems the Big Media were on their production timeline in parallel with the same concerns.
Postscript #2
Peter Hartcher get's it way wrong about Australian values in the Herald today here Peter Hartcher: Macquarie's small bickies compared with big boys. Not only does it prove there is a failure of moral values but by comparing with international rapacious capital of Wall Street all he is doing is explaining the economically cruel and unsustainable global business system that has led to vicious terrorist backlash, ecological collapse, and profound market failure via global warming. That's nothing to be proud of in Macquarie Bank or the western world.
But it does underline even a talent like Peter Hartcher doesn't get it on why he personally should declare his own excessively generous AWA with Fairfax when commenting on industrial relations, as all other Big Media should to show they are doing the advocacy of big business hierarchy, a tone set by Macqurie bank.
Posted by editor at 10:23 AM NZT
Updated: Thursday, 17 May 2007 9:50 AM NZT