No cure for the common cold - but try inhaling vapour clouds of eucalyptus in hot water
Mood:
surprised
Topic: health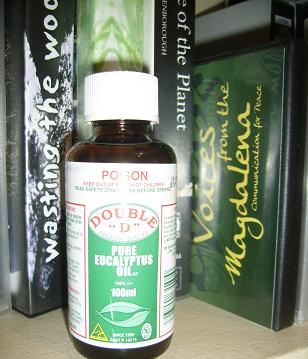 The SAM blogger has had the dreaded onset winter lergie for some 4 weeks now - it's rotten. The colder than average home base here in the old building doesn't help either.
Some like oranges, garlic etc but what really works for us beside rest and fluids is careful use of eucalyptus drops about $4.50 for 100ml at the supermarket depending on the brand.
Boil the kettle, pour into a pot. Put in 10 or 15 drops (a short pour) and slowly breathe in the heady mix gradually and out again. It's strong stuff so be sure to read the directions and don't ever drink the stuff. Do this as long as you like or the vapour cloud lasts (a minute or two). No need to boil on a cooker either as adequate volalitility just off the boil, and quite comfortable temperature.
2 or 3 times a day is really working to clear our lungs, and it somehow feels patriotic too.
Posted by editor at 12:33 PM NZT
Updated: Tuesday, 29 May 2007 1:10 PM NZT