More frequent mega fires an inevitable result of decades of logging, chipping landscape change
Mood:
irritated
Topic: wildfires
These diagrams below first presented in 1995 reveal the process of landscape conversion of native forest from moist old growth fire resistant type, derived from their closed canopy, to dry sclerophyl bushfire prone regrowth type.
As long as a moisture rich closed canopy is in place a high density of ground cover remains of moderate risk and tends to break down quite quickly as well.
The most severe process of logging disruption of the closed forest canopy has been going on since the advent of high intensity 'integrated logging' for timber but also high proportion of woodchips especially since the mid 1970ies. This was around the time of the advent of bulldozers, other big machines and modern chainsaws.
Thus even if a small proportion of a forest of say 2 or 3% suffers high intensity logging per year, after 40 years of pathworking, close to 100% of the moist micro climate will have been destroyed along with the broken canopy. It will take maybe a century to re establish the moist old growth closed canopy microclimate across broad areas of forest IF devastating fires don't constantly set the clock back to zero again in a cruel ecological game of snakes and ladders.
That's how grim the situation has become in large areas of forested south east Australia as a result of rampaging logging and greed. Even much contemporary national park has been patchwork logged already prior to reservation in the last 40 years and still to regain closed canopy moisture. Depending on the fire patterns in the future they may never regain that closed canopy and moisture level.
There are many other factors contributing to bushfire such as ignition sources like arson or naturally occuring dry lightning. Climate impact of low rainfall also impacts fire intensity and risk. Ground fuel levels are also very significant.
But what is apparent in the current anxious reflections and research into how best to deal with the impending catastrophic fires of the futre is that the modern logging industry have been getting away with environmental murder that promotes mega bushfires. It all follows from breaching the natural water cycle under a closed canopy: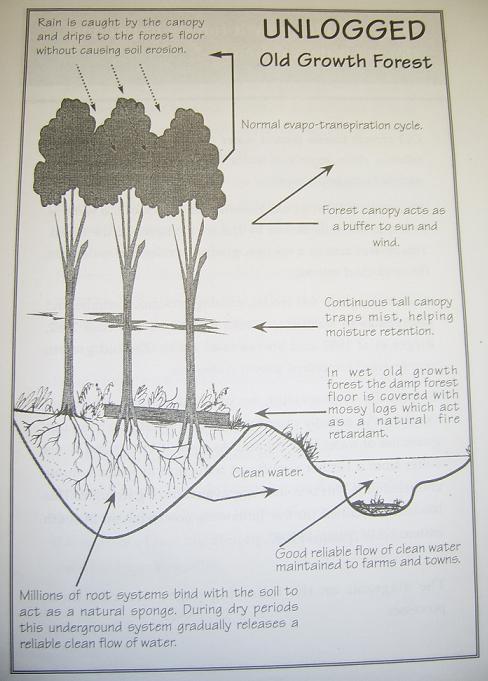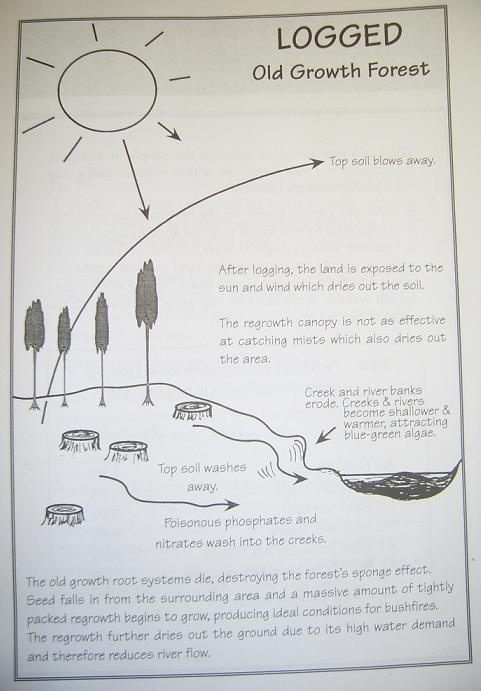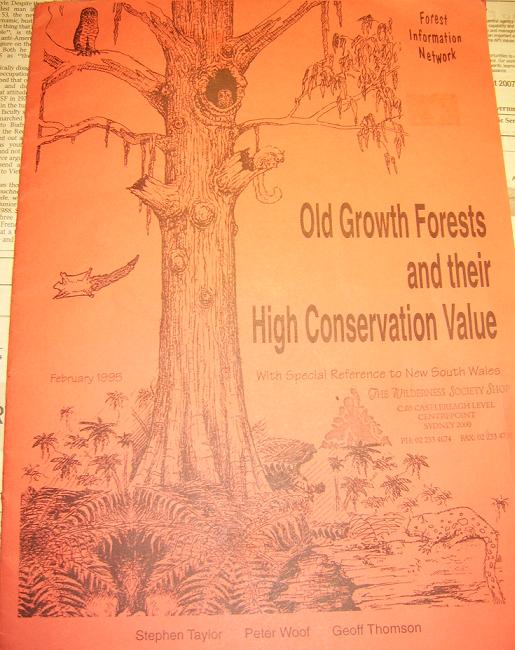 The diagrams above are based on the following scientific papers:
Cornish PM (1982) The variation of dissolved ion concentration with discharge in some NSW streams, Forest Hydrologist, Forestry Commission of NSW, The First National Symposium on Forest Hydrology, eds. EM O'Loughlin & L J Bren, May 1982,
Rieger W A, Olive L J and Burgess J S (1982) Behaviour of sediment concentrations and solute concentrations in small forested catchments, University of NSW, Department of Geography, FAculty of Military Studies, The First National Symposium on Forest Hydrology, eds. E M O'Loughlin & L J Bren, May 1982
Stokes R A and Loh I C (1982) 'Sustaining Sensitive Wildlife Within Temperate Forest Landscapes: Regional Systems of Retained Habitat as a Planning Framework', pages 85-106 in Ecology and Sustainability of Southern Temperate Ecosystems, eds. Norton T W & Dovers S R, CSIRO 1994.
Wronski E (1993) Tantawangalo research catchments, Change in water yield after logging, Report to the Forestry Commission of NSW, 1st July 1993

Declaration: The editor/author was called as witness to the NSW Parliamentary Inquiry, and briefly to the Coronial Inquiry after the summer 1993-4 bushfires, as a representative of the Wilderness Society in NSW.
..........................
Postscript #1 to and fro with pro logger Mr Chipman in crikey ezine this last week
Sent: Tuesday, June 05, 2007 7:27 AM
Subject: loggers court megafires with science references, rebuttal of Chipman here
Been a hard 4 weeks but flu is on the turn, thank God. If I'd gone to Gulaga I think it might have finished me but here is silver lining for you folks (of sorts, note the nihilistic twist in the tail to borrow Rod Qantok approach to ousting Jeff Kennett back in 1999, sadly it's quite true). Follow the link to get the diagrams and especially the fantastic scientific references, all credit to the original authors shown on the book cover, Woof, Taylor, Thomson legendary forest defenders of the south east 90-95. Crikey.com.au goes to abut 45,000 a-grade political demographic.
The central thesis is that landscape change via highly mechanised logging this last 40 years has stuffed the water cycle in forests making them highly prone to mega fires. It's grim allright.
Yours truly, Tom McLoughlin
----- Original Message -----
Sent: Monday, June 04, 2007 10:37 PM
Subject: Reply to Chipman: Logging causes mega bushfires
Re Mr Chipman (Comments 4th June). He makes my point: Prof Kirkpatrick presumably was so dis-satisfied with the 'flexibility' as per the quote with the first 7 years of the Tasmanian RFA logging plan that he and 99 brave colleagues wrote a political letter before the last election repudiating it. Kirkpatrick's Order of Australia in 2003 just adds weight. But it was always a trick of bad public policy isolating Tas forest when Australia generally is a vast open plain and/or desert. And redundant now as we are doing national auditing of carbon store. We also have global responsibilities beyond the shire size population of Tas. And
well established science here
shows that high impact mechanised logging this last 40 years has been destroying cool moist (and therefore) fire resistant closed canopy old growth forest. This is replaced with dry sclerophyl regrowth that really burns. Extrapolate this effect onto whole landscapes patchworked with 1 or 2% a year logging with a minimum 100 year canopy regrowth timeline, then turbo charge with climate change, and presto, I submit we have the root cause of frequent mega bushfires. Truth is these 1000 year old canopies will never re establish, suggesting another climate change tipping point via cyclical megafires. We really are in big doo doo. A very basic first step is keep the closed canopy upstanding, then restore moist canopy in the regrowth somehow. We would need 100 Prof Kirkpatricks to do that ie it'll never happen. Just as we won't stop the polar ice caps melting. Truly one can say in Chipman's case, to win, as he undoubtely has on forest destruction this last 10 years, is to lose. Just like Iraq. Suck it up.
Tom McLoughlin, ecology action Australia
Tasmanian logging:
Barry Chipman. Tasmanian state manager, Timber Communities Australia, writes: It is rather interesting that the Ecology Action Australia spokesperson (Friday, comments) didn't choose to tell the full story about the nationally agreed criteria (JANIS) for Australian forest conservation, which has brought about Tasmania's world-class forest reserve system of 47% forest biodiversity, 80% old growth, 97% wilderness. What was overlooked is the following very important element and quoting directly from application of the criteria: "Flexibility in the application of reserve criteria is needed because of differing regional circumstances. The criteria are considered to be guidelines rather than mandatory targets. In some circumstances and for some criteria, lower levels of reservation may prove adequate. The extent of potential social and economic impact may limit the ability to meet reserve criteria (see Sections 5.2, 5.4 and 6.1.1 of the JANIS document). Where different configurations of reserves are identified as meeting the criteria, the option that imposes the least cost on the community should be adopted." Also worth noting is one of the key environmental scientists deeply involved in the development of this criteria and then helping bring about Tasmania's balanced world-class forest reserve system gratefully accepted in 2003 the Member of the Order of Australia (AM) medal of his involvement. That citation reads: "Professor James Barrie KIRKPATRICK, Member of the Order of Australia (AM). Citation: For service to environmental conservation, particularly in relation to World Heritage assessment and the development of forest reservation criteria. Date Received 09 June 2003."
Tasmanian Logging:
Tom McLoughlin, ecology action Australia, writes: Mr Chipman (yesterday, comments) must be baffled by his own corrupt RFA agreement specifications. 100 of our best independent forest scientists led by Prof Tony Norton, Prof Jamie Kirkpatrick and other luminaries have described this document as follows: "The Tasmanian Regional Forest Agreement (RFA) is widely perceived in the scientific community to have failed to deliver the intended protection for environmental, wilderness and heritage values that state and federal governments committed to when they signed the National Forest Policy in 1992. The scientific processes in the Tasmanian RFA were overwhelmed by political compromises. Established criteria for forest conservation were not fully applied. There are large areas of high conservation value forest that would have been reserved if the RFA criteria for forest conservation had been fully applied. Logging practices and the conversion of native forests to plantations have intensified in the seven years since the signing of the RFA, resulting in record volumes of export wood chip production. This intensification, combined with the well-documented inadequacies of the conservation reserve system (exemplified by the large areas of unlogged Eucalyptus regnans tall open-forest that remain unprotected) has produced highly modified forested landscapes with diminished landscape values." The full statement and signatories is extracted here. This devastating criticism was before the widespread public concern over climate change. This scientific advice was reported at the time on the radio national Earthbeat program until it was axed soon after the re-election of the Howard Government in 2004.
Posted by editor at 9:07 PM NZT
Updated: Wednesday, 6 June 2007 9:07 AM NZT