Cr Khan bowls up green politics to Albanese on the home turf
Mood:
chatty
Topic: election Oz 2007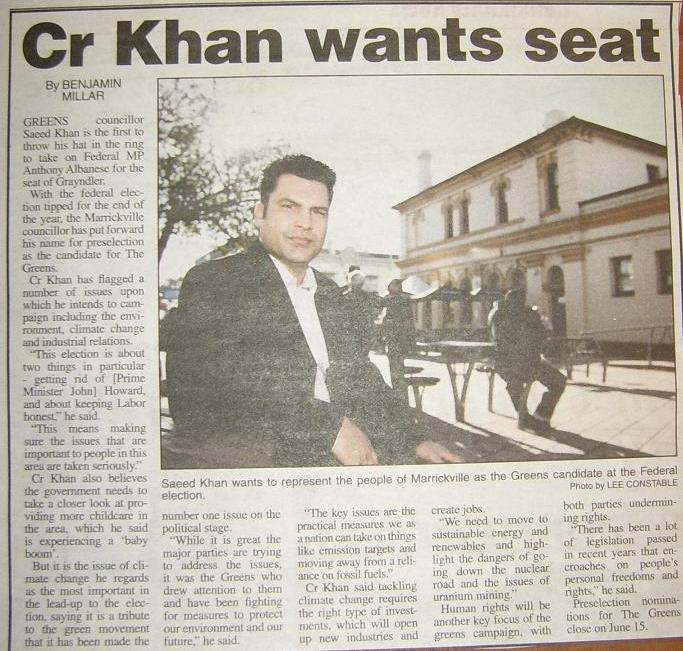 With federal govt money involved in this hyper consumption view of the future Cr Khan has plenty to work on in this side of Sydney.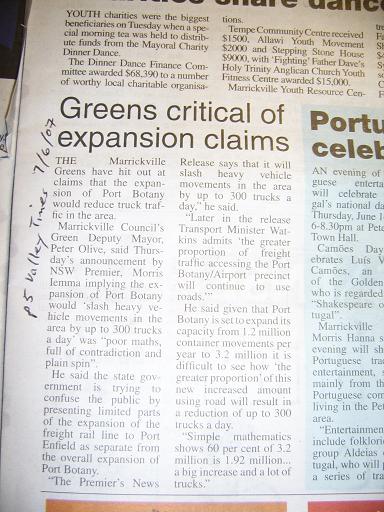 and here
Media Release - 7 June 2007

Anvil Hill coal mine approved: Govt's climate change credentials in tatters

Greens MP and mining spokesperson Lee Rhiannon said Planning Minister Frank Sartor's decision today to approve the massive Anvil Hill coal mine in the Upper Hunter Valley shows the Iemma government is not serious about addressing climate change or safeguarding the Hunter's water resources.

"This decision shows the Iemma government is completely captured by the coal industry," Ms Rhiannon said.

"The approval sets NSW down the path of no-return. Our state's future has been hijacked by today's announcement.

"While approval has been granted, the fight to stop this and other mines has just begun.

"Greens MPs will join with effected communities in taking peaceful, direct action to resist the expansion of the coal industry.

"The approval of the Anvil Hill mine signals that the 22 applications on the table to build new mines or extend existing mines will also be granted.

"Anvil Hill will produce 10.5 millions tonnes of coal annually. When burnt this coal will produce 27 million tonnes of Co2 annually, equivalent to doubling the number of cars on NSW roads. It will cause up to $58 billion worth of climate change damage in less than one generation.

"Coal is the elephant in the room when it comes to climate change.

"Nothing can compensate for the environmental damage this mine will do. Minister Sartor is wrong to think strict conditions or minimal job creation opportunities will be a sufficient trade-off.

"The burning and mining of coal is responsible for 40 percent of Australia's greenhouse gas emissions. Emissions from our coal exports are equivalent to all our domestic greenhouse gas emissions.

"Minister Sartor is swimming against the tide of international scientific evidence on climate change and the need to take urgent action to cut emissions.

"Morris Iemma's children and all of our children will condemn the government for this decision in years to come," Ms Rhiannon said.

Contact: Lee Rhiannon 9230 3551, 0427 861 568
............
and here
Vote Climate Goes Live

Australia's first dedicated election website focused on the issue of Climate Change, now moving towards its second year, has just released its "At A Glance" policy analysis.

The "At A Glance" page summarises the different parties' climate related policies in clear and concise graphical tabular format.

The "At A Glance" page will be updated in a week to include links to our policy summary pages and further links to the source material on which the summaries are based.


Help Vote Climate

We are asking your group to become involved in the Vote Climate campaign in a number of ways.

Link to VoteClimate.org.au from your own web page.

Promote VoteClimate.org.au to your lists and friends.

Print out the Vote Climate posters and put them up in your local area, workplace, uni etc.

Carry a Vote Climate banner at this years Walk Against Warming being held the Sunday two weeks before the day of the Federal Election.


When linking to our site please also link to the Big Switch Campaign (no website yet) organised by Greenpeace and the state Conservation Councils.



What is Vote Climate trying to achieve at Federal Election?

Vote Climate is working to the following goals for this election:

get Labor elected

move the control of the senate to the minor parties (most likely Greens)

get a clear strong vote for the climate

push inner city green marginals closer to the point where Greens can win

move all parties to stronger climate policies



What are some other activities your group can undertake?

Run a climate change candidates forum in your local area

If in a Labor / Liberal marginal or Greens/ Labor marginal you could leaflet your electorate with a strong statement on each parties performance on climate change. Vote Climate would be happy to help you draft your letter.

If not in a marginal seat help a group that is in one.

Any number of other activities from stalls, to postering, to talks.



Vote Climate a Unique Website

Vote Climate is entirely self funded by its volunteer campaign team and consequently its voice is not restrained by fear of losing tax deductible status or government funding, unlike the mainstream environment movement. Vote Climate will be the only independent national climate election website to recommend who to vote for and in what order .


A few points on political campaigning?

With the election now under way its time to start applying pressure on the political parties to get outcomes. Here are a few points to guide you along.


Have Labor already won?

NO absolutely not.

With Rudd in the leadership position they merely have a chance.

People interested in a change of government will need to work very hard to make sure this happens.



Applying Pressure

Political parties and politicians only care about getting votes in seats they want to win. If you can't give or take away votes in seats they are concerned about you have NOTHING, and that is NOTHING to negotiate with.

They will often engage with lobbying in an effort to convince you that you are on the right track and they will do something for you and that you are about to succeed, while all the time simply trying to prevent your group actually doing something that will effect their votes.


Parties will make decisions almost always on a least cost analysis (though they usually claim otherwise), comparing the dollar cost of implementing a given policy to the cost/benefit in votes/influence you are offering, the votes they loose and the implication for other key supporters/donors/pressure groups.

They will even try and get you working for them, ie THEM "we can't do X unless you give us Y" If you find yourself in this position something has gone wrong with your campaign. Instead the conversations should go YOU "Give us X or we will do Y". Even better is to be able to say YOU "Give us X and we will stop doing Y"

If you have limited resources (ie time) avoid talking to people who can not actually influence decisions within their party.



Where to target

Liberal will be concerned about seats it might lose to Labor

Labor will be concerned about seats it wants to win from the Liberals and seats it might one day lose to the Greens.

Greens can use help anywhere to hopefully win Senate seats or in the Greens/Labor marginals (though these seats would be a much lower priority than winning balance of power in the Senate).


--
Adrian Whitehead

VoteClimate.org.au

0403 735 118

............................
and last but not least this on Get Up via YouTube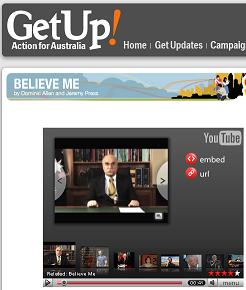 Posted by editor at 7:09 PM NZT