In praise of George, front man for Warumpi, Black Australia's own Mick Jagger
Mood:
special
Topic: culture
[No picture of George which we understand is the cultural ethic after the death of an Aboriginal man.]
We saw George, or "Georgie", along with an enthusiastic crowd at Waverley Oval in Sydney. It was around 1999 or so. It was the Survival Day concert that had been recently relocated from La Perouse in Sydney. It was my last of 4 years on the Waverley council and I was feeling pretty burned out and needing a change. I had decided to make way for an Aboriginal member of the local Greens Dominic Wykanak who was duly elected late 99, in place these last 8 years.
George has died at age 50, according to The Australian press yesterday and today.
In 1999 he seemed at the height of his power, very lithe, very energetic and a very black traditional looking man. A superb rendition of
My Island
Home
and other songs were performed. A successor to him and his band's artful music, Christine Anu, was also on the bill later the same day, in much gentler refined tones.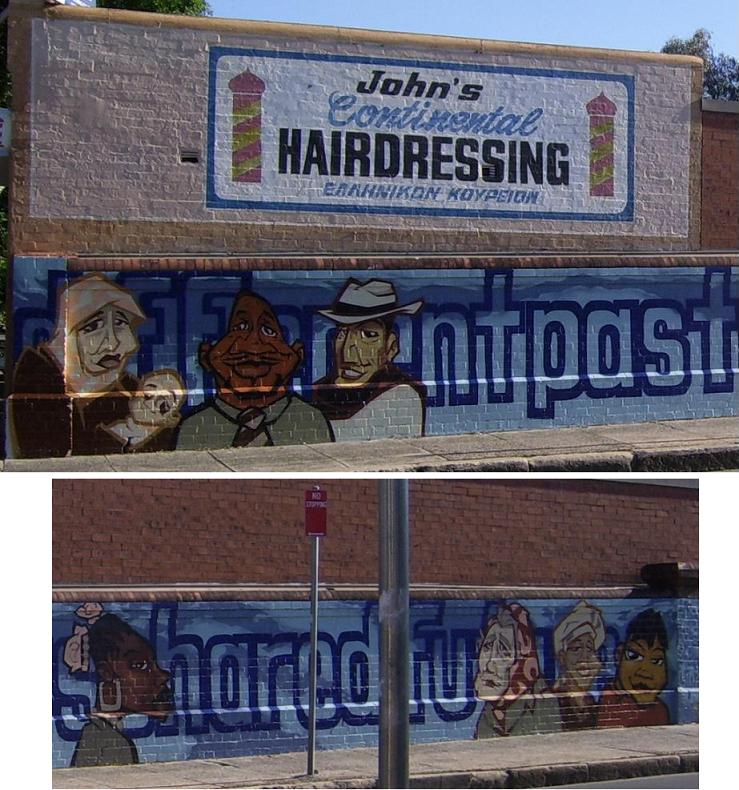 Picture: New mural in Marrickville reads "different past shared future"
But for me it was George's performance that was the eye opener. Wow. He was great. And the crowd response reflected that too. They started to jump.
In my beady way I noticed the tv coverage that night missed this gifted display, showing the more mainstream more everywoman looking Anu singing the exact same song My Island Home. I felt a little ripped off, like what's the problem, was George too loud, too black, too traditional looking? His rendition of the same song, which was in fact their song was superior in my view proven by the crowd reaction.
But I think it was just Christine's greater recognition to Australia generally at that stage in her career. She also became known for doing tv pre election advertising for the NSW government a few years later with "It's a living thing" theme. Besides it wasn't a contest, it was what it was. You had to be there to get the best of George.
In fact we first heard of Ms Anu in about 1993 or so when we actually personally had this conversation at a Christmas function for The Wilderness Society like this:
Me: "Are you from the Metro Aboriginal Land Council ?" [an invitation sent by myself if memory serves]
Christine Anu: "No we're the entertainment." [looking as drop dead gorgeous as she was ever going to at that age]
Me: "Oh, okay".
And it was also the first time I'd ever seen another singer on the ticket that night at our function, held in the Old NSW Teachers Club in Bathurst St, and thinking, that guy is something special: Neil Murray of the one and same Warumpi Band playing solo. He was damn good too. Sang a song something like "Into the wilderness" a bit like getting away from it all in the Warumpi song "Good light in Broome".e
Neil is in The Australian today describing the enormous talent his colleague George was. God bless you George, condolences to your family, to Neil, Christine and all their fans. What a champion performer George was.
Tom McLoughlin (NSW campaign coordinator 1993-94, The Wilderness Society NSW)
Posted by editor at 2:55 PM NZT
Updated: Wednesday, 13 June 2007 10:03 AM NZT