Dopey Telegraph shoots the Media Watch messenger, panders to rednecks?
Mood:
down
Topic: big media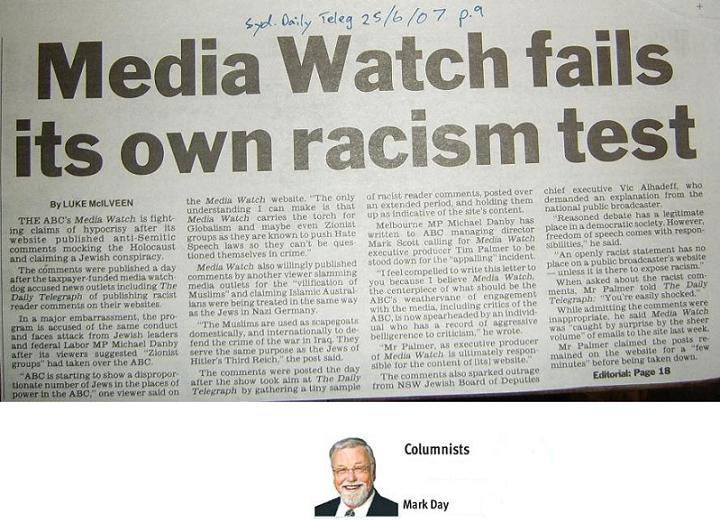 How brazen and gormless are the Sydney Daily Telegraph editorial? Very we would say. This article above is hopelessly contradicted by ....the respected News Ltd columnist in their own haughtily named The Media bible for their sector in The Australian weekly liftout every Thursday:
Mark Day By rowboat or at light speed, news is no free for all June 21, 2007
and these words direct quote, bold added:
"The net has not only changed the nature of news, but it has also provided a two-way conversation. The rise and rise of blogs has contributed to a great rise in interaction between newspapers and their consumers.
Around the world editors are seeking to increase reader involvement with their mastheads as a way of extending their reach.
This has brought growing pains, as highlighted this week on the ABC's Media Watch.
If Blair deplores the kind of "impactful" language used by newspapers, what does he make of some of the public reaction?
Media Watch highlighted a problem for all newspaper bloggers: how far does the notion of free speech extend?
Most newspaper bloggers moderate their reader responses and remove any material that is defamatory, abusive, vilifying, discriminatory or racist.
When confronted by borderline material I find myself often yielding to the temptation to let it through, because to do otherwise is to invite rancid criticism.
It's a no-win situation: if you allow such material through, chances are you'll be in court sooner rather than later; if you edit the posts those who find their remarks modified frequently complain that they have been censored. Well, maybe, but the criticism of an aggrieved blogger is preferable to a million-dollar lawsuit in my book.
Media Watch singled out the Sydney Daily Telegraph for special attention because of what it claimed was a large number of racist or otherwise offensive online comments.
In response, editor David Penberthy declared he was in favour of free speech, and what Media Watch was advocating was censorship.
He also pointed out that in the online argy-bargy, excess on either extremity of a debate was usually leavened by plenty of sensible balance in the middle.
Like Penberthy, I am in favour of free speech, but it does come with a price. We have laws that define the limits of our freedoms - like you're free to drive your car, as long as you keep it on the left side of the road.
Defamatory online comments can be just as dangerous and costly for a media owner as libels in print. Racist commentary online can breach anti-vilification laws which are designed to establish community standards.
Like them or not, these laws are enforceable, and are ignored at your peril. "
O foolish, proud Daily Telegraph here in their editorial bully pit today. Guilty as charged, now dissembling and trying to cover its tracks with a counter attack on the credentials and performance of Media Watch as the messenger. The Telegraph is proud of being the biggest and the most influential which means it has higher standards of responsibility with that power. It's as simple as that. Lift your game and pay for the blog moderation time of your staff. It's as simple as that. God forbid we ever have the cult of extreme free (read hate) speech in a civil society.
Sad to see the grubby, dopey Telegraph seeking to leverage their lower standards to chip at Media Watch with the ABC setting the standards, whether they also slipped or not (highly debatable). Certainly they will care, while the Telegraph hypocritically flout legal standards. Shame David, shame. This is not the USA, and we believe in cricket still to some degree. If you want to play Big Media that way then move to North America, land of bizarre constitutionally guaranteed hate speech and Rupert Murdoch citizenship. We can manage quite okay without, thanks, here in little old Galilee to their modern Rome under the perverse Republican heel.
On the other hand we do appreciate this from the Sydney Daily Telegraph today:
Warren the cartoonist at the Sydney Telegraph has an inspired cartoon about the gruesome nature of high level adversarial contest over the very serious "above politics" issue involving the life abuse and death of our young Indigenous citizens: Leveraging another evocative picture story on page 7 "Like bats out of hell - Endangered creature swoops on park land" (offline for now), combined with the fact of end of Parliamentary sessions in Canberra for the next 6 weeks or more, Warren offers this:
Postscript #1 we posted a similar sentiment here on this message board.
Postscript #2 This came through on the lists today with one of many reactions in the last 3 days to the Howard law and order agenda:
Dear Mr Howard, As concerned citizens of Australia, We are responding to your approach to the child abuse crisis in the Northern Territory. We believe that your concerns are sincere, but the measures to be undertaken are completely invasive, draconian, arrogant and condescending. This type of hard-line attempt at "SAVING THESE COMMUNITIES FROM THEMSELVES" reekes of past injustices and misinterpretations of proper solutions. Your approach is disempowering, unacceptable to the broader community; and reminiscent of Apartheid policies.

There is absolutely NO GROUP WITHIN AUSTRALIA, who would allow such intrusion of their democratic liberties. If you are to introduce COMPULSORY HEALTH CHECKS, BANNING OF ALCOHOL AND PORNOGRAPHY- FOR THE INDIGENOUS COMMUNITIES- are you willing to introduce the SAME controls over the broader community where Sexual Abuse/ Domestic Violence/ Paedophilic activities is rampant and possibly reaching crisis point as well ?!!
Efforts to stamp out child abuse stem from targetting the perpetrators (That is ANGLO and NON-ANGLO PAEDOPHILES!) not targetting social benefits and introducing invasive health checks on children who have already been traumatised !

Has the government had the decency to debate, LISTEN and consult with the community elders and those directly affected in regards to possible solutions?
Mr Howard, any intelligent Australian would be ashamed and appalled at this "so-called" concerned solution, to a problem that the government has closed their eyes to for a number of years.
WHY NOW MR HOWARD ?
Concerned Citizens of Australia:
Postscript #3 26th June 2007
The penny has dropped today regarding the latest Media Watch episode last night (fell asleep, read it today) that this writers' penchant for talk back on the ABC is probably drawing to a close given the SAM website is promoting a low level of advertising sales to keep this essentially non profit show on the road. If you take the time to see MW here in four parts
First Family
Balancing Nine's Budget
The High Price Of News
Juggling The Finances
(and it was another cracker in our humble opinion) you will see it's mainly about financial advisers leveraging profile on the public's ABC for indirect private profit. Whoa - what a can of worms. And well overdue really. From book writers who are also staff there getting a plug, to other privately invested folks. Even saintly Alan Kohler got a good jabbing in the ribs. ABC coverage and private profile benefit is not always incompatible but it's a sensitive area of public ethics to be sure.
Posted by editor at 9:58 AM NZT
Updated: Wednesday, 27 June 2007 8:26 AM NZT