Climate shakeout of politics and market gathers momentum
Mood:
not sure
Topic: globalWarming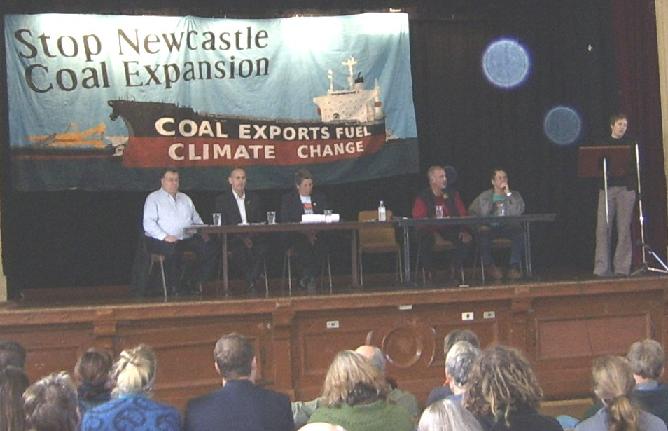 Picture: Forum at Marrickville Town Hall Sunday 24th June 07. A coal ship looking suspiciously like the Pasha Bulker is on the banner famous now for being stranded by extreme climate, owned by Japanese interests, with 40-45% of our coal exported to …… Japan to make more climate change!
Last Sunday 24th June we attended a meeting evidencing backlash in the local Marrickville area against the Anvil Hill coal mine decision by the increasingly loathed Planning Minister Frank Sartor. It was a who's who of the green movement leadership including the ones we saw –
- Senator Bob Brown, Lee Rhiannon MP, John Kaye MP, Cr Rochelle Porteus all of the Greens Party
- Ben Pearson, Climate Change Coordinator for Greenpeace Australia
- Christine Phelps, local landholder litigating against the NSW Govt decision
http://www.smh.com.au/news/national/landowner-thorn-in-miners-paw/2007/05/20/1179601244377.html
- Peter Gray, Newcastle Uni archivist and successful litigant against the NSW Govt who revealed that after the State election he has been monstered with 3 protester charges for jumping on the Premier's car, 6 weeks after the event.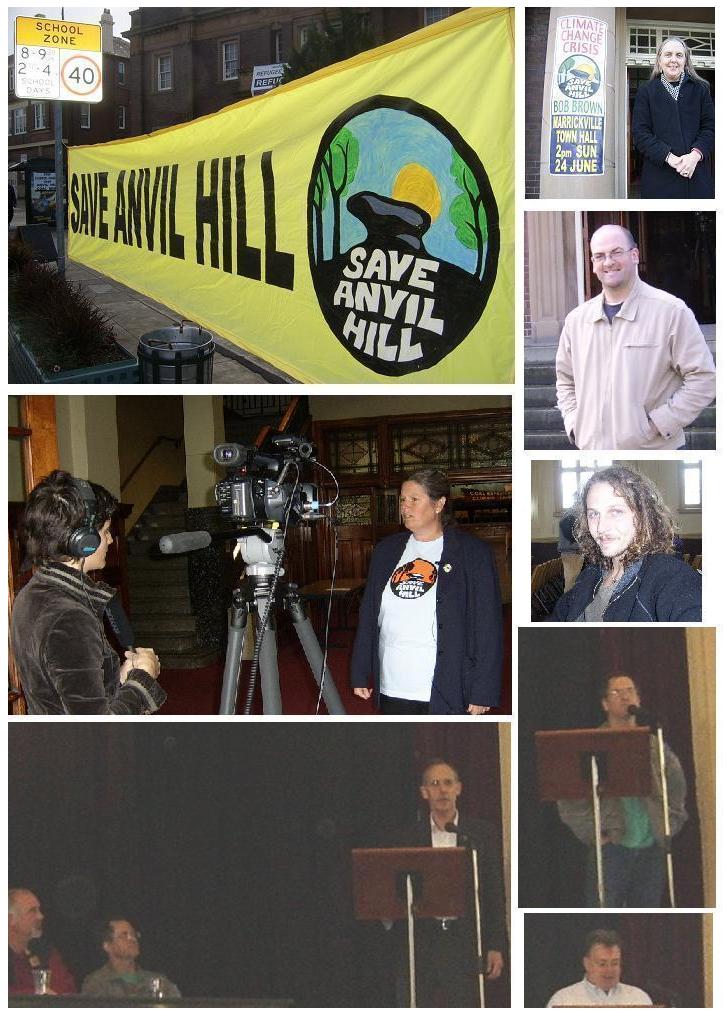 We found the speech of an 18 year veteran of the coal industry Graham, now retired, very instructive:
- 1/3 increase hours worked, 1/3 reduction in pay, overall wages higher
- Local community in the Hunter is destroyed with 60% divorce rate in Singleton and no time for social groups
- He spoke without notes for 10 minutes with weary experience like the determined teacher in Stand and Deliver http://en.wikipedia.org/wiki/Stand_and_Deliver
There were representatives of Greenpeace, Nature Conservation Council, horsebreeders, winegrowers and mining on the platform. Senator Bob Brown in his speech leaned heavily on the latest profound science advice about dangerous ocean sea rise, such as this:
The World Today - UN accused of underestimating sea change
He really spoke well. Second impressive politician of the day with Rudd on Sunday 9 show earlier in the day. I told him myself before the meeting – that's what you have to be Bob and shook his hand, calm, focused, insightful, energetic. And he didn't disappoint. Our pictures show the highly attentive Hunter miner and horse stud representative and local landowner all very impressed with the Senator. Bob is getting older but he still has star quality, and not just for Greenies:
Some quotes:
"They tell us it will be good for the economy. They are totally wrong. Where is Peter Garrett? Whose going to save us from the coal industry? "
"They talk about 18 [tbc] thousand jobs for 20 years, but there are 63 thousand jobs on the Great Barrier Reef that will be destroyed in 40 years. That's jobs in perpetuity at risk."
"In Canberra we have the endangered balding lesser coot. Whereas the red necked drongo is in plague proportions. Theres talk of a cull in November."
200 people in Marrickville Town Hall, in the heart of marginal seat of Grayndler stuck around until the end. The Greens gave out their slender Climate Futures Bill 2007 and second reading speech.
The Anvil Hill state based land use controversy about our moral role in destroying the Hunter, and coal production to China and Japan helping to destroy our very own long term future, is sincere and quite real. There are disturbing echoes here:
UN chief blames Darfur on climate | The World | The Australian
We send the coal so China can make crucial manufactures for us to buy back, like the the 6 foot alphabet caterpillar, face mask, the Kernot boas, my favourite - the Gorilla novelty slippers, and the cricket and thong carry bags. Essential? I don't think so.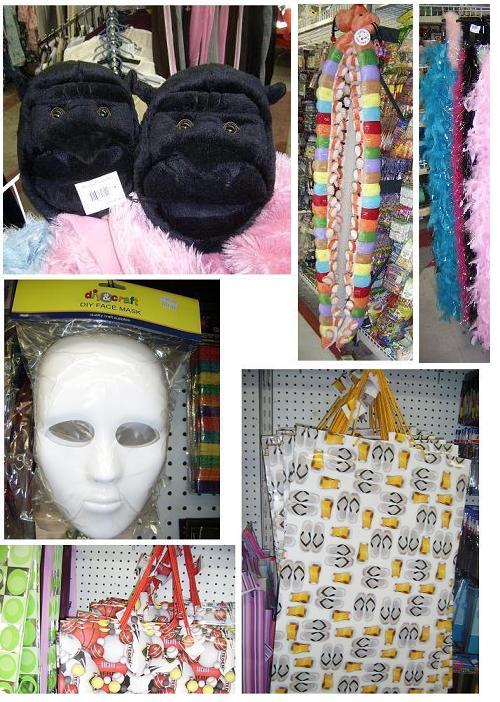 And China's rhetoric has a strong resonance to it about the West deliberately "outsourcing" this dirty business, none more than our own gerrymander Coalition and ALP major parties pandering to the coal miners:
Industrialized countries outsource CO2 emissions to China
mongabay.com
June 2, 2007
"Facing criticism as it surpasses the U.S. as the world's largest producer of carbon dioxide, China says that industrialized countries are hypocritical for criticizing its greenhouse gas emissions while buying its products, according to the Associated Press. China argues that developed countries are effectively outsourcing emissions by shifting manufacturing to its factories,

"The developed countries move a lot of manufacturing industry into China. A lot of the things you wear, you use, you eat are produced in China," Foreign Ministry spokesman Qin Gang is quoted a saying by the A.P. at a news briefing. "On the one hand, you shall increase the production in China, on the other hand you criticize China on the emission reduction issue."


And the stinging criticism is local too. As Morris Iemma inanely claims there is no environment without the economy (really) Cr Porteus gripes with Minister Verity Firth for the policy sleaze of the last election with broken election promises all over the place:
"During the election campaign, Ms Firth stated she was opposed to both the Rozelle Bay dry boat store and the Anvil Hill coal mine. Both have now been approved." Lobby Groups fired up after coal mine gets nod, p14 19/6/07 Inner West Courier
To that list add the M4 East Extension back on track (IWC 19/6/07 )free way for more smog.
But there are at least 2 really big shakeouts under way in this terrifying future of escalating sea rise. Don't believe all the denial talk either. When News Ltd get on board you know the times they are a changing and we won't all have holiday enclaves in the mountains or economic slaves to keep us afloat like the big business executives:
News Limited to spread climate message | The Nation | The Australian
Even if most people, not least the big politicians, don't realise Going green - Environment - smh.com.au - is not the end of the world and can even provide a thriving economy in Sweden apparently.
The big economic shake outs underway in NSW are:
Firstly energy production and transmission assets are going to be privatised in part or whole in NSW. We've recently written about how ruthless Treasurer 'the worker's friend' Costa is and he will shaft them as night follows day. It's because both sides of the major duopoly political parties understand the creative destructive capacity of capitalism to restructure and prune and re-orient the coal based energy sector as western society moves to a low carbon energy industry over 10 to 20 years, with planning decisions any time now. The strains of politically inevitability are everywhere
NSW could do with more privatisation - Business - Business - smh ...
Climate changes privatisation debate
Nor will warnings from the unions change this reality
Unions warn Iemma on public sector plan | The Nation | The Australian
Nor will faith based assertions of clean coal technology some 20 years away and non existent really
Or pompous denials by blimps like Christopher Pearson amateurish blathering one foot in the big media graveyard
Christopher Pearson: Politics of empty gesture | Opinion | The ...
A much higher level of international finance and politics is driving this situation:
Climate hot issue for APEC by Glenda Korporaal
We need co-operation on climate | The Australian Paul Kelly Blog
The business community seems to know its all about building renewable energy capacity
www.smh.com.au - Sun King pours energy into hunt for bright sparks
Dr Shi takes a shine to the PM | Business | The Australian
(And similarly business editor of The Australian Andrew Main on Trioli 702 radio praising Dr Shi this week 26 June 2007.)
Clean energy needs big commitment (offline p10 Resources section 23-24 The Weekend Australian) quoting national leader for Deloittes Ron Loborec calling for massive increase in capital investment like the IT industry.
And sure enough the coal industry have announced $400M over 10 years but it looks like a pipe dream still NSW coal industry agrees to contribute $400m to clean coal which the Greens sledge mercilessly here:
Clean coal announcement is industry con job

Media Release: 27 June 2007

Greens NSW MP and energy spokesperson John Kaye today dismissed the
coal industry's supposed $400 million investment in clean coal
research.

Dr Kaye said: "Spending crumbs from a rich man's table on a technology
that may never work is no solution to global warming.

"The coal industry thinks we can't divide by ten.

"Their supposed $400 million contribution to clean coal research is
over ten years. In reality it is only $40 million a year which for an
industry the size of coal mining is nothing but crumbs.

"The 20 cents per tonne levy amounts to less than 0.3% of the sale
price of coal.

"The coal corporations would hardly notice the levy. It would be buried
in the day to day fluctuations in the sale price of coal.

"Mark O'Neill is surely being ironic when he says that if this is a
public relations exercise, it's a very expensive one.

"For an industry that produces more than $9.5 billion worth of export
coal each year, $40 million is a very cheap down payment on securing the
myth that coal is about to be clean.

"The industry is trying to buy its way out of trouble.

"None of the serious clean coal technologies have ever been
demonstrated to work on a commercial scale. Even the most enthusiastic
proponents say that it would take more than a decade to make a reality
out of the idea of carbon capture and storage – burying the carbon
dioxide from power stations underground.

"What is needed to solve this state's greenhouse gas emissions crisis
is serious investment in renewable energy and energy efficiency," Dr
Kaye said.



For more information:John Kaye 0407 195 455
………………………………………………..
The second major climate change market shakeout is the implementation or not of energy and financially expensive desalination for water supply in a growing population. The NSW Govt are embracing renewable energy sources as an indication that this is the obvious way forward for all industry and society. And the green washing is barely placating a very angry electorate:
Higher dam levels be damned: state pushes desalination - Environment
Controversy dogs winning consortium - Environment - smh.com.au
Mad and getting madder: Kurnell steps up protest - Environment ...
No stopping desalination even if dam spills over - Sydney Morning Herald
Desal throws ups some jarring notes. We wrote 27th June of Minister Nathan Rees – formerly chief of staff of alleged paedophile Milton Orkopolous – glossing over the green energy consequence in context of the whole energy sector failure to actually retire dirty coal sources.
It's quite clear this NSW Government are unreconstructed dinosaurs grudgingly playing populist politics, who haven't got a clue on sea rise threat advised by the best world scientists. Premier Iemma is even reported on "the imminent decision on a coal-fired power station (which he called the biggest economic decision in a decade for the Government)": Iemma happy heading in the same direction - National - smh.com.au
Obviously the major party politics and their gerrymander of the electorate has really failed to embrace renewable energy capacity building and now imminent power shortages
Inquiry to look at why gas supply fell short.
Water bill up $100 Electricity up $100 Gas supplies cut
are forcing the gigglying dinosaurs in charge of NSW Govt to rush into more tired old unsustainable solutions.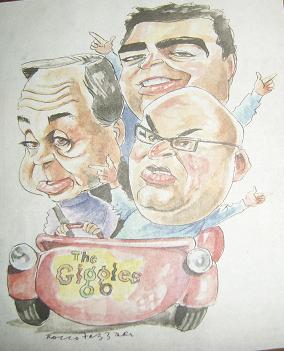 So there you go. The environment is all dependent on the economy, when I thought it was the other way round.
And that folks is why the idealism of such as Get Up cyber activists is probably all too late, and probably futile:
Sent: Wednesday, June 27, 2007 11:19 AM
Subject: Next Thursday, the climate's changing
Dear friends,

With all that GetUp members have achieved in cyberspace, imagine the collective force we could be if we could meet and act face-to-face - a GetUp community in each neighbourhood, leading the charge on issues like climate change from the grassroots up. A pipe dream? On Thursday 5th of July, we're making it happen.

Welcome to 'GetTogethers' - where we take our movement for change from the behind the computer screen and into cafes, pubs and homes across the nation. It's an opportunity to meet other GetUp members who share your concerns and your postcode, and work together for change with the help of new friends, right in your own local area.

Next Thursday, July 5th from 7pm-8:30pm, GetUp members like you will be 'getting together'. Click on the link below to find a GetTogether already organised in your neighbourhood - or host your own.

www.getup.org.au/community/gettogethers/

This first event's aim is to take real action on climate change in your local community, reaching out to fellow voters through stories on climate action in your local newspaper, TV or radio. All you need to bring is energy, enthusiasm and a willingness to make a difference. The GetUp team will make sure you get all the information and support you need.

We've just built an entire new website to facilitate this kind of local action - GetUp 2.0. It's all about connecting us together to build power in your community.

Ready to give the next step in the GetUp movement a go? Reckon climate change action needs the whole community working together? Click on the link below to RSVP for Australia's very first GetTogether.

www.getup.org.au/community/gettogethers/

We'll see you there,
The GetUp team

PS - You can also make your thoughts known on our blog regarding the Prime Minister's controversial NT plans. And if you haven't already, join our campaign for Indigenous health equality here.

PPS - GetUp's Save Our Senate campaign has launched, check out the press coverage here.

------------------------

GetUp is an independent, not-for-profit community campaigning group. We use new technology to empower Australians to have their say on important national issues. We receive no political party or government funding, and every campaign we run is entirely supported by voluntary donations. If you'd like to chip in to support GetUp's work, please click here. If you have trouble with any links in this email, please go directly to www.getup.org.au. To unsubscribe from GetUp, please click here.
...................................................
Postscript #1 28th June 2007
Rowan Callick has various stories about China today offline in The Australian pages 32, 33 including
- Pollution: Foreign firms get the blame
-
Fuelling the world's factory
And we aren't sure if this is a real or enhanced image in the
Herald
today: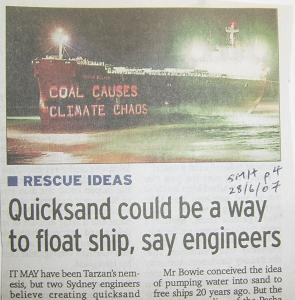 Here also is a report of Al Gore trying to engage the professional communicators in the advertising sector, with a stinging comment one step along about the PR/lobbyist sector spreading ignorance: On climate change, the medium is Gore's pointed message
And this for the Quixotic files
THE MESSAGE In a green world, brands battle for relevance
NIGEL Marsh, a self-proclaimed "boring, middle class" advertising professional who hasn't washed his hair for nearly a year, happened to be in Cannes last Saturday to collect Australia's only Titanium Lion for the Earth Hour climate change project. more
Postscript #2 Big Media follow our story above with this:
Tim Flannery an idiot, says Costa - National - smh.com.au
Michael Costa: colour him brown
Costa's climate jibe pure colour: Iemma - National - smh.com.au
Posted by editor at 12:07 AM NZT
Updated: Tuesday, 3 July 2007 1:47 PM NZT