Time for NSW Minister to resume crown leases in hands of rogue farmer vandals
Mood:
rushed
Topic: ecology
We responded to the rogue farmer clearing vandals here:
Wednesday, 30 May 2007
Steve Truman of 'Agmates' of Gympie Qld - the 2nd hand farm machinery seller who likes land clearing
[found via top right calender buttons]
including this
Bulldozed: a vital wetland - National - smh.com.au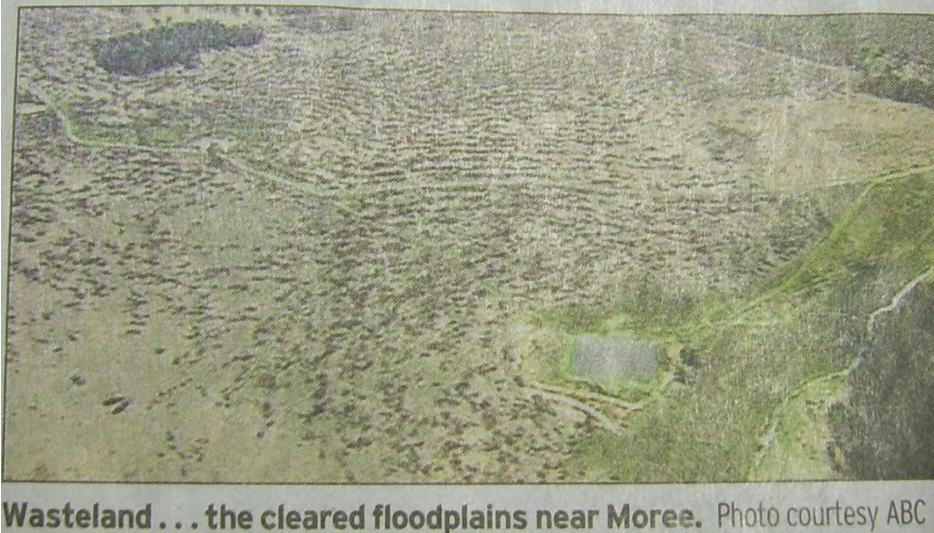 Now Wendy Frew, environment reporter has this story of the vandals carrying out their threat:
FARMERS in NSW, Queensland and Victoria said they had chopped down as many as 4000 trees yesterday in a campaign to pressure state governments to weaken land clearing laws.
This builds on the disastrous environmental destruction of Macquarie Marshes international wetland (to be formally reported on by Federal Environment Minister Turnbull in the next 2 weeks or so), and reported again here last weekend by admirable journalist Marian Wilkinson:
Beautiful to barren, in fewer than 10 years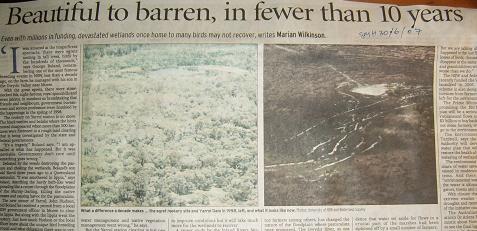 And this also front page yesterday re NSW Govt pandering to Crown leaseholders with sale of public property rights at a tiny pittance of their real market value - Your wilderness for sale, cheaply
And there in is the correct legal solution to these vast areas of the public estate held in trust by the agri industry west of the dividing range. A lease is a lease is a lease. Break the lease and get evicted.
We call on the NSW Minister Koperberg to evict these farmers for breach of their leases by vandalism.
Not for nothing does Professor Cullen who gives comfort to the NSW Govt on desalination water supply insurance
No stopping desalination even if dam spills over - Environment ...
, also says that farmers on unsustainable farm operations should be restructured out of the business
AM - Calls for Govt to cut funding for unsustainable farming.
And by definition increased land clearing proves the land on their farm already developed i.e. cleared, is not sufficient to make a quid without drawing down disastrously on the natural capital. Such farmers will never stop clearing because they are not very good.
We heard a joke comparison on the radio this morning between urban freehold land holders and farmers on their crown leasehold wanting to clear away as much as they like. Au contraire.
It's time the rest of the political community and economy with their worthy drought assistance sympathies, and patient subsidies of farm sector stopped pandering to redneck vandals.
Agforce in Qld have already repudiated Truman in Gympie, and it's high time the responsible farmer lobby in NSW also did the same. Some do it right as here:
Farmer makes $1m for doing nothing at all | NEWS.com.au
with this heartening image captioned "Tree change ... Queensland farmer Peter Allen and his wife were ready to chop down their trees until Rio Tinto stepped in / Annette Dew"
We say not only prosecute for illegal land clearing in NSW in the age of climate change, but also resume the crown lease for breach of the terms of stewardship and occupation rights at a tiny non market rental.
Time to stop pandering to agrarian socialist vandals. Indeed bring it on and do your job Minister Koperberg, and Premier Morris Iemma.
Failure to take decisive action will prove beyond doubt the brown shadow of such as Treasurer Costa over the NSW Govt and failure of welfare and good governance as here editorial 2nd July 2007 Sydney Morning Herald:
Michael Costa: colour him brown
DOES it matter that the NSW Treasurer, Michael Costa, calls the writer and environmentalist Tim Flannery an idiot for his views on climate change? By itself, not at all. Professor Flannery is perfectly capable of defending himself against Mr Costa's gibes, just as the Treasurer is perfectly at liberty to make them. What matters, though, about Mr Costa's comments is the post he holds.
Mr Costa is a member of the ever-dwindling group of climate change sceptics. In British political terms, the Treasurer is old Labor, an heir to a tradition that includes the Whitlam government's Rex Connor and those Tasmanian administrations which gleefully dammed Lake Pedder and would have done the same to the Franklin River if Canberra had not intervened. Development and the jobs it brings are everything to this way of thinking; the environment is a peripheral matter, of concern to trendies and lightweights, to be given lip service at election time, but otherwise ignored.
His views led Mr Costa to oppose the desalination plant - not on environmental grounds, but because it is a needless waste of money: since climate change does not exist, the drought will break and fill Sydney's dams, and the plant will lie idle. He was overruled by the Premier, Morris Iemma. Mr Iemma is a man of strong opinions: he believes firmly whatever the voters believe, and climate change quite rightly worries them deeply.
Mr Iemma's Government is weighing the options for a new baseload power station for NSW. Mr Costa obviously will play a large part in that choice. It should concern all voters, then, that Mr Costa's views of climate change are likely to skew that discussion decisively in favour of a coal-fired plant, the cheapest and most environmentally damaging choice. Similarly, moves are afoot to raise the registration charges for heavy trucks, to reflect the greater damage which they cause to roads. This is good policy because it helps even up the competition between rail (where tariffs reflect maintenance costs) and road (where they do not), and promote less environmentally damaging transport choices. But it will bring powerful opposition from the trucking lobby. For Mr Costa, the environmental sceptic, that may be enough to kill the idea. Mr Costa's blind spot overshadows the entire state.
.................................................advertisement.................................................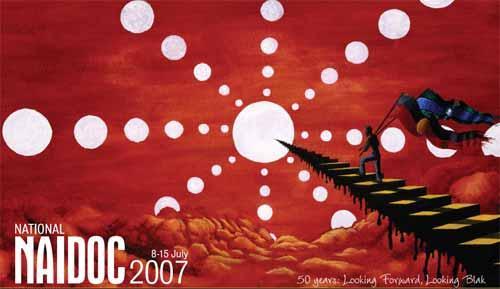 Celebrate Aboriginal Australia:
Posted by editor at 11:17 AM NZT