Sunday political talkies: Louise Barry Get Up advert slams dunks cynical oil politics
Mood:
chatty
Topic: election Oz 2007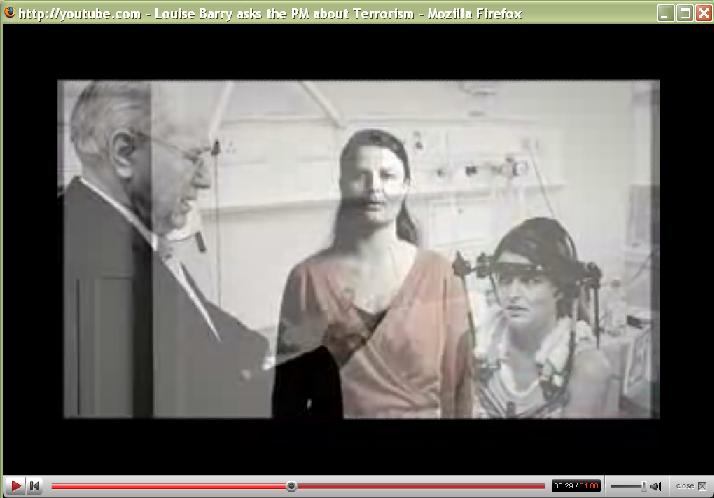 www.getup.org.au/campaign/PleaseMrHoward, which ran on channel 10 Sunday morning and maybe elsewhere.
Author's general introductory note (skip this if you know this regular weekly column):
This is not a well packaged story. It's a contemporaneous traverse of the Sunday television free to air political talkies indicating the agenda of Establishment interests: Better to know ones rivals and allies in Big Politics and Big Media.
Indeed it's the tv version monitoring task similar to what Nelson Mandela refers to here in his book Long Walk to Freedom (1994, Abacus) written in Robben Island prison (where he was meant to die like other African resister chiefs of history in the 19C), at page 208
"..newspapers are only a shadow of reality; their information is important to a freedom fighter not because it reveals the truth, but because it discloses the biases and perceptions of both those who produce the paper and those who read it."
Just substitute 'Sunday tv political talkie shows' for "newspapers" in the quote above.
For actual transcripts go to web sites quoted below except with Riley Diary on 7. And note transcripts don't really give you the image content value.
Media backgrounder:
Saturday Sydney Telegraph was a LauraNorder howler. Details include:
- page 5 grovelling apology to legal referees of Dr Patrick Power convicted, now on appeal of serious user of child porn. And all is revealed on page 1 SMH (who repeat their rival's blunder in their eagerness to embarrass the Telegraph by) referring to "perverts mates" in $480K defamation settlement, with more suits likely to come. The point being giving references in a legal trial doesn't really equate to friendship of to a "pervert" if they didn't know at the relevant time. They might just believe in telling the truth about their narrow knowledge of him: The Dr Jekyl to the hidden Mr Hyde. My guess the Herald are thus just as guilty of defamation with their own headline. Ironic eh?
- So you'd think the Saturday Telegraph might go softer on loose allegations – no, page 1 banner headline referring to "Aussie raids/FIVE foreign 'terror' doctors in WA and NSW" Yep – it's the unreconstructed law and order tub thump, when the radio news same morning says ALL FIVE have been released after mere questioning. Derr.
- But in case there is any doubt about the vigour of LauraNorder we have at page 8 and 9 same SDT "Mad doctor cell linked to Sydney",
- NSW ALP desperate to get in on the act with "We're going to smoke 'em out" p13, "Another fine mess" page 14 "CSI Sydney: $22m for hi-tech crime lab" on page 19.
- But don't worry if you are white and nice, it will be allright, even if you commit $340K tax fraud and your name is Glenn Wheatley: "Stars rally to defend shame tax dodger" – it's all in the picture, blonde glamour wife, inset Farnham, Newton, 2 other nobodies from the cartoon infotainment world.
Meanwhile in the geo political LawNorder blooding curdling farce known as the Iraq War "Downer admits safety of oil key to Iraq war" page 14 Sydney Morning Herald 7/7/07 proving it is a lucky day for the Coalition since this should have been page 1 in place of other shallow stories, reinforcing our recent traverse of the Minister Nelson 'incompetence/truth telling' on oil motives (to quote Opposition Wayne Swan on Meet The Press today).
7/7/07 is 2 year anniversary of 52 killed London Tube bombing which is where Louise Barry comes into it below via Get Up.
We also noticed in The Australian, to be circulated (surely) in the seat of Wentworth to green leaning Liberal voters - "Turnbull 'helped' in Gunns case" - that is promoting old growth woodchipping disgrace. P7 5/7/07.
More weirdness p10 4/7/07 "Go green to lure recruits, military told" which surely is the converse of this in the press yesterday also in the Herald 7/7/07 p14 quoting "alleged bombmaker ....Kafeel Ahmed" using "global warming" as a cover for his international terrorism plans. Not fair on us greenies.
Prescient article in Sydney City Hub indy press May 2007 p6 "Urgent action needed for Aboriginal Australia" (offline) by Chris Graham, editor of National Indigenous Times, and Walkley Award etc winner.
Also relevant to Meet the Press coverage section below is this:
Everest melt pictures earlier this year June 1 07 Sydney Daily Telegraph page 11,
and our report of Australian Climbing Festival themes here on SAM several months ago – at PM visit to Bega [didn't report anti logging protest for 3 hours on main road through town:
Prime Minister John Howard visits, protester jams taffic
Last Update: Thursday, July 5, 2007. 11:20am AEST

By ABC South East

The Prime Minister John Howard travelled to the South East of NSW to address a reception in Bega.

An anti-woodchip protest was staged, coinciding with the visit and causing congestion in the main street of Bega. Protester, Scott Daines chained himself by the neck to a logging truck at a set of traffic lights when the logging truck was stationary.

For over 3 hours, the southbound lane of the Princes Highway was blocked while police considered how to manage the situation.

While one block up the hill at the RSL Club, the Prime Minster was speaking to an invitation only get-together as people concerned about the government's new industrial relations laws formed a silent protest outside the RSL.

Members of the Clean Energy for Eternity Group had also stationed themselves outside the club to make their point on environmental awareness.

While in the South East of NSW, the Prime Minister John Howard announced the Commonwealth will contribute ten million dollars toward building a pipeline from the Bega River to Yellowpinch Dam near Merimbula.

The project aims to drought proof a number of towns in the Bega Valley Shire and is estimated to cost a total of $20 million dollars.

Mr Howard told ABC South East Radio that he would welcome a debate about housing affordability in the upcoming electorate, citing 17 per cent interest rates under Labor's Paul Keating.

According to Mr Howard, "If the Labor Party want to make interest rates an election well we will remind them from the beginning of the campaign until the end that housing interest rates hit 17 per cent under Mr Keating. They've been dramatically lower under this government."

The Labor candidate for the seat of Eden Monaro, Colonel Mike Kelly also took the opportunity to comment.

He said people are really struggling at the moment to pay their mortgages. "When you listen to Mr Howard talk about interest rates it's the pot calling the kettle black, back in his time we had astronomical interest rates back over the 20 per cent interest mark", he said.

Mr Kelly continued, "The real issue at the moment is what's been revealed with the Treasury papers that have been acquired which show just how much of an impact the cost of financing loans has become these days. It's just massively eroded people's disposable income and that's having a huge impact on Eden Monaro."

Between 2,500 and 3,000 trees from SE NSW and East Gippsland are cut down every working day to supply the Eden chipmill
CHIPSTOP campaign against woodchipping the SE forests, 02-64923134, PO Box 797 Bega NSW 2550 Australia,
http://www.chipstop.forests.org.au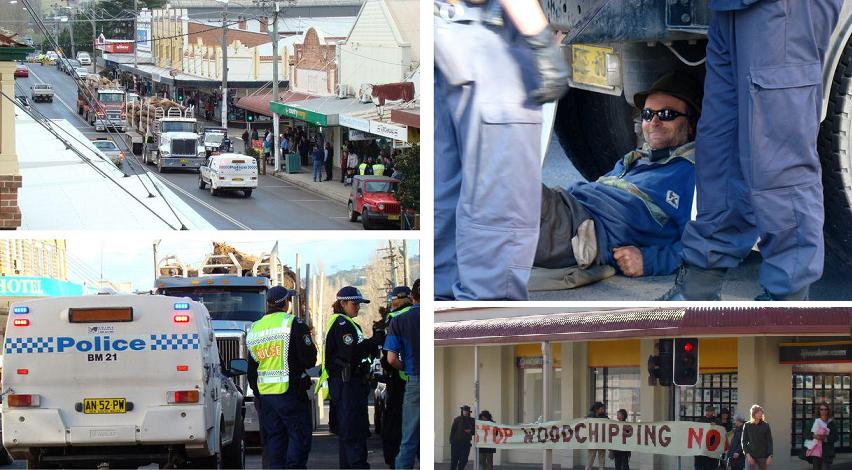 10 Meet the Press 8-8.30 am
Sunday press round up – missed the start – Live Earth concert, massive truck bomb in Iraq
Wayne Swan is talent to preface Treasurer on Insiders, who will be with Oakes? Sledges govt re productivity etc discussion of security etc under Rudd.
Protester of the week – "eye candy" good male body, in brief swimmers saying there is no snow, climate change – like Everest picture in backgrounder above.
Adbreak – Get Up – Louise Barry – terrorism victim call to get out of the mess in Iraq. Very powerful stripped back home, polished boards, serious injury, clear language. Humble. Preface Monica Attard 9pm tonight of Brett Solomon as ALP front group or not?
Panel is Fran Kelly RN ABC, Glen Milne – several curly testers well briefed with treasury arguments [source is Costello himself?]. Kelly backs up. Swan holds own, fast talking, energetic, focused, no word trip ups. Leans back holding forth.
Milne looking more studious in glasses, lost weight, new suit suits him, stripes to offset the tubb. Does sharply himself.
Healers as killers in Bill Leak cartoon. Grim, sad stuff. Trouble is a healer can't fix a tsunami of death as per the Middle East. It's psycho meltdown for many of these doctors. [A contact in the Greens Avi Lemberg told me once it's the little kids that knock you hard – and that was in Sydney, let alone over there via war.]
2nd Ad break – running extract of Get Up advert again. Prof Clive Williams – is she right? Gives credence, greater threat, Govt will say existed before. Very factual mild.
Milne – Paul OSullivan ASIO head says well educated as likely terrorist attacker. Tends to agree. Milne presses him on foreign airline pilots? How many here?
Kelly another scary scenario – phone call from Australia as trigger of a car bomb possible?
Transcript in due course www.ten.com.au/meetthepress
7 Weekend Sunrise, 8.35-40 am Riley Diary -
Howard in his electorate fruit shop with some ripper juxtapositions with coconuts etc. Satire about scissors, Hawke swearing in jest, serious sledge of polls under cover of astrology satire, Rudd less repetitive. Q & A about housing market upcoming this week or so.
Good laugh, great footage.
http://www.seven.com.au/sunrise/weekend
Sunday 9
Full on bikie organized crime story with Ross Coulthard. Goes hard, big Sunday 9 play. Whoa. Chilling. Corrupt either direct or systemic Qld police in the picture. Informant in another country building his new home. No wonder Beatie wants to get out.
Oakes interview with Ruddock – increasingly the crumpled pasty faced man. Just spoke for 60 seconds but not sure he said anything (?).
Teases out detention powers. How mad is this about phone calls from Australia as a trigger device. Ruddock waffles – sounds bogus, as Barry Cassidy says.
Doctors funding line of q from Oakes – this has more resonance – good wage. Ruddock says no comment in 60 seconds.
All released except original Haneef in Qld – in the clear? [A new David Hicks, hanging their hat on his one way ticket, but what does that mean? Dual passport? Cheaper fares?]
Here comes the alarm over well educated folks being a threat.
Oakes is very subdued and deferential, as if he has been fed some secret information to go soft. Solidarity amongst geriatrics, cynicism of the vain old men?
New law draft about any media advocacy terrorism. Wants States to be involved.
http://sunday.ninemsn.com.au/sunday/default.asp
Insiders 2
Provenance of oil as cause of Iraq War – Age on Thursday, Nelson added to it. ALP pushed it along. Missed start of Peter Costello Treasurer – ideological commitment to democracy in Iraq, what has it done for them asks BC in Palestine or Iraq, more ideology.
Discusses housing prices, admits high, says not quite as high. Indigenous emergency – asks for goodwill, and grace. Will take more than 2 or 3 months.
Panel – Annabel Crabb Fairfax, Brian Toohey Fairfax Akerman News Ltd Telegraph shrieker, Akerman.
Paul Kelly soliloquy on broad defence strategy.
Panel blather. Annabel Crabb sounding a little deferential and subdued maybe for her story dumping on Akerman's paper and fearful of same.
Windup comments – Toohey says no Tampa arriving, consensus polls are adverse trend. [Cowards scared to predict Howard done, but fair enough given cornered rodent bites hard even in death throes.]
Akerman gives the game away that Get Up advert is strong stuff – hopelessly claims Louise Barry is exploited, which may well be sexist, certainly plain wrong given she is doing it calmly and with real determination.
Home page is http://www.abc.net.au/insiders/
Also great segment repeats via webcast here:
http://www.abc.net.au/news/video/
Postscript #1 Monday 9th July 2007
Downer and Howard are busy warning us of risks of travel in Indonesia here via webcast:
News Video | Sun, 08 Jul 2007 18:16:00 +1000 | Duration 45s
The Department of Foreign Affairs is warning of imminent terrorist attacks in Indonesia, possibly in Bali.
But that's not what happened before the Bali bombing killing 200+ including 88 Australians according to this VERY DISTURBING intelligence leak on open source: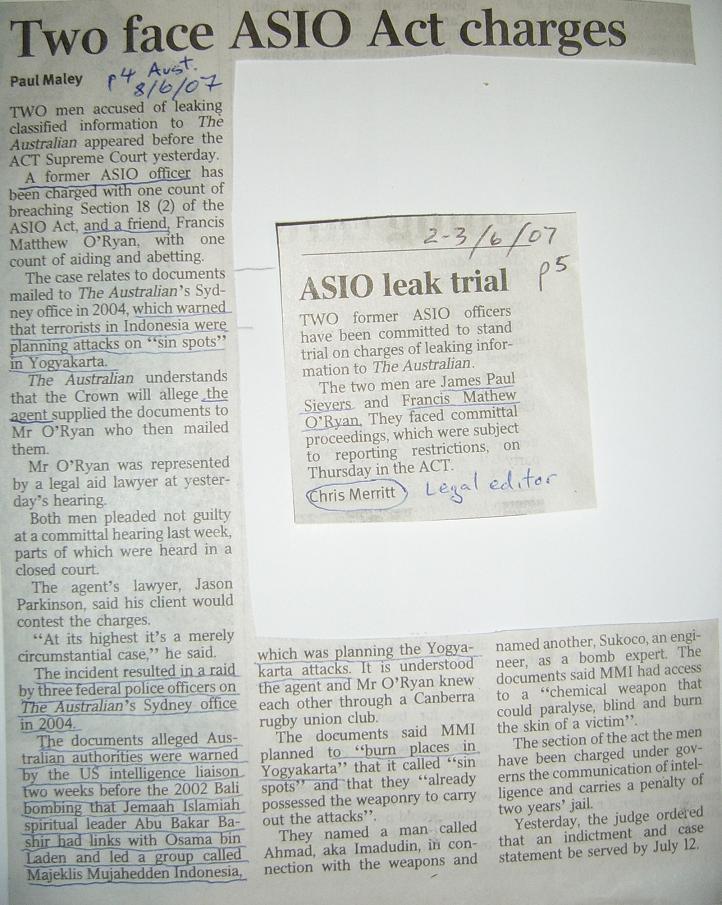 on this man's watch - Minister Alexander Downer: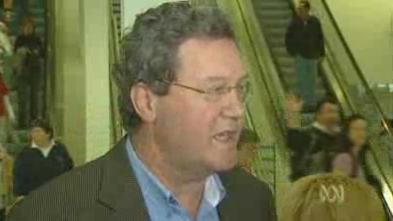 Posted by editor at 10:58 AM NZT
Updated: Monday, 9 July 2007 9:16 PM NZT