Bega Councillor does his job under the Local Government Act 1993
Mood:
incredulous
Topic: nsw govt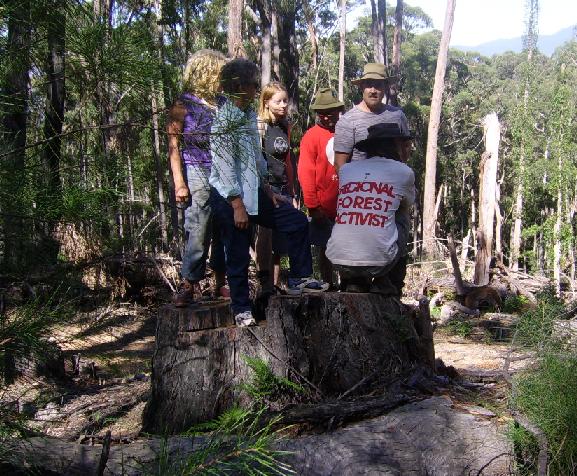 Picture at Wandella Forest taken 9th March 2007: Harriet Swift, Pam, Bridie, Scot (aka Sooty), Keith Hughes (Bega Councillor), Tony (rfa t-shirt)
We received this media release below recently attacking Cr Keith Hughes in the picture above.
............................
Sent: Monday, July 16, 2007 8:21 PM
Subject: councillor who locked on 1997, no sanction and why Re: [chipstop] Hughes must resign, says TCA
In 1997 I not only stood in front of a truck, but I was the one who did the lock on like Scotty, at the exit to the construction site of the Eastern Distributor. By the way this was totally unrehearsed or planned. I just happened to bring along a D lock and promptly gave the key away! It wasn't a public road as such. It was a public park grabbed by the road developer for the govt. angle grinder jobby by police rescue, Duly arrested, off in paddy wagon. Anyway the magistrate threw it out.
I was in my 2nd year as a councillor at Waverley. None of the councillors took the point, and actually joked that another green councillor (who shall remain nameless, well hell it was Matson) "didn't know how to get arrested" chortling to themselves. But Murray Matson was worried about the accusations now aimed at Keith here so fair enough too.
Murray was at Randwick, much more right wing. Waverley were pretty sympathetic funnily enough.
The real point like 'fit and proper character to be a solicitor' is whether one avoids violence or dishonesty. Public protest is pretty safe under the Local Govt Act is my guess.
If you look at the legislative purposes and functions of councillors under the Local Govt Act you will notice it says to communicate, to inform and to educate your community. In the USA they will call this the exercise of free speech. Etc etc. In fact I used these sections at the start of the LGA in a later attempt to have me referred to the Dept of Local Govt for misconduct alleging I had undermined the financial viability of the Waterloo Incinerator (a waste asset half owned by the council) including planned $40M upgrade. (My main attacker was Cr Lee father of pop star Ben Lee himself booted from the ALP, now an independent councillor). Anyway it was true I did undermine it as an ex officio co director, and it was closed down. But I quoted these sections as doing my public duty and they backed off, based on a political calculation - the voters in the Eastern Suburbs. I presume they didn't want to call my bluff of winning the high ground.
Tried a full on attack in 1999, but beat them off again.
By the way a decision at magistrates level is not precedent value, ....
Good luck Keith., ..... Get those sections and promote them to your support base, local press etc. Photocopy them like confetti is my suggestion. They will likely be found via this link:
and perhaps these sections
   8.      The council's charter
re leadership, protest environment, inform public
         Division 3 - The councillors     232.    What is the role of a councillor?

 

"(2) The role of a councillor is, as an elected person: 

• to represent the interests of the residents and ratepayers 

• to provide leadership and guidance to the community 

• to facilitate communication between the community and the council. "
There you go.

 

Good luck Keith et al,

 

Tom McLoughlin, ecology action
Posted by editor at 10:39 AM NZT