Sydney Magazine 'most influential list' howler #2
Mood:
d'oh
Topic: big media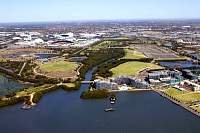 Homebush Bay, Sydney Harbour has a grim legacy
Image
from this cute website
.
Appropo the Sydney Magazine in your Sydney Morning Herald today: Our mother said a good aspect of our personality is that we never hold grudges or get jealous. Well maybe, but certainly our long memory is not so flexible.
We have already briefed Tim King of The Wilderness Society about the spin re the 'influential' role of Keith Muir's Colong Foundation 'support' for The Wilderness Act in our article on the howler #1. So bogus and deceptive.
Here we go again because, even allowing for natural envy, we can't wait to brief Greenpeace this morning on the "environment" section on page 44 which somehow transforms the real legacy of Greenpeace's Karla Bell behind the Green Olympics concept into Jeff Angel of Total Environment Centre. We presume this was 'guided' by Jeff's ex employee on the reference panel James Woodford. For instance the article asserts:
"Angel was instrumental in the Sydney Olympics being the first green games"
This is not true and we wonder if it may also be a deliberate lie. The truth about Angel? Well we regard him as not much better than a grifter with his begging bowl to the Carr ALP 1995-2005 including over Sydney Olympics.
What a cracking story lies behind first the Coalition and then ALP Govt sleaze desperate to do over the pioneering role of Greenpeace as distinct from Angel and his trusty Green Games Watch 2000. GGW was funded by the federal govt to avoid a scandal in their IOC bid documents from way back in '93. How embarrassing.
Read it all here:
By Tom McLoughlin, principal ecology action sydney 26th January 2006 (Australia Day usually celebrated here on Sydney Harbour)
Here is an extract:
Perhaps the nadir for relations between the NSW/Federal government sponsored bid and local green groups excluding Greenpeace, was the verbal report internal to the green movement around 1993 that the covert bid documents FRAUDULENTLY asserted two groups, Total Environment Centre and NSW Nature Conservation Council endorsed the bid. This was an outright lie which aggrieved the respective groups, and was never denied by any of the parties, despite publication such as this article 'The Olympic greenwash' by noted expert environmental writer Jim Green in Green Left Weekly p12 10/2/1999 quoting this writer. It was hushed up assisted by the fact the bid documents were kept secret as much as possible.

Rather than risk a public backlash from the pro Olympic bid media boosting, these two aggrieved green groups who felt pimped to the IOC decided with their allies to take another tack: To extract their financial pound of flesh. They didn't go public attacking the almost certainly breach of s.52 of the Trade Practices Act for misleading and deceptive conduct, rather through Jeff Angel in particular, they brokered govt grants for a employment honey pot for these green groups called Green Games Watch 2000. This had the added attraction to government of a tamer version of the really financially independent and rather scary Greenpeace. [who pioneered the bid and did the real discipline on green preparations].
In other words firstly Angel didn't promote the Green Games bid in '93, secondly he only got involved to exploit a Govt/business fraud to leverage some soft funding for a qango of his, and thirdly he effectively undercut the hard political discipline by Greenpeace on the local SOCOG (eg the failure to really solve the dioxin in the Harbour problem) with light green interference on Greenpeace's world famous PR machine.
...........................
When we looked further at the images in the Sydney Magazine we asked ourselves why would an ngo rep want to be pictured with company like this? One of the influential characters (at right below) is one Simon Smith deputy director general, Climate and Environment Protection Group. Sounds like a non govt organisation. But actually it's a NSW Govt Department grey man as here in a previous cloud seeding experiment with our nature. Now he's in charge of the very corrupt notion of "biobanking" which is all about appeasing developers.

Of even greater irony perhaps is that one section of the newspaper contradicts the merit of bio banking suggesting the left hand doesn't know the right hand in today's edition of the Herald: The letter of the day is by Tim Cadman a long time ngo figure who has drifted off into academia, and who refers to exactly this sleazy biobanking concept in his strong letter. To quote:
In 2000, in a report commissioned by the not-for-profit sector, I demonstrated how a number of Tasmanian forestry investment companies - including the state's pulp mill proponent, Gunns Ltd - were clearing old-growth forests and rainforests to establish carbon offset plantations. Some of these schemes still exist. In other schemes, consumers are being offered free energy-saving light bulbs without being told that the company intends to trade in, and profit from, any national emissions reduction program that might be developed in the future. Indeed, so popular has this "market-based" model become that the NSW Government is offering land developers access to sensitive environmental areas in exchange for offsetting this development by protecting land elsewhere. [bold added]
This is the bio banking plan Simon Smith is implicitly lauded for in the Sydney Magazine. That is destroying what's left in the name of the environment. Spare us please. This sophistry is nauseous. Cadman exposes it all quite well:
Posted by editor at 8:45 AM EADT
Updated: Thursday, 13 December 2007 2:33 PM EADT