Dirty PR for a dangerous mining game?: Some reflections on the new ABC flagship drama
Mood:
chillin'
Topic: big media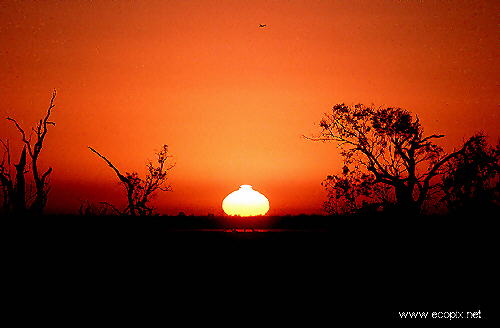 Good actors, good production values, decent writing, kept me watching and justified it's time slot.
As you would expect the stereotypes are woven in there and yes they have resonance for the various audience segments.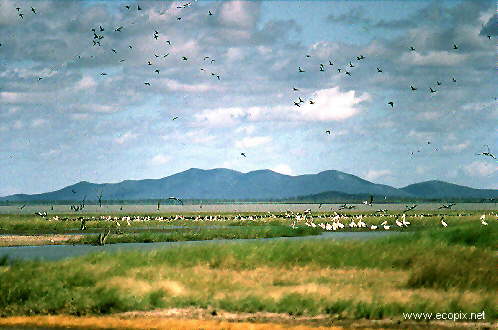 Our perspective is the environment primarily: As pincipal of Ecology Action, and hard liner on dealing with industry because we come from industry and know their sleaze and dishonesty as a trained corporate lawyer. See for instance here
3/2004 Lake Cowal 'Environmental Trust' evidences select NSW green groups corrupt deal with NSW Govt
and more generally
But also native title as per our honours law thesis in 1989 anticipating the Mabo decision late 1992:
Sunday, 6 January 2008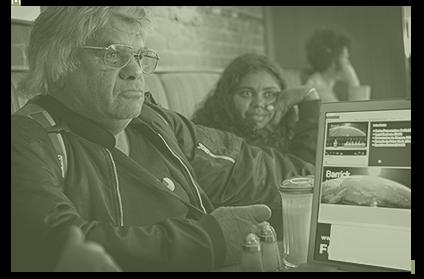 Neville 'Chappy' Williams, Wiradjuri Traditional Owner, Lake Cowal, and Arinya Freeman (Wiradjuri Nation) listen to a webcast of Uncle Chappy's confrontation with Barrick Gold's founder and Chairman, Peter Munk at Barrisk's AGM on May 2nd, 2007 in Toronto, Canada. Photo: Allan Cedillo Lissner/
GlobalAware.org
For more photos from actions in Canada
Note the use of the fictional Green + Action, which is almost an amalgam of Greenpeace and our moniker. We even fit physically the skinny fair haired rabble rouser at least as we looked in the 90ies. That's us above in the tie and white shirt in the top photo at a forest related protest in Macquarie St early 90ies.
But not the drug (grass - commonly loosely referred to as 'green' by Labor types ) which was a cheap shot on the environment movement. This writer is teetotal and not even a caffeine drinker these days.
Having said that a group around a prominent anti mining campaigner in NSW - Alan Oshlack, successful public interest litigant did talk like that greenie character and have a prediliction for weed and wild flourishes. So there is an isolated example from reality not generally. These days grass smokers are more likely to be working in the mine itself or popping pills of various kinds than greenocrats heading green groups (think John Connor of the Climate Institute - all trainer grey men).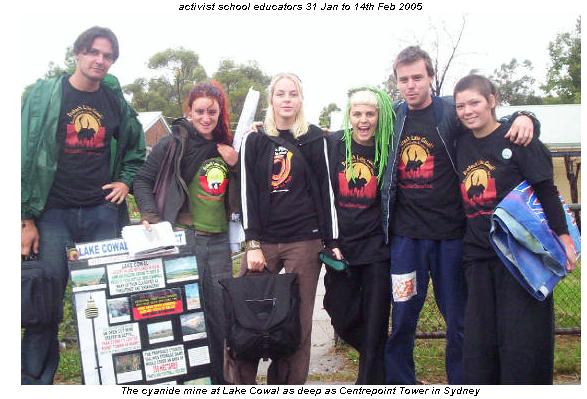 The mine is obviously Lake Cowal near West Wyalong and the company is Barrick Mining a Canadian monolith - which has it all
- native title

- dirty cyanide mine process ("come clean miners" protest in the story)

- sell out greenies like Jeff Angel of TEC (not your typical blonde haired beauty, rather duchessed ALP go to man in the green movement in NSW, architect amongst other things of the extended life of the Eden woodchipper, who called Bob Carr in a set SMH piece the greenest premier in the history of NSW 6 months out from the 2003 election, cutting the ground from under ever other green group and political party). Bob Carr approved the Lake Cowal gold mine and destroyed an ephemeral wet land.
As for the sharp corporate fixer, it's an obvious lift of Brian Gilbertson ex BHP- Billiton or some big mining house. The so called founder of Cockatoo Creek mining junior can't escape his role in Blue Murder as the infamous "Nipper" killed off by the Roger Rogerson character. The founder character ('Nipper') is probably based on the other infamous cyanide mine at Timbara NE NSW (Ross Mining, then Delta Gold then Placer Dome) which was closed down after multiple legal cases:
Good to see Lucy Bell to appear in the actors list - we have a fond memory of inspecting her flat with the rest of the reps mid 90ies in capacity as a local councillor official process in Bondi Ward and meeting her later husband at a gig at the Harkoah Club - James OLoughlin.
But the overall gist of the show is a typical ABC 'balance' to fit the political times. It's Bastard Boys with a twist. This plays well to the ALP Govt, and the CFMEU and AWU etc union backers of PM Rudd. The workers will be rough diamonds. The work of mining which underpins the balance sheet of Australia up until October 2008 when the Global Financial Crisis kicked in.
But that most likely was before this production was being put together. We will be watching for episode 2 with bells on.
Posted by editor at 9:09 AM NZT
Updated: Monday, 20 April 2009 9:18 AM NZT