Memo Environment Minister, rare frog not quite top order predator extinction
Mood:
smelly
Topic: nsw govt
Picture: Spot the non carnivore? It's a trick question from this zoology grad pseudo lawyer. They are all carnivorous, not least 'talking turkey' Minister Frank Ernest Sartor top middle. But give him time and he might yet surprise in the environment portfolio ...
'The ecological equivalent of a Tasmanian Tiger. Sounds like a motor bike. '
Oh gawd. Which is the biggest clue this is a PR choreography, with timing at the control of the government, perhaps even to offset the growing furore over forest destruction reported here on SAM recently? (Redgums and koalas in southern NSW):
Minister Frank Sartor is interesting. He appears to have starved the Riverina sawmill so they pre emptively buckle (still to be confirmed), and run a choreography frog story yesterday tv, radio etc to offset all the forest noise. He's a clever bean. He actually might even like the environment too - he is very effective, just selfish as sin joining the ALP.
Sartor will love to deal with other chess players in back rooms. He famously got Harry '100M population' Triguboff of Meriton Apartments in to get things moving while Mayor of Sydney (CBD and nearby, not the whole metro).
Now don't get us wrong. We love frogs. It's our logo of think tank ecology action archive link (on the image below and at the left hand column on this very page):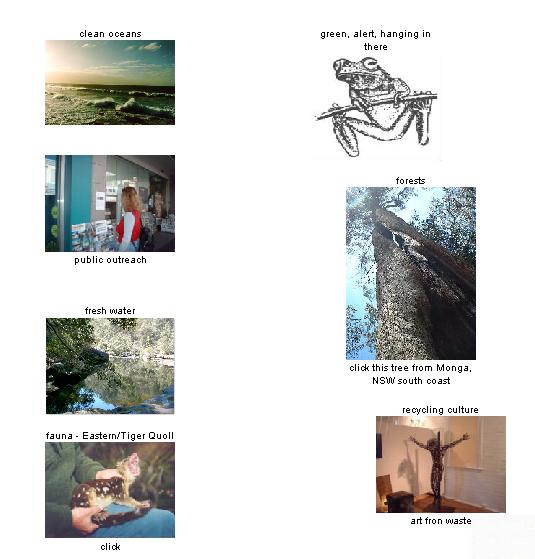 Because frogs are vulnerable (like us), hang in precariously (ditto), and suffer from pollution and regular exctinctions (err ...hope not). Who knows the yellow spotted bell frog might even be a metaphor for our struggling career back from the civil dead.
By coincidence the current top order native predator - Tiger Quoll was found in the suburbs of Canberra recently by one Steve Taylor. There is a Quoll pictured above (bottom left).
Posted by editor at 10:19 AM EADT
Updated: Friday, 5 March 2010 10:40 AM EADT