Premier Iemma may need a helicopter in this perfect storm of Big Media hostility
Mood:
energetic
Topic: election nsw 2007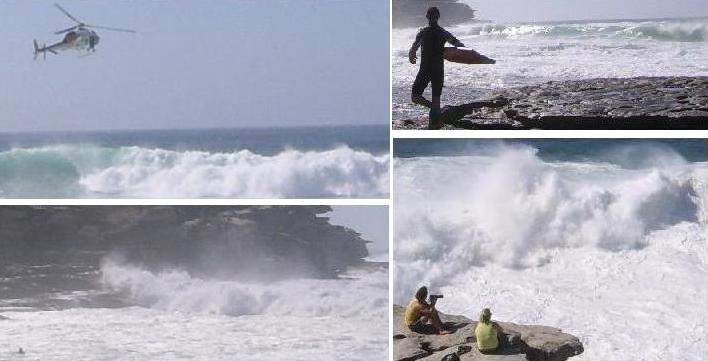 Picture: What's going to happen to Morris? He's fit, but the surf is up and he is going to need all the polling muscle he has built up over the last 18 months. His electoral fate comes down to the punishing Big Media rough and tumble this next 3 days. (Images from 27th March 2006 by this author, ripples of Cyclone Wati reach Sydney's Tamarama Beach.)
At the risk of coming across like a sycophantic Imre Salusinszky in The Australian this last week or so, I have sneaking admiration for Morris. He played Aussie Rules as a young bloke. Like that and woud kick a footy with him any day. He's a sophisticated Italian Aussie - tick for that too. And yes I'm envious because he's got a great family and career success.
But as a wonk I am really enjoying the washing machine beating he is getting in the mainstream press today, with more expected these next 3 mornings Thursday, Friday and Saturday. No wonder he looked boyish and subdued on ABC tv last night declining to condemn anti coal protesters as he braced for the press stories coming today. The threshing is ferocious and the bruising something fearsome.
As they say (eg Matt Price recent column), there is nothing so entertaining for a wonk as a pollie in trouble. Almost as relaxing as watching someone else work hard. Call it a streak of sadism.
And the press today had it all, not just the front page biffo regarding
- Sydney Daily Telegraph worst trains in the world story based on a serious study dishonestly covered up Sydney trains world's worst and having been on say the Paris underground and Santiago service I thinks it's probably good criticism, and not entirely 'comparing apples and oranges' even when you take into account greater density of population re pricing or greater areas to cover re infrastructure cost ; and
- Sydney Morning Herald safety threat from train disasters again from "suppressed documents" prised out via FoI procedures, and richly complemented by another secret school principals document of 10 years of failed maintenance in public schools Schools left to deteriorate Cover-up: rail crash risks compared to Granville
No there was too much 'funny' election grist in the press today really to meet my writing deadline, but here goes as best one can:
- Lord Mayor 'a hypocrite' on donations from developers by said lick spittle Imre, a very clever fellow, in The Australian quoting political donations expert researcher Norman Thompson who has quite a deal of credibility here. Yes a measure of truth regarding Clover Moore as Mayor and MP running this Saturday for showing ostentation as a career lefty, and for getting a bit patchy on ethical funding sources but this should be balanced against the great need in 2004 to oust the ALP state govt attempt at gerrymander of City Hall.
Unsurprisingly in 2004 the Liberal developer side of politics equally wanted the ALP out on the basis of your enemy's enemy is my ally and chipped in $30,000. That's the grey world of real politik. Declaration: this writer uses old Clover how to votes from the 2004 municipal election for note paper including this story and was a volunteer like Norman for that campaign. [And note coverage next day 22nd March Clover is reported helping to serve meals on wheels to poor residents - that's the spirit we admire Clover.]
- the revelation p9 of the Herald that Alan Jones of 2GB is AWOL this last week, actually laryngitis.
- the mesmerising elegance and intellect let alone ethical brilliance of Elizabeth Farrelly with one of her best Voters face a stark choice which by the way balanced the revolving door every Wednesday of the duopoly federal MP gerrymander at top right of the same page with Tanya Plybersek MP (ALP) (this space should rotate to the 30% of political reps not ALP or Liberal);
- As if to balance the Herald shock horror story is a chunky advert p12 from Sydney Ferries Corporation in their rival The Sydney Daily Telegraph for an "Injury Management Coordinator". Which surely is a horse that has bolted?: Man dies after ferry collision - National - smh.com.au
- Patrice Newell candidate in the upper house and arguably spoiler to the Green Party gets the fluffy lifestyle spot with little colour pic p51 in "style food and wine" by Sue Bennett in the Teleg. Which reminds of her other half Big Phil Adams piece yesterday on the "oxymoronic politics" of the greenhouse debate like "clean coal and safe nuclear power". So true Phil (and don't forget the declaration of interest next time?): Oxymoronic politics rules the greenhouse debate
- After our sledge yesterday, to wit
"Mind you Ruddy (Kevin Rudd) as federal Opposition Leader seems to have his own PR blemish being conspicuously absent from the NSW election campaign by Morris Iemma formerly known as the parliamentary leader of the ALP in NSW."
Now read today: Rudd to bring star power to campaign Is this the metaphorical helicopter rescue service in our headline for Morris in the Big Media Surf? (ha ha)
- Minister Tebbutt education minister as we reported yesterday ('Minister Tebbutt, UN$W under Hilmer $ellout the sustainability business') is implicated in doing over the Solarch facility at UNSW sited at Little Bay in the eastern suburbs. Conveniently as she debates with Trioli there is a matey piece about the UNSW staying in the sustainability business after all, maybe, in ten years, perhaps: Science turns sun, surf into green energy (ten years regretably is political shorthand for never never)
- Strong moderately scary advert in the Herald by the National Seniors with a pox on both major parties "Poor responses from both parties highlight policy shortcomings"
- A reminder on the madness of USA gun culture by Mark Coultan on the back page of the Herald Even superheroes can die in gun-crazy Gotham - too bad Morris is busy promoting it Lee Rhiannon MLC - Greens E-Brief No. 163
- And MY FAVOURITE from the press today, a little complex but oh so embarrassing to our favourites at the NSW Police and Daily Telegraph:
Drug raids cancelled POLICE were forced to cancel a major drug operation on Sydney trains and buses last week because the State Govt feared another transport meltdown.
Actually the strap line reads in the paper version "Panicky Government cancelled police operation" but it's not that embarrassing to the Govt on sound public policy grounds, because it was only ever a pre election anti drugs Law and Order Industry beat up and self indulgence designed to do over the progressive Green Party on decriminalising drug users, harm minimisation and sanctioning of dealers.
This is clear from the choreographed front page and 2 page follow up mugging of the Greens on the very same Thursday last week edition of the Telegraph. Prepared in concert by the Telegraph, Iemma Govt and NSW Police. Only we were spared the cynicism via one broken pentograph the Wednesday night before on a harbour bridge train instead which put 40,000 commuters in very angry public transport treacle, and wiped the cynical pre set media beat up of the Greens in favour of a beat up of the ALP itself.
Now the police and Telegraph via their old slugger Luke McIlveen (well known to Media Watch discipline), are recycling the half warmed last weeks news, after the Greens have rebuffed the cynical dishonest reportage of their drugs policy. Which reminds us of the amusing comment by the Herald veteran Damian Murphy on Monday p9 under the headline "It's unofficial: the Greens have won" being a sledge on their rival the Daily Telegraph for their web based election site clearly being monstered by Green party supporters - and who could blame them for some cyber discipline after all their Big Media malice.
And what were the police going to find anyway? People drinking out of cans of coke?:
"Coca-Cola denies ever having used cocaine in earlier versions of its drink but will not say whether the natural leaf forms part of its secret recipe. Until a few years ago the Atlanta based company bought tonnes of leaves annually." in Things go better without Coke, say Bolivians - World - smh.com.au dated 19th March 2007.
- Perhaps my WORST example of electioneering in the press today is Fred Nile borrowing the Green Party's clothes with a "DAM THE WATER SHORTAGE" slogan on page 4 of the
Daily Telegraph
promoting water recycling but also to build a new dam. Nile is truly yesterday's man and surely would have dammed the famous Franklin River in 1983 if he could have. The man is an ugly piece of work on so many levels squandering God's creation:

And a final word from Triple S, that is formerly Senator Santo Santoro and his cute witicisms
"The wise man in the storm always prays to God, not for safety from danger, but for deliverance from fear. It is the storm within that endangers him, not the storm without." -- Ralph Waldo Emerson."
And speaking of deliverance from Big Media storms, you can almost hear the dramatic dueling banjoes from here suggesting political life and death struggle. As I said to that lady producer on the abc talkback this morning, its not the dying days of the election at all. It actually started today and has 3 daily press print runs to go, Thursday, Friday and Saturday. Good time to start praying Morris.
Posted by editor at 9:34 AM NZT
Updated: Thursday, 22 March 2007 10:26 AM NZT