Bob Carr 'spivving' his atrocious record, Big Media 'Opposition' correct to thrash ALP
Mood:
down
Topic: corporates
Bob Carr is no longer chief spinner of the NSW ALP Government. He is now chief spivver for big corporations leveraging his political contacts to make money and salve his public relevance deprivation syndrome.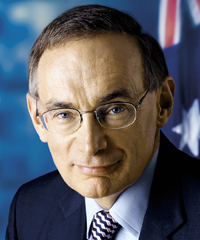 The Hon. (Bob) Robert John CARR,
He is on the front of business friendly The Australian yesterday which is appropriate because he is now a "spivver" for Macquarie Bank and Big Business generally with all those road building PPP projects in the bag.
Here are some of Carr's dishonest claims on radio in denial of why he was airbrushed from ALP history this last 18 months and especially election period by the real NSW Iemma ALP Govt, based on his whining to Adam Spencer 702 abc yesterday:
- Carr stopped land clearing in his term. A lie: Refer Revealed: legal land clearing's savage toll - Environment - Specials It was no real virture to be better than the redneck National Party driven Coalition by a few less hectares of destruction. In fact its arguable the ineffectual and vague enforcement criteria corruptly greenlighted panic clearing during Carr's last 5 years taking clearance rates up to a million hectares or more. Carr has no credibility on land clearing with one mitigating belated factor in 2005 as we got rid of the bastard - the 330,000 ha Goonoo Pilliga conservation decision that Iemma has ratified and the Green party treats as a serious commitment from Iemma, not Carr.
- Carr claims a so called "disjunction" of Big "media bias" against the ALP government's record versus voter actual intention to return the ALP. Really? Carr quickly narrowed this biting of the hand that fed him his whole career by narrowing it to 2GB's "electronic pamphlets" for the Liberal Party. But then he showed his broad contempt for the sector again with "I've never seen such print media bias" cross referencing Neville Wran who feels the same (no surprises there - Wran blacklisted then journo Mike Bailey, the elite abc weather man today, for failing to follow Premier Wran's arrogant instructions).
In reality most political observers and likely voters actually saw the print media savaging of Carr's record as the defacto Opposition doing its job with an ineffectual and untrustworthy Debnam Liberal team failing to cut through. Nor should Carr take comfort from Wran quoted in the Herald meaningfully 26/3/07
"The newspapers had been feral in this campaign. I've never seen it's like in Australian politics. ....This is probably one of [the party's] greatest victories in history because Iemma inherited a grab-bag of problems and liabilities and he faced up to them". [bold added]
Liabilities. That's you Bob.
This 'attack the media' phenomenon is a cliche of ex pollies also exhibited by the slightly bitter Arthur Chesterfield Evans MLC who is likely to lose his seat for the Australian Democrats, as interviewed by the sceptical Fran Kelly, abc radio national early Monday 26th March 07. ACE complained about the "are you dead yet?" treatment he got during the campaign. Commisertions ACE, congratulations John Kaye (Greens).
As Monday's Daily Telegraph "Campaign Confidential" correctly implied
"where was Emperor Bob Carr, the man who built Rome Morris Iemma now defends? It appears Bob developed some kind of serum which means he is invisible to everyone except Peter Debnam. And so we dedicate this catalogue of sightings and fightings to a man who's so there he's not even there. We salute you, Bob - wherever you are."
Ironically Carr was front of their sister News Ltd broadsheet same day but no one doubts the ALP would have lost if Carr had been leader at the election. That's why he and his cabinet colleagues Knowles, Refshauge, Egan and finally Scully were drop punted out. Remember Bob? You were destroying brand ALP and that's why no one is actually listening to you now, or only to express disgust at your vain tragic record.
.......................
Postscript #2 A brief clarification that we wrote this article above before reading a day later this article by Big Piers Akerman of the right wing Sydney Daily Telegraph with much the same gist re Carr's vain delusions about his role in Iemma's recent victory: Claims on an empty victory
Postscript #1: Courtesy Stevie Bee
'Yesterday we were campaigning, today you voted'
While walking down the street, a politician is hit by a truck and dies.
His soul arrives in heaven, and he is met by St. Peter at the entrance.
"Welcome to heaven," says St Peter. "Before you settle in, it seems there is a problem. We seldom see such a high official around these parts, you see, and so we're not sure what to do with you."? "No problem," says the politician, "just let me in."
"Well, I'd like to, but I have orders from 'on high.' What we do is have you spend a day in hell, and a day in heaven.? Then you can choose where to spend eternity."
"Okay, I've made up my mind. I want to be in heaven," says the politician.
"I'm sorry but we have our rules."
And, with that, St Peter escorts him to the elevator and he goes down, down to hell. The doors open and he finds himself in the middle of a green golf course. In the distance is a club, and standing in front of it are all his friends and other politicians who'd worked with him.
Everyone is happy and in evening dress. They run to greet him, shake his hand, and reminisce about the good times they'd had, while getting rich at expense of the people. They play a great game of golf and then dine on lobster, caviar and champagne. Also present is the devil, who's really a very friendly guy, who has a good time dancing and telling jokes. They're all having such a good time that, before he realises, it is time for him to go.
Everyone gives him a hearty farewell and waves while the elevator closes. The elevator goes up, up, up and the door reopens on heaven, where St Peter is waiting for him.
"Now it's time for you to visit heaven," Says St Peter. So, 24 hours pass, with the senator joining a group of contented souls, moving from cloud to cloud, playing the harp, and, before he realises it, the 24 hours have gone by, and St Peter returns. "Well, you've spent a day in hell and a day in heaven. Now choose for eternity." The politician reflects for a minute, then answers: "Well, I never would have said it before, I mean heaven has been delightful, but I think I'd be?better off in hell."
So, St Peter escorts him to the elevator and he goes down, down, down to hell. Now the doors of the elevator open, and he finds he's in the middle of a barren land covered with waste and debris. He sees all of his friends, dressed in rags, picking up the trash, and putting it in bags. The Devil comes over to him and puts his arm around his shoulder.
"I don't understand," stammers the Politician . "Yesterday there was a golf course and a club, we ate lobster and caviar, drank champagne, danced,? and had a great time. Now there's nothing but a wasteland full of garbage, and my friends look miserable. What happened??"
The Devil looks at him, smiles and says, "Yesterday we were campaigning; today you voted . . .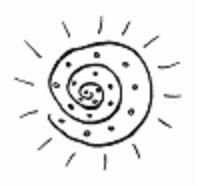 stevie bee
61 +2 9567 4006?
Thanks to impermanence, everything is possible. ? Thich Nhat Hanh

Posted by editor at 9:47 AM NZT
Updated: Thursday, 29 March 2007 10:33 AM NZT