Sunday political talkies: nasty khaki balancer against Rudd following rejection of govt minister Nelson
Mood:
lazy
Topic: election Oz 2007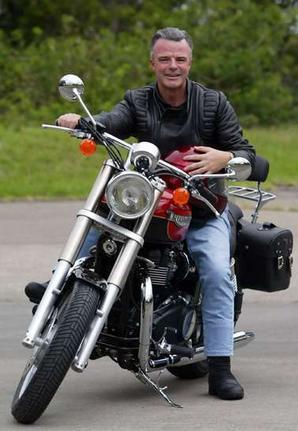 Picture: Defence Minister Nelson a poser? First an ALP member, now Liberal, ear ring, no ear ring. Image lifted from http://www.smh.com.au/news/national/the-evolution-of-brendan-nelson/2005/12/22/1135032135726.html One thing for sure, the election fight is getting nasty even on Easter Sunday.
Author's general introductory note (skip this if you know this regular weekly column):
This is not a well packaged story. It's a contemporaneous traverse of the Sunday television free to air political talkies indicating the agenda of Establishment interests: Better to know ones rivals and allies in Big Politics and Big Media. ]
Indeed it's the tv version monitoring task similar to what Nelson Mandela refers to here in his book Long Walk to Freedom (1994, Abacus) written in Robben Island prison (where he was meant to die like other African resister chiefs of history in the 19C), at page 208
"..newspapers are only a shadow of reality; their information is important to a freedom fighter not because it reveals the truth, but because it discloses the biases and perceptions of both those who produce the paper and those who read it."
Just substitute 'Sunday tv political talkie shows' for "newspapers" in the quote above.
For actual transcripts go to web sites quoted below except with Riley Diary on 7. And note transcripts don't really give you the image content value.
10 Meet the Press 8-8.30 am
No broadcast for Easter break.
Transcript in due course www.ten.com.au/meetthepress
7 Weekend Sunrise, 8.35-40 am Riley Diary
Humourous, quite edgy as usual. Real politics was 15 minutes earlier rebutting front pager Sunday Telegraph ANZAC beat up in desperate journo over reach: Rudd's insult to Vietnam veterans
'Fashon theme' but actually taking the p*ss at artificial photographic choreography of federal MP's, leveraging the tv camera against print model work of Howard, Costello v Rudd, Garrett images. Hunt for Rudd October was perhaps the best punchline while Howard visited a navy ship. Fairly low key as per
Web page here but no transcript usually: http://www.seven.com.au/sunrise/weekend
Sunday 9
Embedded USA journo injury story, Bush regime propaganda ignoring the huge death rate of locals.
More propaganda from Australian soldiers. As if they have an objective appraisal of the overall situation in their paid up jobs.
Clue to the Big Media mugging of the ALP is Ch9 news vindicative 'reportage' as if a straight story of Vietnam Vets 'outrage' story front page Sunday Telegraph. [abc radio running it as a beat up on 7 am news this morning, as are 7 as they would].
Seems to be fed govt media strategy for the very damaging Defence Dept repudiation of their Minister Nelson late last week into Easter break as here:

Nelson struggling with defence role: report
Nelson needs help in Defence Dept: think tank. 06/04/2007. ABC ...]
Bottomless coffers send army adrift: report - National - theage.com.au
Ruddock with Laurie Oaks.
Oaks leads in on IR, not khaki which seems significant he thinks the story is bogus? Ruddock interview: been there 34 years, definitely running. A curious line and a bad look for an old govt. Good q and a stoush over Hicks return, New Year's Eve suggested, no contradiction. Tough argument about gag order. And profiting from story. Military Commission is not a 'criminal offence' in the relevant way. Ruddock says he has legal advice it is barred still. One wonders but probably right as MC's are reconstituted. But not as per 'MC of the date' in the federal legislation.
Chubby Oaks looking fitter. Only a bit.
Bettina Arndt to replace Prue Goward.
Discussion of surrogacy law area.
And go to transcript.
Sunday show website here:
http://sunday.ninemsn.com.au/sunday/default.asp
Insiders 2
No broadcast for East break. Home page is http://www.abc.net.au/insiders/
Posted by editor at 11:41 AM NZT
Updated: Sunday, 8 April 2007 12:13 PM NZT