Stateline NSW studiously ignores local agitation against ALP forest chippers?
Mood:
smelly
Topic: ecology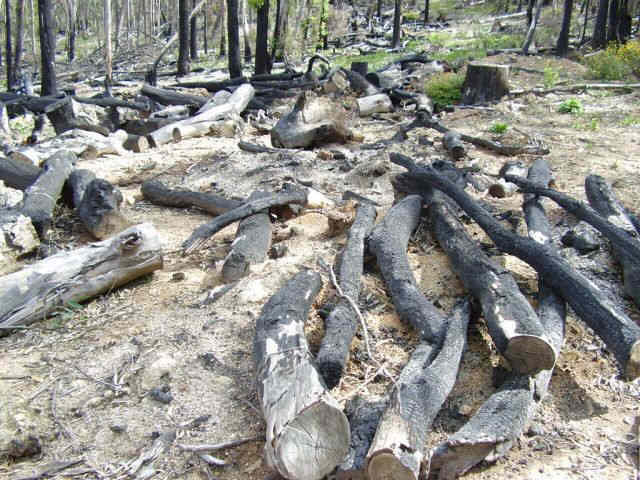 Picture: Post logging burn 2007 in Badja State Forest SE NSW in the marginal Eden Monaro electorate: Someone should tell the ALP under Kevin Rudd that you can't be a climate change champion and a gungho logger.
The ALP national conference apparently saw back room deals to save face with the brutish logger unionist Michael O'Connor as reported here last Monday Tuesday 24th April:
Garrett at loggerheads with foresters
...........................................
Greens Senator Brown quite accurately notes O'Connor is the best friend John Howard could have in the ALP:
Labor should expel O'Connor: Greens
26th Apr 07
Greens Leader Bob Brown says that the CFMEU's forestry spokesperson, Michael O'Connor, should get the boot from the Labor party.

"He helped orchestrate the elect-Howard campaign in the last week of the 2004 election and, if he doesn't get his way, will do the same in 2007," Senator Brown said.

"He should go on the national executive of the Liberals, not Labor," Senator Brown added.

"Michael O'Connor should make public the financial ties between the logging corporations, who back Mr Howard too, and his union sector. If he doesn't, the Tasmanian secretary, Scott McLean, should." (see SMH's Garrett at loggerheads with foresters: April 24 2007)"

"All this points again to the need for a Royal Commission into the back-room dealing which infests the woodchip industry," Senator Brown said.

Senator Brown has also written to the ALP conference delegates, asking them to oppose the logging of old-growth forests and the expansion of uranium mining. (see attached letter).

Further information: Ebony Bennett 0409 164 603
...................
Contrary to these hopeful reports of the demise of eco vandal O'Connor in fact he is now parked at the peak of the ALP here:
"Centre-Left fails to win single spot on council" [offline] by Steve Lewis, Chief political correspondent The Australian p6, 28-29 April 2007, and main reporter mate it looks like of Michael O'Connor, who is the subject of the story. O'Connor is now elected to the Labor national executive from his national logger union.
......................
More recently note this double talk:
Rudd refuses to outline forests assurances, April 29, 2007, AAP FEDERAL Labor leader Kevin Rudd has refused to outline any promises he's given to the forestry union over his party's forests policy.
Construction, Forestry Mining and Energy Union (CFMEU) official Michael O'Connor told the ALP national conference this morning that a deal had been done over forestry jobs.
"Coming into this conference, we thought we might need some amendments to the platform," Mr O'Connor said.
"I'm happy to report after some discussion with the leader about the interpretation of the platform, I can with 100 per cent, 100 per cent support, recommend this to the conference, but more importantly recommend it to our members."
The policy proposes more conservation areas but reaffirms its support for the Tasmanian Community Forest Agreement as Labor further distances itself from former leader Mark Latham's forest policies.
Mr Rudd would not comment on what assurances had been given to the union.
"The platform speaks for itself," Mr Rudd said.
"We intend to have a viable long-term forestry industry in Tasmania. We intend to make sure that there is appropriate conservation of environmentally sensitive forest areas.
"The assurances are those which you see reflected in the platform document."
Mr Rudd said he was sure that Labor's environment spokesman Peter Garrett would soon visit Tasmania.
.....................
Greens Senator Bob Brown issued this release same day:
Sent: Sunday, April 29, 2007 2:13 PM
Subject: [Greens-Media] Brown calls for Rudd-O'Connor logging deal to bemade public

Sunday, 29 April 2007

Brown calls for Rudd-O'Connor logging deal to be made public

Greens Leader Bob Brown has called on Labor Leader Kevin Rudd to make
public the details of a secret pact he has made with CFMEU forestry boss
Michael O'Connor at today's Labor conference. The party's forest policy
was passed unopposed, but only after O'Connor made it clear he had
secret assurances from Kevin Rudd and that the unions would make sure
Rudd's commitments were met.

"The logging and burning of wild forests and wildlife in Tasmania,
Victoria, WA and southern NSW is as unpopular as it is an environmental
obscenity in 2007," Senator Brown said.

"Last election, O'Connor helped Howard back into office. Now this
election, he says he has a dog collar on Kevin Rudd over forests. The
air should be cleared," Senator Brown said.
.................................
We noted this local agitation in rapidly vandalised forest corner of NSW/Victoria last Friday from the irrepressible Harriet Swift:
----- Original Message -----
Sent: Friday, April 27, 2007 12:34 PM
Subject: [chipstop] chipmill blockade
We held a highly successful chipmill blockade yesterday which stopped trucks entering the mill for more than 11 hours.

It started at 4am and ended at 3pm. Miraculously, nobody was arrested. There were no injuries (unless you count me feeling sick after eating instant noodles), but some bad language. We had a top crew from EG, SE NSW and other greenie haunts. Security at the mill is becoming more of a challenge, but we managed to outwit them!

The action involved a cable across Edrom Road, the main road into the mill, attached to a tree sit with back up arrangements to prevent entry along a side road.

We had a theme of native forests and climate change for media statements. The action was covered by ABC - local, regional, statewide, as well as the afternoon show (10 minute discussion) and WIN TV. Print media coverage not known yet, but Eden Magnet turned up for photos and comments from us.

Chip stockpiles for both mature forest chips and regrowth are very low (virtually empty) at the moment and there is a ship coming in next week, so it was good to give them a headache while they are so busy trying to make up volume.

Some highlights:
Peter Rutherford (EG campaigners will be aware of him), now Forestry Manager, South East Fibre Exports turning up to photograph us.
Peter Rutherford arriving with a Mathie log truck under police escort, driven by a member of the Mathie family to read out the Wandella forest injunction against 8 forest activists. After reading out the injunction, Rutherford asked Sooty to let the truck pass. You might ask: what's that got to do with him, as he works for SEFE? Good question, but it might indicate other plans SEFE has against activists or other plans Mathie/SEFE/ NAFI may have. The police asked Quentin Mathie and the truck to leave as soon as the injunction reading was over.
Chipmill worker saying to Keith: "I saw youse standing next to the Shooters Party at the polling booth the other day and I should have flattened you them! "
Trucks trying to break the blockade by travelling along Shelly's Road. A group of 6 got through before one became stuck. They had to unload it and were still trying to free it as we left.
a visit from new SEFE General Manager, Peter Mitchell in his gold Prado.
regards
harriett
.....................
And similarly we noticed this:
Sent: Saturday, April 28, 2007 4:54 PM
Subject: [chipstop] Media statement:Woodchip Blockade focus on Global Warming
WOODCHIP BLOCKADE FOCUS ON GLOBAL WARMING

Conservationists blockaded the South East Fibre Exports chipmill at Eden last Thursday, stopping log trucks from entering the mill for over 11 hours.

The blockade lasted from 4am to just after 3pm.
Spokesperson for the conservationists, Ms Harriett Swift said that the group was concerned about the role of the woodchipping industry as a generator of greenhouse gasses.

"Woodchipping of native forests is an enormous generator of greenhouse gasses and this must be recognized by policy makers," Ms Swift said.

"The destruction of native forests from Victoria and SE NSW for South East Fibre Exports (SEFE) is a major cause of climate change."

"Each year it generates about 18 million tonnes of CO2 or equivalent. This is huge by any standards and is more than 20 times the amount saved by the whole of Australia by banning the incandescent light globe."

"It is more than 250 times what the Bega Valley Shire Council will save by changing to green power."

"And from NSW forests alone, the CO2 produced is roughly equivalent to that produced by every car in Sydney in a year," Ms Swift said.

During the blockade, Mr Peter Rutherford, Forestry Manager of SEFE unsuccessfully attempted to invoke a 2005 Supreme Court injunction against a group of 8 Wandella forest activists which sought to prevent them from blockading the logging company, Bruce Mathie and Sons. Mr Rutherford arrived at the blockade site with a Mathie log truck under police escort, and driven by Mr Quentin Mathie. The truck and driver remained present while Mr Rutherford read out the injunction.

The conservationists who formed the blockade were from the region affected by woodchipping, as well as some international visitors."
We were especially pleased to have a crew member from the Sea Shepherd who has recently been saving whales in the Southern Ocean as well as some other overseas visitors who had been amazed to discover that Australian Governments were still subsidizing the destruction of our most valuable carbon sinks.
"With climate change upon us, we need these forests more than ever. It is no longer just a regional or even a national issue. It is a world wide concern," Ms Swift said.

28 April 2007
64923267, 0414908997

Photo caption: Mr Peter Rutherford, Forestry Manager of the Eden chipmill reads out a Supreme Court injunction against a group of Wandella activists in an attempt to lift the blockade. Pic on website at: http://www.chipstop.forests.org.au/cswhatsnew.html

CHIPSTOP campaign against woodchipping the SE forests, PO Box 797 Bega NSW 2550 Australia, http://www.chipstop.forests.org.au

................................
We couldn't help noticing the absence of any mention of this wicked logging reality ripping a million tonnes a year of native forest out of public estates on the NSW Stateline show and networked this:
Sent: Friday, April 27, 2007 8:10 PM
Subject: [chipstop] Quentin Dempster's Stateline airbrush as usual Re: [chipstop] chipmill blockade
As per usual Stateline tonight, that is 'our abc', decided not to report the real NSW news below, even as it ran on 7.45am prime time abc radio morning news, and 9 am news, AND relates to the ALP national conference issues with a big chunky article in the Herald indirectly related earlier this week. That folks, at least to this writer, is an open and shut case of censorship by that programme.


But why? It's quite a mystery. My feeling would be it is a pre emptive buckle in mortal fear of the federal govt agents on the ABC Board. Another theory would be that Quentin Dempster and Jeff Angel have an understanding not to run the issue of forests on his show to expose the failure of the 'peace deal' made by Angel and Carr. Dempster is a TEC loyalist. A decent story would mean passing the baton to a new green leader?


Some peace deal. Some ABC TV 'Stateline'.


Yours truly
Tom McLoughlin


PS pics of ALP conference street theatre here:
.................................


We recently got on ABC talk back and praised Quentin Dempster for defending the ABC from advertising on their website which would surely compromise their political and financial independence from Big Business and their political vested interests.

But then we couldn't help noticing Dempster's pointed repeated and yet inaccurate description of famous
green entrepeneur
Ian Kiernan AO as
"Mr Grassroots".
Kiernan is grassroots
the way Myer, Kimberley Clark
, at some stage Westpac,
McDonalds
(Hi Ronald) and no doubt a large range of other large corporates are "grassroots".
Kiernan cut the deal with Bob Carr to greenwash the North Shore Sewerage Tunnel around 1998 which was supposed to have water recycling, and has been seeking redemption with water tanks and anti Desal campaigns ever since. But he
is
an entrepeneur:

We are briefed as recently as yesterday by a 5 year employee no less who resigned, burnt out, from the Clean Up organisation and "grassroots" is not the description we heard.
So we sincerely believe the saintly Dempster has got it WRONG twice - on understanding the real place of Ian Kiernan in the real politik of society, and secondly airbrushing the ALP destruction of forests, even if he probably doesn't deserve an on air mugging as he got from the brutal state MP for Vaucluse of yesteryear Mr Yabsley
"QUENTIN DEMPSTER: And the bitterness spilt over into a challenge about how we, at ABC TV, had pursued the Metherell story. [bold added, see below]

MICHAEL YABSLEY, STATE DEVELOPMENT MINISTER 1992: Quite frankly, I mean, I don't know that you're the best one to be sitting here, in such a pious and sanctimonious way, casting these judgments. I think it should be the point should be made that you have been a participant in this process yourself, rather than an observer. I mean, you were the one who set up a dinner at your place at which Terry Metherell was present, together with a senior member - a senior staff member of the ICAC. You were the one who was custodian of the documents that Terry Metherell held so near and dear. So, I just think that the point should be made that, you know, there are 4 million people out there in the State of New South Wales who need to know that at least one of the journalists who is making such pious pronouncements has in fact been far more a participant than an observer, and that, of course, is you.

QUENTIN DEMPSTER: Mr Yabsley, at no time was I a participant in Metherell's resignation to the parliament.

MICHAEL YABSLEY: I just think it's time that Quentin Dempster started to answer a few questions rather than ask the questions."

.....................................

All this ironic because if Dempster was simply doing his job back in 1991 by "pursuing" the Metherell Affair, it is worth noting the former Education Minister bailed from the Coalition and became an independent causing the ultimate downfall of Premier Greiner over .... rampaging loggers attacking NSW Wilderness areas. Yep, that's right. Metherell was a greenie from the conservative side of politics.


Ironic indeed that Dempster is attacked by Yabsley in '91 for reporting the Metherell affair under Greiner, and criticised by SAM here in 2007 for not reporting controversial logging now under the ALP's Premier Iemma.
Posted by editor at 5:25 PM NZT
Updated: Tuesday, 1 May 2007 2:20 PM NZT