Minister Holding's mountaineer incompetence is about poor judgement?
Mood:
lazy
Topic: big media
Traditional training for ice axe self belay and arrest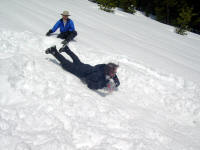 Head first, on the stomach, axe in right hand. Note that runs must be made with both the right and left hands.
(Remember, the axe must be changed to the up-hill hand at every switch-back.)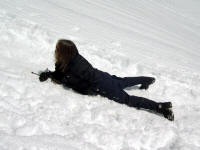 "Great job! Try to stop with the axe head a little closer to your shoulder."
............................
We hear water minister in Victoria Tim Holding is "impressive" "lucky" regretful, ex commando, fitness fanatic, and to balance up all this ALP spin for a protege, actually a "super dill". Here is some coverage:
Tim Holding speaks about his dramatic rescue from Mt Feathertop ...2 Sep 2009 ... UPDATE 3.45pm: TIM Holding has revealed he feared the worst as he slid ... Tim Holding at his press conference.
Have a look at exactly why his 100 m slide on ice reflects on Holding's judgment and quite possibly misplaced, probably arrogant self confidence in snow and ice. Reckless? You bet.
Did any journalist ask him whether he had an ice axe? Or knew how to use it? We wonder.
----- Original Message -----
From: Ecology Action To: Chipstop, Environment East Gippsland
Sent: Friday, September 04, 2009 8:30 AM
Subject: ice axe mountaineering A01 Re: [chipstop] FDOTM vs The Tim Holding search
By the way the very very first lesson one gets in basic mountaineering as per my course in 1989 at Wanaka NZ, Mt Aspiring national park with a company called Mountain Recreation is this:
This so called ex commando, rising star of the ALP was totally out of his depth on his chosen hobby of bushwalking/mountaineering.
What does it say about his ability to manage conservation of water issues?
Signed
Cynical Media Watcher!
.......................
Picture: wonderful Mt Aspring south island NZ a tad under 13,000 feet, climbed in 1989 by the main face.
Posted by editor at 10:45 AM NZT
Updated: Friday, 4 September 2009 10:55 AM NZT