Are these military helicopter flyovers of Queen Mary 2 and Sydney Domain a PR stunt or serious?
Mood:
quizzical
Topic: local news
People weren't just flocking to look at colossal Queen Mary 2 in Sydney Harbour as photographed here from Level 14 Supreme Court Building Cafe at about 3.45 pm, but also to listen to the constant low growl (like an old Billy Joel song) of 3 military style helicopters also photographed 4-4.30 pm this afternoon.
As the helicopters did lap after lap were they there to impress the hundreds and thousands of onlookers in an election year, or was it a serious protective security mission, or just a coincidence?
Having been to quite a few traffic committees in my time (local council 1995-1999), I wondered why the car traffic on Art Gallery Rd/Mrs Macquaries Rd was curiously so light, in fact more than half empty, with people happily walking onto the road way for lack of traffic, even though there was plenty of pathway space. This was contrary to my radio 702 traffic reports that it was totally jammed, actually no it wasn't, unless roadblocks were making it so.
Sure enough at the junction back toward the CBD (Prince Albert Rd/Hospital Rd/Art Gallery Rd) most cars were being turned around into a grid lock by two guys wearing a "security" jacket.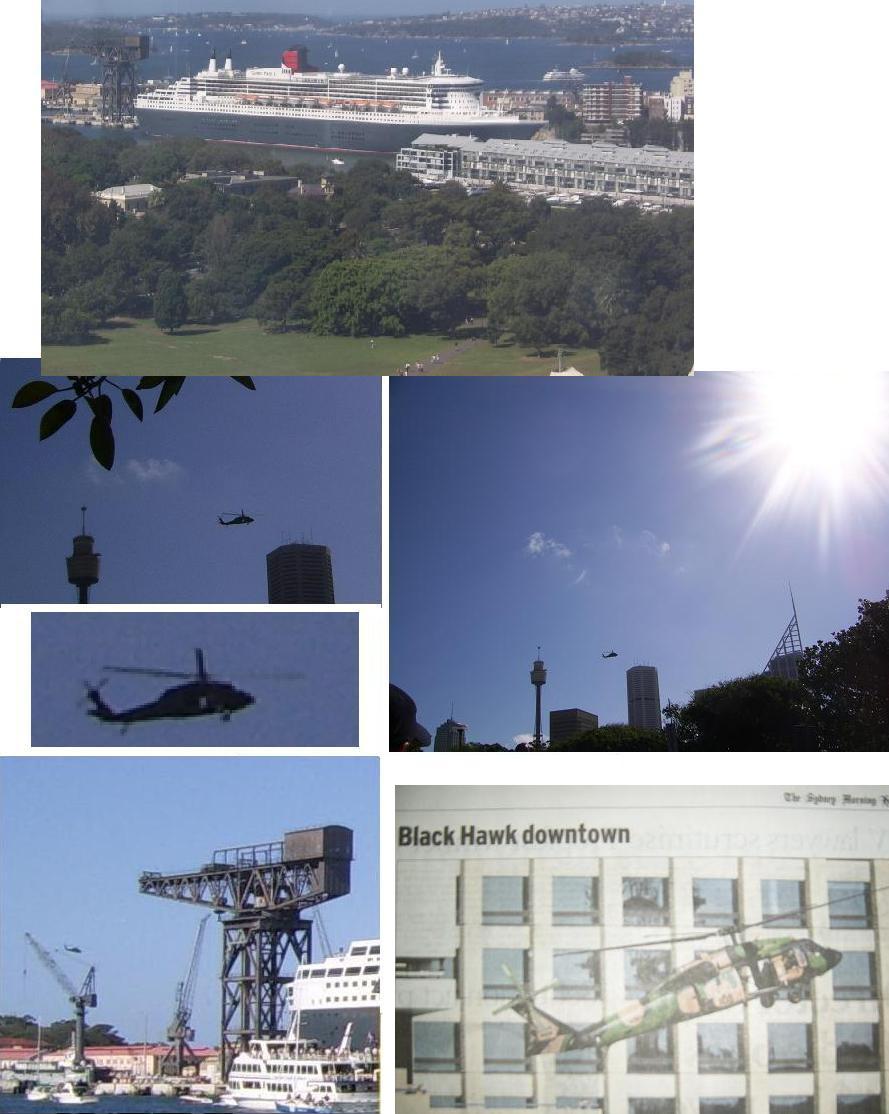 Postscript #1:
10.20 am 21st Feb 2007: Trioli 702 abc radio show says just now via an Army Colonel 'Klink' (no kidding) that it was 'normal anti terrorism exercises'.
Postscript # 2
The picture bottom right is from the Sydney Morning Herald today 21st Feb 2007. It was a quite big image top right page 4 (but offline), with a caption reading:

"Four Black Hawk helicopters from the army's 171 Aviation Squadron held counter-terrorism exercises over Sydney yesterday, hurtling in formation across the city. The exercises, to conclude today, come ahead of a visit by the US Vice-President, Dick Cheney. Police, Intelligence agencies and the military will be on high alert during Mr Cheney's stay. Photo Mike Bowers. [which is the guy on Insiders abc tv on Sunday mornings and picture editor at the SMH]."
One wonders if the big crowd yesterday visiting the Queen Mary 2 sort of blew their discreet cover for exercises when combined with all the happy snappers down there including our SAM blog here, posted the night before, and similarly Melbourne Indy Media here: http://melbourne.indymedia.org/news/2007/02/140417_comment.php#140486
Or maybe the authorities were always going to publish this explanation anyway. Mmm.
Posted by editor at 7:40 PM EADT
Updated: Wednesday, 21 February 2007 12:07 PM EADT