Caroline Overington's restless feet as Scott of the ABC takes out some Ruddy insurance
Mood:
caffeinated
Topic: big media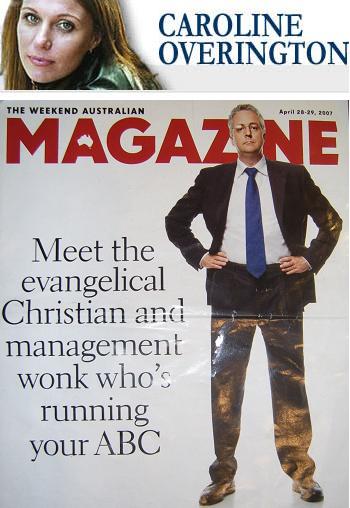 Sent: Monday, May 28, 2007 11:24 AM, Subject: .......ABC Scott takes insurance, Overington's restless feet
On another tack I finally yesterday managed to read Caroline Overington of The Australian colour magazine article profile piece of Mark Scott 12 months as head of the ABC, April 28-29 2007:
There are some real talking turkey moments in the story.
- Scott says he's from the
sensible centre -
it's a bogus claim - evangelical Christianity is not that, long line of govt privileged senior positions in the family is not that,
- Says he has always believed in public duty - easy to say on a 6 figure wage, in fact sleazy to say in that context .
- A blessing for Scott is head of JJJ called Bracken - but my take out for a genuinely rebellious inclusive youth radio network would be that comfort level with the older generation means something is wrong because by its intrinsic nature youth should expect progress from the past and the present and to be "comfortable" with the present means stagnation, even young fogey rot setting in .
- the pitch for online advertising was also sleazy - Seachange should be free to download, other abc produced materials should be free to download. Not a sales precedent for selling advertising. The ABC remains the keystone of our democracy and just imagine Gunns advertising their latest eco tourism venture on the science show website or Catalyst.
- Get the picture? Conflict of interest writ large.
Indeed Overington's piece has a context which reveals a virtual 5 page job application to the ABC via Scott profile. She has been writing whimsy lifestyle pieces about discovery of Bob Dylan (good) late in life (bad). Has young kids so presumably wants a change of pace .
- notice this edgy rather painful jab at her in her own newspaper for daring to stray in the Amanda Meade industry gossip column The Media in Murdoch Press:
Broadcasting a mistake
CAROLINE Overington quit The Australian for a job as a radio current affairs reporter on the ABC yesterday. The 37-year-old author told the editor-in-chief of the newspaper, Chris Mitchell, the day after the launch of her book Kickback: Inside The Australian Wheat Board Scandal at Sydney's Gleebooks on Tuesday night. Overington, a former staffer of The Sydney Morning Herald and The Age, who won a Walkley last year for her coverage of the AWB story, apparently wants to be a broadcasting star, the next conservative Maxine McKew. She was keen to learn all about broadcasting and find out if she could do "one of the big jobs in broadcasting". Overington, who just had a profile of ABC managing director Mark Scott published in The Weekend Australian Magazine, said she didn't have an offer from the ABC at the time of writing the largely positive piece. Last year Overington also won the Sir Keith Murdoch Award worth $15,000 at the second annual News Awards and was happily pictured in an embrace with Rupert Murdoch. Late yesterday she shocked everyone, including Mitchell, when she changed her mind and decided to stay at the Oz. She said the decision to leave had been "the silliest" mistake she'd ever made. The ABC had already announced her appointment in an email to staff yesterday. ABC director of news and current affairs John Cameron said he was "shocked and confused" when told of the backflip by Diary last night.
I sounded out a sub editor at The Australian a little while ago after this quote was published and he volunteered it was "bizarre", more harsh than my word "flighty". He preferred "erratic".
Overington is no light weight. She won the argument over AWB scandal being a big bad story and got the professional kudos everywhere for that including within the Murdoch press. My feeling CO really wants to leave having admitted to Sarah McDonald in quiet 702 morning space after 10 am standing in for Trioli again only recently (promoting her book
Kickback
launched by Rudd no less
http://eventmechanics.net.au/?p=854
) that some staff at her paper rejected her approach, or the gravity. The sniping above would only reinforce that situation.
So in doing her profile piece she has opened a window on Howard's man at the top of the ABC. What is intriguing also is Scott apparently sniffing the wind and taking out some insurance for an ALP Rudd victory post Howard leadership role at the ABC. That's a man with alot of bureaucratic savvy running in his family. But will it work and more importantly will the ABC sell it's soul via online advertising as per the Quentin Dempster thesis?
It's all in the democratic mix this march to the election. And may God have mercy on our souls given the last 10 sad years of ....not least environmental destruction.
Cheers, Tom McLoughlin ecology action australia
Posted by editor at 1:24 PM NZT
Updated: Monday, 28 May 2007 8:04 PM NZT