Solar evangelists converge on Darling Harbour as Pope installs PV* panels
Mood:
special
Topic: globalWarming
* PV stands for photo voltaic solar energy derived electricity (eg for lights, computers, other appliances at about 15-25% energy efficiency from the sun's rays). This is distinct from another form of solar energy being thermal solar (heat energy up to about 30-40% efficiency) generally used for hot water systems (often the biggest drain on household energy bills). PV and solar thermal are often used in tandem. See an example of both types of panels pictured below. We are no expert but we understand these levels of efficiency are similar to conventional coal or nuclear sources given network leakages, rules of entropy (to degrade energy) in physics.
Picture: From right, Artur Zawadski of Wizard Power and chairman of convening group Australian New Zealand Solar Energy Society, Monica Oliphant president of convening group International Solar Energy Society (UN affiliated, daughter in law of nuclear physicist Sir Marcus 'Mark' Oliphant), Professor Deo Prasad of UNSW, John Susa of multinational (Chinese) solar company TrinaSola, and Dr Muriel Watt of UNSW
Picture: Slide from Dr Muriel Watt, UNSW on where we are, and where we are not, as in foot dragging (our word) by the current federal government on renewable energy policy. Minister Garrett did give a speech (which we missed) but according to another expert observer he failed to address 'MRET', gross 'FIT', 'RE' and Innovation Funds for renewable energy. These terms are mandatory renewable energy target, feed in tariff, renewable energy.
Yesterday we attended gratis via IMCS conference organisers the 3rd International Solar Energy Conference in combination with the 46th Annual Conference of the Australian & New Zealand Solar Energy Society. The ANZSES were also holding their AGM last night to adopt a new constitution and appoint a new CEO/CEO structure to get in shape for the years ahead.
We are talking literally a sunrise sector that is big money, big energy, big global outreach via UN affiliations, and big names at this conference like Prof David Mills featured in a new movie premier last night called The Future Makers in conjuction with Discovery Channel.
By coincidence we were reading via Crikey.com.au ezine that the Pope has joined the solar photo voltaic evangelists in their quest for "grid parity" over the next 10 years. This term refers to the point at which the cost of solar energy is the same as grid power (not sure if this is only running cost, or includes capital set up cost via loan with interest/amortisation of cost).
Refer the Vatican news here:
The Vatican goes green Ruth Brown
and more directly here via Reuters complete with photo slide show for the devout tourist:
By Philip Pullella

VATICAN CITY (Reuters) - The Vatican was set to go green on Wednesday with the activation of a new solar energy system to power several key buildings and a commitment to use renewable energy for 20 percent of its needs by 2020.

The massive roof of the Vatican's "Nervi Hall," where popes hold general audiences and concerts are performed, has been covered with 2,400 photovoltaic panels -- but they will not be visible from below, leaving the Vatican skyline unchanged.

The new system on the 5,000 square meter roof will provide for all the year-round energy needs of the hall and several surrounding buildings, producing 300 kilowatt hours (MWh) of clean energy a year.

The system, devised by the German company SolarWorld, will allow the 108-acre city-state to cut its carbon dioxide emissions by about 225,000 kilograms (225 tonnes) and save the equivalent of 80 tonnes of oil each year.

The Holy See's newspaper said on Tuesday that the Vatican planned to install enough renewable energy sources to provide 20 percent of its needs by 2020, broadly in line with a proposal by the European Union.

The 1971 Nervi Hall is named after the renowned architect who designed it, Pier Paolo Nervi, and is one of the most modern buildings in the Vatican, where most structures are several centuries old. The hall can hold up to 10,000 people.

It has a sweeping, wavy roof which made the project feasible and the solar panels virtually invisible from the ground. Church officials have said the Vatican's famous skyline, particularly St Peter's Basilica, would remain untouched.

An editorial in Tuesday's newspaper appealed for greater use of renewable energy.

"The gradual exhaustion of the ozone layer and the greenhouse effect have reached critical dimensions," the newspaper said.

By producing its own energy the Vatican will become more autonomous from Italy, from where it currently buys all its energy. The Vatican is surrounded by Rome.

Pope Benedict and his predecessor John Paul put the Vatican firmly on an environmentalist footing.

Benedict has made numerous appeals for the protection of the environment. The Vatican has hosted a scientific conference to discuss the ramifications of global warming and climate change, widely blamed on human use of fossil fuels.

Environmentalists praised the pope last year after he made a speech saying the human race must listen to "the voice of the earth" or risk destroying the planet.

(Editing by Tim Pearce)
Back at Darling Harbour great speakers, nice venue, good people, huge challenges. Lunch served in plastic throw aways which is a bit of a jarring note. Glad we took the solar ride yesterday and thanks to the conference organisers for the complimentary community media access.
We are still waiting for Minister Garrett's speech to arrive via email via their parliamentary staff (!?). The staffer suggests it may be on the ministers website here - and indeed so it is:
Speech to the 3rd International Solar Energy Society Conference, Asia - 26 November 2008
We are advised he didn't take any questions. Here is his $6M solar announcement for Alice Springs via media release of same day. Apparently there was controversy whether he would make it at all:
But on that score the Minister did better than shadow minister Greg Hunt, a sharp thinker too, who cancelled next day, and conservative non govt group WWF's Greg Bourne, formerly oil company BP, was also a no show. Bourne according to rumour had been called to Canberra at short notice (?!).
We later spoke with Gordon Stewart, Sales and Business development manager of Suntech Australia (whose founder Dr Zhengrong Shi of UNSW is richest man in China reportedly) who noted that the federal govt White Paper on the Carbon Pollution Reduction Scheme (previously Emission Trading Scheme) is thought to be released as soon as next week. A great profile of Suntech's founder involvement with Uni of NSW in Australia is here via old show Sunday on channel 9:
Profound footage there of Dr Shi sounding like the Chinese version of Al Gore, full of passion for the ideals not just the bottom line. Great stuff.
Picture: Scott Friar, as chief of mulitnational Spanish renewables energy company Abengoa. Scott is a Texan with a style like Sol Trujiho, with dry twist. Made some profound comments about the solar sector having to reprove their technology of 1983 again in 2008.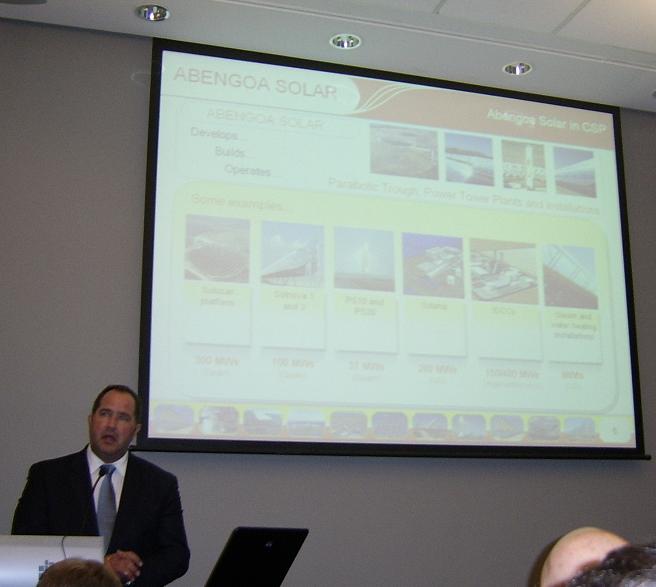 Posted by editor at 6:52 AM EADT
Updated: Friday, 4 May 2012 3:30 PM NZT