Plastic bras and ribbons better than bags
Mood:
amorous
Topic: zero waste
More from irrepressible Lyndall McCormack, internet agitator and green granny from Padstow, in the wake of high profile Ian Kiernan on the ABC 702 radio this morning calling for 'the next step' on our dodgy plastic bag habit:
[To be fair Lyndall sent this through before the Herald story but I was busy cycling to Killara (see previous story) in topic 'election Australia 2007':
Why did student activist now minister Tony Abbott punch Peter Woof?]
Here are some constructive (?) uses of recycled plastic via the Lyndall net vacuum cleaner: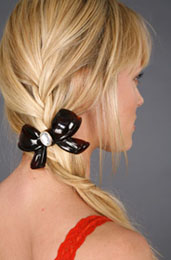 # 1
Bows bows bows, everywhere you look. I love it! I've not worn a ribbon in my hair since I was knee-high to a grasshopper and I don't think I could get away with wearing one now. So this Plastic Bow Barrette from Urban Outfitters is a nice grown up alternative (yeah right). Now you can wear a bow in your hair without looking like a sap or an overgrown schoolgirl. Best part is it's on sale for a paltry $6.99, bad news - only in the US [insert full on girly tantrum here].
[Indeed so popular it looks like its been sold out at the link above: editor]
# 2
JAPAN: Triumph launches shopping bag bra
9 November 2006| Source: just-style.com
In a bid to highlight waste caused by the use of free plastic shopping bags, Triumph International Japan has showcased new lingerie that can be converted into a shopping bag.
http://www.just-style.com/article.aspx?ID=95570&lk=ht
[submission login required]
#3
Sustainability: Free Master Recycler Plastics Roundup Feb 3 2007
[How they round up the plastic waste in Washington USA]
#4
DIY sector in UK comes under waste reduction scrutiny in UK
http://www.packagingnews.co.uk/newsproducts.php?category=Industry+News
Sunday, January 07, 2007
WRAP turns attention to home improvement sector
Packaging use in the home improvement market is to come under scrutiny from the Waste and Resources Action Programme (WRAP) as it seeks to add to its progress in the grocery sector.
WRAP staged a dinner for some of the home improvements sector's biggest players last month to kick off its programme of work in the area, which will include looking at how packaging can limit damage to products.
Mark Barthel, WRAP's special advisor on retail and innovation, said the DIY and home improvement sector was "second only to grocery in terms of the impact it has on lifestyle behaviour".
Later in the year WRAP will also turn its attention to the packaging employed by major internet retailers, including Amazon, and the grocery retailers' web sales channels.
WRAP's main focus so far has been on the grocery sector, where it has signed up 13 retailers and three brand owners to the Courtauld Commitment, the landmark agreement implemented to reduce packaging and food waste.
WRAP is also seeking applications for its £8m Waste Minimisation Innovation Fund in two new streams.
One will provide funding for schemes that can reduce household packaging waste. The deadline for applications is 31 January.
For more information, visit www.wrap.org.uk.
Posted by editor at 9:40 AM EADT