Sunday tv policitical talkies - desperate Howard polling plummets, puts on son/bimbo PR stunt?
Mood:
caffeinated
Topic: election Oz 2007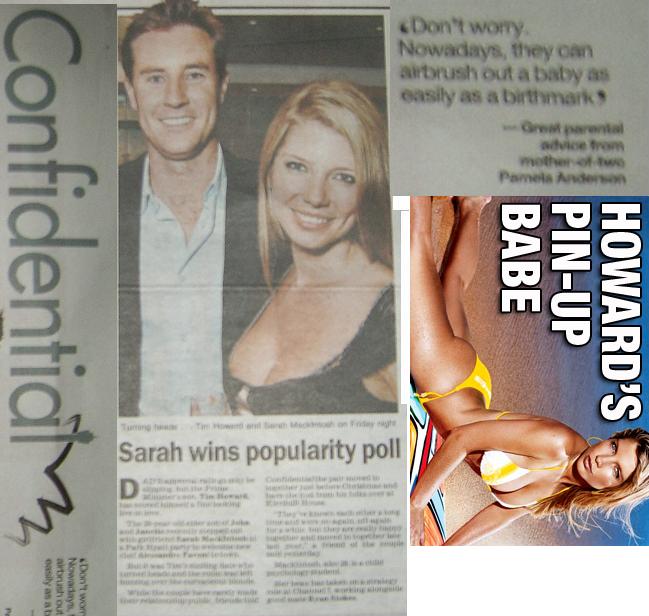 Picture: Top left, controlled PR photo ran in PM Howard's favourite newspaper Sydney Daily Telegraph last Thursday prominent right hand side, with a suggestive quote from Pamela Anderson, another busty topless model. It's hard to see how 'values voters' (to borrow a phrase from West Wing tv series last night) will react to her, but it does look a calculated PR diversion from a sinking Howard. Treasurer aspirant Peter Costello is pushing various right wing agendas to firm up his succession plans. The Bikini bimbo pic of same woman was p1 no less of the Daily Telegraph yesterday probably in a cynical attempt to distract from the cynical fraud Vice President Dick Cheney and his visit. Both Howard sons are known to be political operatives in support of their father's political brand.
Main story:
Author's note: This is not a well packaged story. It's a contemporaneous traverse of the Sunday television free to air political talkies indicating the agenda of Establishment interests: Better to know ones rivals and allies in Big Politics and Big Media. ]
Indeed it's the tv version monitoring task similar to what Nelson Mandela refers to here in his book Long Walk to Freedom (1994, Abacus) written in Robben Island prison (where he was meant to die like other African resister chiefs of history in the 19C), at page 208
"..newspapers are only a shadow of reality; their information is important to a freedom fighter not because it reveals the truth, but because it discloses the biases and perceptions of both those who produce the paper and those who read it."
Just substitute 'Sunday tv political talkie shows' for "newspapers" in the quote above.
For actual transcripts go to web sites quoted below except with Riley Diary on 7. And note transcripts don't really give you the image content value.
10 Meet the Press 8-8.30 am
Quality 2nd string network, good show, lower audience than 9 or 7, both low for Sundays anyway. Traverse of press headlines first including VP Cheney says troops pull wouldn't risk the USA-Australia alliance.
Deputy ALP leader: Julia Gillard, welcomes Cheney admission Oz troop withdrawal no affect on ["rock solid" per abc tv news last night] alliance.
Spills the beans supports uranium mining expansion at Roxby Downs in South Australia. What a sellout. Says its all for jobs. [the other sleeper is what did Rudd and Cheney talk about that he is so cagey about.)
Howard footage of the rapid fire speechmaking on IR. Looks panicky.
NSW Teachers federation advert in first break aimed at the federal govt IR laws at play in NSW and federal election.
Panel is Jennifer Hewitt? of Fairfax? Mal Farr News Ltd
Standard competent discussion of IR and AWAs.
Q. re leader "full of it" as in overconfident. Loyal answer.
Animation: Rudd polls skyrocketing with Rudd as superman. Clark Kent metaphor.
2nd ad break Cool Aid with Al Gore next Sunday on 10.
2nd guest Hugh White Lowy Institute expert:
- Doubts Cheney caliphate extreme fear mongering. USA not good at democracy building, only wars.
- Invasion of Iran is very unlikely he thinks. Cheney hawkish vis a vis rest of Washington and less influential.
- Very gloomy about Iraq, 20K surge no long term difference. USA lacks "ability" to create peace and stability". Terrible dilemma. Howard government increasingly isolated.
- Oz 500 troops not a significant operational force. Could bring troops home.
Transcript in due course www.ten.com.au/meetthepress
7 Weekend Sunrise, 8.35-40 am
Humourous, quite edgy as usual. Fraud news roundup by referring to "violent protests" against Cheney but at least mentioning traffic mayhem he caused [by not going to Canberra instead of Sydney].
Riley Diary:
Go West music theme of Pet Shop Boys: polling discussed. UK draw down, spin on that from Howard govt ministers. 'Full of himself'comment re perception of overconfidence of Rudd streets ahead in the polls [Sydney Daily Telegraph re 'Ruddslide' p1 24/2/07 in Qld]
Web page here but no transcript usually: http://www.seven.com.au/sunrise/weekend
[2 and 9 shows to follow later this morning]

Pictures: Images from left wing Melbourne Indy Media website. This writer couldn't attend the protests against Vice President Cheney's visit last Thursday 23rd Feb, but generally agrees with the exercise of free speech and the message. I'm not sure if The Green Party here would have agreed to the juxtaposition with the bloodied, upturned USA flag, but that's what happens in a passionate protest rally. I'm told one placard read: "USA stop thinking with your Dick". Also there is alot of resonance to the idea (in the editor's legal opinion as a solicitor, based on general media) that a very large police contingent manufactured clashes to smear the anti war rally. For instance top cop Terry Collins was implying it was "a riot" on the abc radio which is pretty exagerated, arguing there were '"G20" troublemakers in the crowd [a reference to clashes in Melbourne weeks ago] as they rode their horses up to and against the crowd. The truth was captured by a video on the Sydney Morning Herald website http://media.fairfax.com.au/?rid=25946 . Authorities did have an arguable case regarding protest disruption of traffic as inconvenience to the public but Cheney was doing alot of that too with his entourage. Besides democracy is inconvenient ... and absolutely essential. Police let the the march proceed anyway which was good. Plenty of police real politik these last few days.
[Sunday tv talkies continued]
2 Insiders (abc) 9-10 am, http://www.abc.net.au/insiders/
Guest is Malcolm Turnbull on water etc.
Pretty good show as usual this week, this writer distracted with other indy media work while listening – see transcript at link above.
9 Sunday 9-10.30am (to follow) http://sunday.ninemsn.com.au/sunday/
Feature on Oz wife and noticeably Islamic convert, of Willy Brigitte errorist suspect in France, deported from Australia. Likey sympathetic will check tape later.
Rudd on Oaks interview. Missed first half of it perhaps. Top line interview well worth checking the transcript. Rudd plays confidentiality with Cheney which is pretty clear breach of transparent democracy. Says Cheney knew his policy position to draw down/reduce troops. Etc
Long interview. Gutsy clear vibe by Rudd. Pushes clean coal agenda. Not sure if he's been challenged on uranium, probably next question. Timeline of 2020 [which further exposes false action on coal emissions until then].
Web poll for this week, should Australia follow Britian and withdraw troops from Iraq.
78% said for last week David Hicks has spent enough time in prison.
Posted by editor at 8:41 AM EADT
Updated: Wednesday, 28 February 2007 7:11 AM EADT