Time to replace the teapot in the age of climate change? (Twitter warning)
Mood:
quizzical
Topic: globalWarming
It's an inside day. It's wet in Sydney. There is disaster afoot and best to cocoon, right?
But this chilly greasy cold, of closed windows and high humidity has caused (?!) the smashed teapot above. One thing about being teatotal, you take your tea very seriously. A very small disaster in the scheme of things but then again I want my hot invigorating ginger laced tea damn it.
Another receptacle to brew my lean chai. What? A glass jar? A tin pot? Nah, the thermos of course. So cheap at KMart. Then I get to thinking. Why not always use it instead anyway?
How much energy would be saved using a thermos like they do in cold poorer countries like Chile? Typically in meeting rooms there it is, the vaccuum flask along with the table, chairs, no central heating and extra layer of clothes.
Save energy? Well we remember Richard Glover on 702 radio making a blow for domestic energy bills everywhere by not heating the pot under the running hot water. Why not not heat the pot at all? (Well done on the deletion of shampoo there too Richard, I'm a convert.)
First you don't have to keep the pot warm on the stove on super low heat. You don't need to reboil and top up the pot, or worse chuck out and remake. The ginger prevents stewing (really, try it). This may bear alot more life cycle analysis - like how much energy to make the thermos versus a crokery fired teapot? Still you don't even need a tea cosy. All courtesy of the insulation benefit of a vaccuum. And notice the new design of thermos have a neat release valve without unscrewing for those frail hands.
Mmm, a silver lining to a broken teapot, maybe.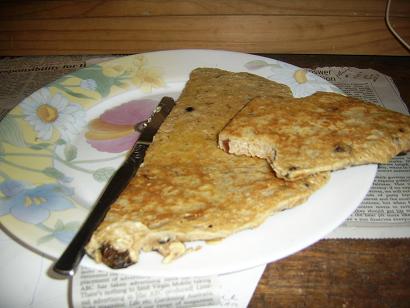 Picture: Muesli pancake: Mix wholemeal flour, one egg, shape milk, cheapest muesli homebrand. Don't let it stand long. Cook on medium heat pan, lid off, on a little oil. Flip once. Eat and listen to Liz Farrelly on radio, doesn't get better than this.
Posted by editor at 10:35 AM NZT
Updated: Saturday, 9 June 2007 11:19 AM NZT