Peace flags are the go at Big Day Out concert?
Mood:
a-ok
Topic: peace
SAM's editor as an Aussie of Irish, Italian, German and probably English mixture doesn't mind at all the Union Jack on the Australian Flag being benched, declined, replaced.
Who can forget 1 million Irish dying as the UK exported food for profit from Ireland during the potato famine. And there is the offense to the Original Australians, our Indigenous when they have the Union Jack top left of the flag pushed down on them after the massive pain and suffering of their people, which they have somehow survived.
It's why the Australian Republic needs a new flag. There is one from over in WA which has a boomerang Indigenous theme we quite like too.
Here is a groovy rainbow flag I think is very friendly as an antidote to the race hate white supremacism implicit in the Union Jack, held by two immigrant ladies I met at Turrella in Sydney one morning:
Compare it with the message on the front of the Sydney Daily Telegraph today: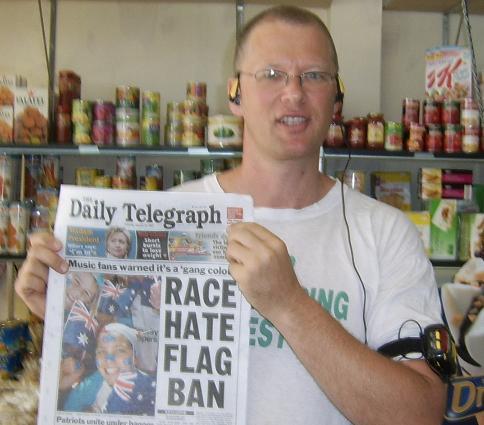 Posted by editor at 12:05 PM EADT
Updated: Monday, 22 January 2007 2:28 PM EADT