Long expensive nuke reactor decommissioning process at Lucas Heights
Mood:
incredulous
Topic: nuke threats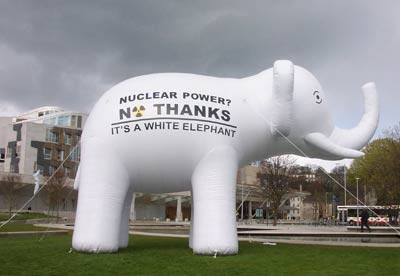 Journalist Heath Gilmour took on the environment rounds in about 1994 for Fairfax if memory serves then faded in and out of view. He seemed way too innocent for the cut throat business of land politics back then.
This writer was working in the meat grinder (external and internal issues) of The Wilderness Society world where there was no time for illusions, with plenty of bruises along the way. I recall one commentator telling me privately that the then Liberal's Evironment Minister Hartcher was "a boy" compared to the other thugs in the power game like Peter Cochrane MP (Cooma Monaro), Albie Schultz MP (Tumut area) Deputy Premier Armstrong (Nationals) etc.
HG carries this lead story today:
PETER Garrett injected power and passion yesterday into the heavyweight title fight to become the next federal government of Australia.
Which is really just reinforcement of news of the past week. But not this other cracking story also by HG here at p27 of the SunHerald
"Shutdown of reactor will take decade" (possibly offline)
A small teaser which glosses over so much more potential for news and scandal.
Nuclear power is a big topic of this next federal election. The real cost and inconvenience of decommissioning of old reactors is very relevant. This is the story that say ex Nuclear Disarmament Party Peter Garrett would be very excited about, and Malcolm Turnbull would be very queasy.
Seems the old monster reactor at Lucas Heights "had its first chain reaction on Australia Day in 1958": George Collins, Australian Nuclear Science and Technology Organisation. All sigh patriotically or vomit would be more likely.
The self aggrandising nuke industry rent seekers will need how much to sort out the waste and deconstruction let alone security for the next 10 years? $1 billion, $2 billion. Will we ever find out the real cost?
In the UK it is reported by the Nuclear Decommissioning Authority the astronomical cost for an admittedly much bigger sector there of UK 70 billion pounds (at a guess Aust$120 billion?) . Full statement and government referencing below.
And the sector is plagued by problems: Bloomberg reports the latest departure 17th Nov 06:
British Energy Ousts Its Nuclear Chief; Output Cut (Update3) By Lars Paulsson and Paul Dobson http://www.bloomberg.com/apps/news?pid=20601087&sid=aoqdlnRtEaQI&refer=home
No wonder Friends of the Earth Scotland are running this 'its a White Elephant' campaign: http://www.foe-scotland.org.uk/elephant from where the image above is lifted.
Earlier in 2006 FoE Scotland states at: http://www.foe-scotland.org.uk/press/pr20060314.html
30 March 2006
NUCLEAR CLEAN-UP BILL SOARS
Scottish ministers urged to resist new nuclear power programme
The cost of cleaning up Britain's nuclear sites (including those in Scotland) could soar to £70 billion, the Nuclear Decommissioning Authority revealed today [1]. Virtually all of this will have to be paid for by the taxpayer. Friends of the Earth Scotland said that the latest figures ­ a £14 billion jump on previous estimates ­ highlighted the economic insanity of nuclear power, and called on the Scottish Executive to reject any attempts to foist a new building programme of nuclear reactors on Scotland.
The environmental group also warned that the final bill to the taxpayer will be even higher that the NDA estimates released today, because they do not include the following areas:
The cost of managing the waste created by British Energy (e.g. Torness and Hunterston B).
Any further waste arising as a result of extending the operating lives of the existing reactors or facilities, or as a result of building new facilities.
The final disposal costs of nuclear waste.
Military activities (e.g. Rosyth or Faslane).
Friends of the Earth Scotland's Chief Executive, Duncan McLaren, said:
"Today's announcement demonstrates the economic and environmental insanity of nuclear power. The Scottish Executive must strongly resist calls to build new nuclear reactors and invest in a comprehensive programme of energy efficiency and renewables that will tackle climate change while securing our energy needs.
"Nuclear power is dirty, dangerous and massively expensive to clean up after. A further jump in cost to the public is not surprising but should be a warning to all those who foolishly think a new nuclear power programme should be approved. These figures will almost certainly rise again in time.
"Taxpayers should not be fooled into thinking that this figure is anywhere near the final costs they will ultimately be expected to shoulder. These NDA figures cover none of the wastes created by British Energy, wastes generated by the military or any future waste arising from a new nuclear power programme.
"Had we been able to invest this scale of resources into clean and sustainable renewable power, energy efficiency and the cleaner use of fossil energy, we could have met our climate change targets easily. Scotland must embrace the diverse cutting edge technologies of the future, not resurrect failed technologies from the past".
ENDS
NOTES TO EDITORS:
Postscript #1 [media release follows]
30.01.07

Lucas Heights switch off welcome, but problem of decommissioning just beginning.


Greens Senator Kerry Nettle today welcomed news that the HIFAR reactor at Lucas Heights has been turned off but warned that Australians should be aware that making the site safe (decommissioning) could be a very long process and may never be achieved.

"Today Lucas Heights' old reactor is turned off but the public needs to be aware that the site may never be made safe," Senator Nettle said.

"Humanity has not solved the nuclear waste and decommissioning problem. None of the 100 or so commercial nuclear plants that have been switched off around the world have been successfully decommissioned.

"The British Government in their report 'Managing the Nuclear Legacy' admit that decommissioning their plants will require advances in basic science and technology and the development of innovative solutions to complex engineering, organisational and logistical problems.
"The lesson for Australia is not to pursue this never ending cycle of pollution when safe renewal options are available.

"Today the Australia Institute has released its report Who Wants a Nuclear Power Plant? which lists 17 locations suitable for nuclear power plants in Australia. Their polling shows, unsurprisingly, that populations close to these sites do not want nuclear power plants.
"Instead of talking about 25 possible nuclear power plants the Prime Minister should be looking for another 25 sites for major wind power stations and another 25 solar power stations.

"The Greens invite Australians to vote for a renewable future and reject the polluting, dangerous and massively expensive nuclear power option."

Contact - Jon Edwards 0428 xxxx xxxx
Posted by editor at 10:00 AM EADT
Updated: Thursday, 8 February 2007 7:00 AM EADT