Non disclosure by Big Media of pollie vested interests is crook
Mood:
loud
Topic: election nsw 2007
Whether its Tom Switzer failure to disclose, George Williams, questions of Maxine McKew domestics, Patrice Newell access to abc radio (arguable tho as below), the Big Media/Politics revolving door is spinning ferociously at the moment.
How totally unsurprising: Democracy is only for rich folks obviously in an echo of the insightful political movie Bulworth
http://en.wikipedia.org/wiki/Bulworth
with Warren Beatty
http://en.wikipedia.org/wiki/Warren_Beatty

In this election period yesterday we had George Williams, a professor of Law indirectly backing up ALP Premier Morris Iemma's vicious attack on Magistrate Pat Oshane here:

'We should have a say on who judges us'

http://www.news.com.au/dailytelegraph/story/0,22049,21105497-5001031,00.html

Yeah George, yeah Daily Telegraph. Why no disclosure of his very public appeal for a political career having joined the ALP recently. This was admitted from memory in this abc conversation hour here:

Tex Perkins and George Williams [24/10/2006]

http://www.abc.net.au/queensland/conversations/stories/s1772397.htm?queensland

which is all well and good George, an ornament to any political party to be sure, but failure to disclose? That's wrong. Very wrong.

And my memory of admirable humanitarian George is reinforced by this:

"Professor George Williams spoke at the ALP Conference in favour of a Human Rights Charter, as did the Attorney General Bob Debus. George Williams repeated the argument he used at a recent Evatt Seminar "Australia is unique, unfortunately". Professor Williams has been in the leadership of the six month community consultation in Victoria, that has led to draft legislation, that will be introduced later this year. In this Newsletter, Williams updates on the Victorian leadership."

http://evatt.org.au/news/398.html
Just declare it, is the rule.

We read yesterday about Tom Switzer, senior editorial biased favouring of Malcolm Turnbull yesterday on MIM here:

'Crikey.com.au expose Turnbull's hypocritical mate at The Australian'

at

http://melbourne.indymedia.org/news/2007/01/137676.php

At least Crikey scribbler Stephen Mayne was overt in his political allegiance to People Power Party in the recent Victorian state elections while posting for the ezine.

Switzer in turn was whining about recruitment of ex senior ABC journo Maxine McKew to new ALP leader Rudd's team, domestically tithed to a senior ALP fellow: There is always the question of spouses as stand alone professionals independent of partners in this age of gender emancipation. The pain in Switzers whine was stark when it became clear he was hypocritically involved in profile boosting of his own spouse's employer (senior minister Malcolm Turnbull) via the pages of The Australian.
Should have been disclosed too as much as McKew's situation surely.

The rules of disclosure of family vested interest should at least be consistent is the obvious point. And dislosure should be the rule not the exception until it becomes tedious, but then even then too.

Now Patrice Newell turns up on ABC 702 radio with sharp announcer Trioli this morning. Newell is a greenie climate change, stong achieving, published author, and media professional, who just happens to be the partner in life of one high profile abc broadcaster. No disclosure: She is an independent running for the Upper House in NSW, but will her candidacy help rather than hinder the ALP, or does she have a real chance of winning? It's way too early to know about preferencing at this stage but one wonders.

I ring their producer and chat about this: They advise the ABCrang her, not the other way round, based on her high profile lead letter in the Sydney Morning Herald today, which fits the news cycle today too. She is a professional obviously. Her letter is a cracker and sincere. But whereas disclosure for the Herald is irrelevant, it becomes a real question for valuable access to abc listening voters.

On balance they should have disclosed her spouse is an abc broadcaster, perhaps not who specifically, and explained how her independent credentials were conclusive, not the family relation. They did list these credentials but not the abc connection and that is just not transparent enough given the perception if not actual conflict of interest: A minor sin that should be rectified, feminista emancipation or not.
Also prominent in the news today is this outstanding cartoon that is just breathtaking in conceptual beauty, and reinforcing articles by this writer that 'ecology does indeed underpin the credibility of all future governments':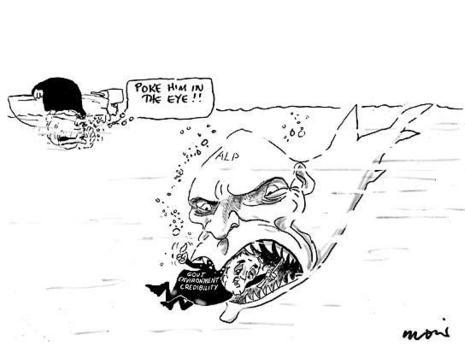 The Turnbull federal Env Minister character (independently wealthy strong thinker and speaker, above the fray often) is at risk of munching by Garrett Opposition Water spokes (and long time professional greenie agitator turned mainstream pollie), playing off the real life fantastic escape of abalone diver on ACA ch9 tv last night, Garrett with the shark smooth skull.

"Poke him in the eye" calls Howard figure to Turnbull, just as real life Eden based diver explained was his instinctive survival tactic.

One of Moir's best ever. David Rowe the awesome Australian Financial Review cartoonist ought to give Moir the cartoonist equivalent of The Ashes back (albeit temporarily).

All reinforced by the following editorial too:

"With this speech [by W Bush State of the Union yesterday on related matters], there can be no more excuses for John Howard. Australia's problem with climate change - not mere drought - must be at the top of the Australian political agenda after 10 years of relative neglect by the Federal Government and the Labor premiers. Mr Howard's elevation of Malcolm Turnbull to cabinet as Minister for the Environment and Water Resources, following the elevation of Peter Garrett as the Opposition spokesman for the environment, is an acknowledgement that both major parties see the environment and energy use as a top priority. Two political heavyweights will now battle for public attention over the issue."
Postscript #1
A version of this article was published on Melbourne Indy Media and Professor George Williams posted there with a verifiable email address as follows:
Professor
by George Williams Thursday January 25, 2007 at 09:41 PM
[email: xxxxx]
I think its a bit rough to say I have failed to disclose my interest in standing for Parliament. When I made the decision last year (some months after chairing the Victorian process) one of the first things I did was contact journalists to inform them. I have hardly been keeping this under a bushel then or since.

In the time since my interest has, as you mention, been on ABC radio's Conversation Hour and has been mentioned several times on other shows like AM and PM. It's also been reported on in many newspapers such as the Australian, Sydney Morning Herald and the Canberra Times. Eg:
<http://www.smh.com.au/news/national/constitution-expert-wants-labor-seat/2006/07/12/1152637740380.html>
It's also been mentioned recently in the Daily Telegraph itself and on TV such as on Insiders.

My point is only that this is already in the public domain. Even given this, it needs to be remembered that this is all merely about a possible future aspiration. I have not actually stood for, let alone been pre-selected for, anything.

Otherwise, thanks for the kind bit about ornaments!

Cheers

George
It was rough
by Tom McLoughlin Friday January 26, 2007 at 01:19 PM
When I heard the Conversation Hour I thought the ALP would be foolish not to court your impressive mind in some way. Lord knows we need a strong sense of human rights law in this country, with now retired appeal court judges of Victoria publishing against the scandal of legal abuse of a citizen (Hicks).

It's enough to make one quite queasy.

Good luck George, but as always without fear or favour has to be the approach here at the indymedia blogger 5th estate.

I read the transcript of OShane's decision. She was treated rough too, and that put you and Iemma in play.
............................
A moving article about Magistrate OShane ran with a picture in The Sydney Morning Herald yesterday, which indeed was a good balancer to all the baiting she has been getting: O'Shane makes peace with her demons
Posted by editor at 10:04 AM EADT
Updated: Saturday, 27 January 2007 7:29 AM EADT