ALP and Big Media's systemic exploitation of Iemma's children, moral cowardice on white supremacism
Mood:
sharp
Topic: election nsw 2007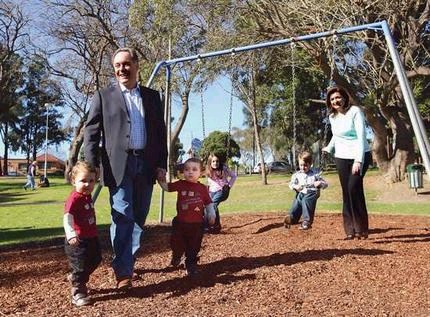 Picture: A big media image from 2006 on the ascension of Morris Iemma to the fraught job of ex Premier Bob Carr.
The inspired West Wing tv series which I review here:
Thursday, 4 January 2007
West Wing tv series, bourgeoisie wank or worthy response to Ed Murrow's example?
last night carried this episode
"A Good Day" (first broadcast March 2 2005)
with argument over whether children deserve the vote because their world is being foreclosed on (environmentally and from discrimination over poverty levels versus older people), and they have effectively no voice. They get the brush off initially until the 'Tubby Stickler for ethics in politics', that is Toby Ziggler character is responsive to the policy depth of their case.
Pres Bartlett takes their question in front of the whole shrill National Press Gallery: 'A vote for children is worth considering" he suggests to the media pack, and making the young lobbyist's dream come true.
Which calls up the whole issue of the character piece by Imre Salusinszky glossy article in the Weekend Australian magazine 20-21 Jan 2007 called
"Hey Dad
NSW Premier Morris Iemma promised his wife he'd be a hands-on father, but can he keep the voters happy as well?"
The 5 page glossy spread featured his 3 year old twin sons, older brother and sister, and loyal wife, similar to this picture:
But it's systemic child exploitation. All senior politicians do it. John Anderson at his most vulnerable as Deputy PM and leader of the Nationals put his kids on the front page of The Australian newspaper some years ago .
Iemma and the ALP are doing it here. PM Howard does it on election night with his children on the podium most election nights. Kevin Rudd on election to leadership with kids on the beach. Senator Barnaby Joyce and gaggle in the precincts of The Senate. The innocence, the charm to warm the most cynical heart. But it's pure emotional blackmail and manipulation. You couldn't throw the parent of these kids out of work surely?
The children have no say over their image being used in the electoral process. They have nothing probitive to say about whether Iemma is good at his job or not. You don't even need a licence to have children but this is somehow his great virtue?
This writer is not anti child by any stretch. 3 years on Bondi Beach Primary School P&C, uncle to a whole gaggle, fighting for intergenerational equity on the environment. But unlike the precocious character in the West Wing putting his argument to the Tubby Stickler character always concerned for ethics in politics, Iemma's kids are window dressing aggrandisement of the parent.
A proud parent to be sure but the kids have no real informed free will in the matter. They are too young. It's qualitatively no different to the child abuse of religious cults like Exclusive Brethren who think they own their children like little emotional slaves to promote their business political social and legal agendas.
It's wrong. In fact its pretty evil. It's a fraud on the voting public. Sure it's relevant to Iemma's 'character' that he has a healthy happy family, and sound partnership in life, but as a footnote, not the main deal. None of this goes on a job advert or in a resume. In fact it would be grounds for a legal action for discrimination if it was. And the Premier's job is a job application like all other important jobs.
But there will be more with news of Packer's Women's Weekly running a spread on the Iemma domestics soon also.
Politicians are still allowed in our culture to parade morally perfect young children to cover their own flaws.
This disgusting systemic habit of exploitation carries over to other opportunistic behaviour: Take Iemma's moral cowardice on covert and overt white supremacism and conversely PM Howard's aggressive support for same.
In terms of the veil being lifted on latent white supremacism in our society encouraged and nurtured by divisive Howard govt with their fascist tendencies, Iemma wants to win the vote on March 24 in the euro dominated white middle class heartland. This is the game staked out by white euro elitist types like radio shouter Alan Jones.

So Iemma scorns the Big Day Out concert organisers' common sense on discouraging tub thumping nationalism in their Sydney venue.
The Premier energetically attacks cleric Egyptian Australian Hilali for not being mainstream in his views and politics (though H actually is mainstream for opposing the Iraq war).

Hr attacks Aboriginal Magistrate OShane when the transcript of the case shows she runs a tight ship and is endorsed by 3 judges of the Judicial Commission.

Similarly Monarchist Howard exhorts the Australian Flag with its white supremacist Union Jack.

The thread in all this folks, is white supremacism, which is the unvarnished Pauline Hanson agenda: Some limited tolerance and patience of coloured folks but always, always white folks on top.

It's sometimes subtle, sometimes crude like Cronulla, it's sometimes opportunistically plausible when ethnic gangs are exposed, but the unifying theme is ugly white supremacism when reallly the vast majority of the world is coffee coloured.

Iemma's moral cowardice is around the fact he is an Italian immigrant's son (as I am 1/8 Italian also via Calabria) and is acting more white than a UK pomme, in some kind of weird denial of his own ethnicity.

No multicultural themes of Italian heritage in Morris's election campaign that's for sure. Italian language, food, funny foreign dress or dance? Forget it. He's now an honourary white supremacist. Even though he is 1st generation Australian. That's the evil intolerance that Howard has nurtured with his federal budget influence in the culture wars. To appease the white picket fence of places like Epping in the seat of Bennelong. Go and have a look and feel the white supremacism pouring out of the manicured lawns.
I spent a busy month in the 2004 federal election working the Bennelong electorate and it becomes very clear how Howard is a product of this Old Australia. Very white bread, with pockets of ethnicity but absolutely no doubt who is 'in charge' and born to rule.
What a shame that Iemma is pandering to the same misconceived arrogance for purely careerist political motives. All at the expense of a happy harmonious healthy self respecting diverse society. I blame Howard mostly for soft pedalling on One Nation to begin with but everyone in society will have to make this choice to stand against the white supremacism of the Union Jack sooner or later. This writer condemns the pandering to Old Australia bigotry in a modern sophisticated world.
Coincidentally The West Wing 2nd episode "La Palabra" last night also dealt with this very question via Latino presidential candidate Matt Santos character who retreats from ethnic related concerns, but gets it right by the end in a unity ticket with the white bread Californian governor, who takes the tolerant line on driving licences for illegals.
Good public policy is colour blind, bigotry is neither.
Posted by editor at 9:03 AM EADT
Updated: Tuesday, 23 January 2007 2:04 PM EADT