Not so much lawyers in love, as lawyers in strife
Mood:
blue
Topic: health
We received an intriguing letter from Lawyers Assistance Program yesterday not so much about high paid ambitious good looking 'lawyers in love', as the song goes here YouTube - Jackson Browne Lawyers in love, as lawyers in strife: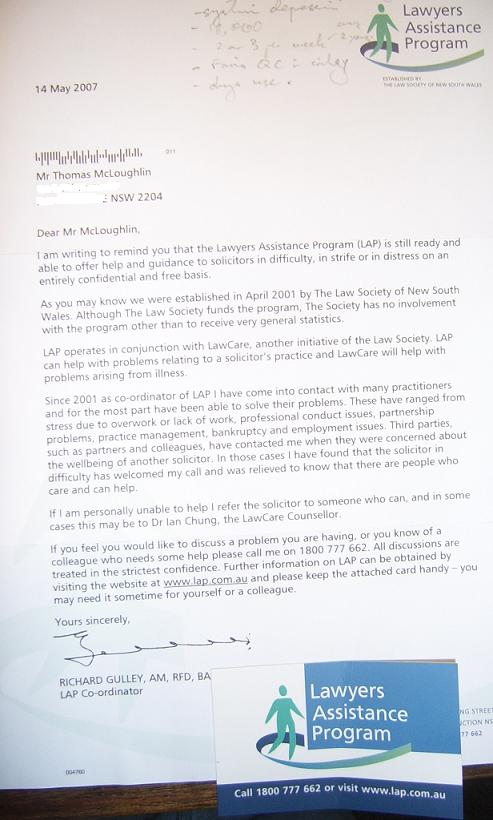 We called up the LAP Co ordinator Richard Gulley who advises the letter
1. is not related to a controversy running in crikey ezine at the moment about alleged drug use like footy players;
2. they send to 18,000 every 2 years or so
3. they get 2 or 3 calls per week from needy lawyers
This letter comes coincidentally (?!) on the heels of
- Big Media reports of depression in the profession especially in the younger cohorts leaving in droves apparently Lawyers most depressed: study | NEWS.com.au, and here Blake Dawson Waldron - Corrs Chambers Westgarth - Lander & Rogers ... and here Profession depression
- claim and counter claim by senior lawyers in the crikey.com.au ezine of alleged drug use like cocaine in the profession, like every other section of society. Lawyers Weekly are onto the story here Depressed lawyers turn to alcohol and drugs and we know what they mean with my lawyer father being a victim.
- official responses by the profession it's all under control and being monitored Lawyers row over drug use | Herald Sun
Our comment: Drug use amongst any group of 18,000 humans? Der. And good luck to the LAP too. Working with unhappy people as lawyers'clients often are is bound to make you unhappy. We wonder how doctors manage. Glad we got out of mainstream legal work in 1991.
Posted by editor at 11:43 AM NZT
Updated: Friday, 18 May 2007 12:18 PM NZT