Dangerous global warming impacts for major parties in NSW election
Mood:
cool
Topic: election nsw 2007
We watched the Channel 10 Cool Aid 2 hours plus special which network apparently rated fairly well at a respectable no.3 for the night after 8.30 pm last Sunday 4th of March. And we were impressed.
Building on the DVD and Oscar success of Al Gore's An Inconvenient Truth highly cuddly Sandra http://www.ten.com.au/ten/people_sandrasully.html
was sharper than we are used to seeing cutting across the political talent as needed with federal rivals Malcolm Turnbull and Peter Garrett. Crikey.com.au sad cynic Christian (not) Kerr called it 'tv for morons' yesterday without even watching, but he doesn't look like this:
and there were 5 family/young adult mainstream templates of sorts for checking the carbon fatties (presumably Kerr). Dr Karl the expert science reporter
with the ABC gave us the low down on listening to real climatologists - not paid up liars (just as the Tobacco Industry lied for 50 years on causes of cancer), and Al Gore chipped in too. Highly polished John Dee, even Ian Kiernan from a 4 am start and plaster cast on leg had some kick urging a 10% renewable energy target up from 2%. Prof Tim Flannery and Australian/Troublemaker of the Year, and the show highlighted dangerous sea rise threat HERE for a real change.
Ian McHugh a science writer for Crikey was more favourable and like him I did flake out after a long day before the end, but not before rejoicing that Sandra & Co, who I did but once see passing by there in Harris St Pyrmont once as our eyes briefly met, was doing the ecology action work putting me out of a job. Go sister go.
Which brings us to this sad bad Big Media rabid Right sellout 'blogger' Jekyl/Hyde character Tim Blair:
Picture: From left, Tim Blair, Saturday Daily Telegraph so called 'blogger' on newsprint, of passing resemblance to Mr Hyde character (middle) played by 'Germanic' Fredric March, (right), from Dr. Jekyll and Mr. Hyde (1931) from the famous Strange Case of Dr Jekyll and Mr Hyde - Wikipedia (Robert Louis Stevenson, 1888)
who was sledging the social movement to save our climate in the Saturday Daily Telegraph the day before the Cool Aid tv special: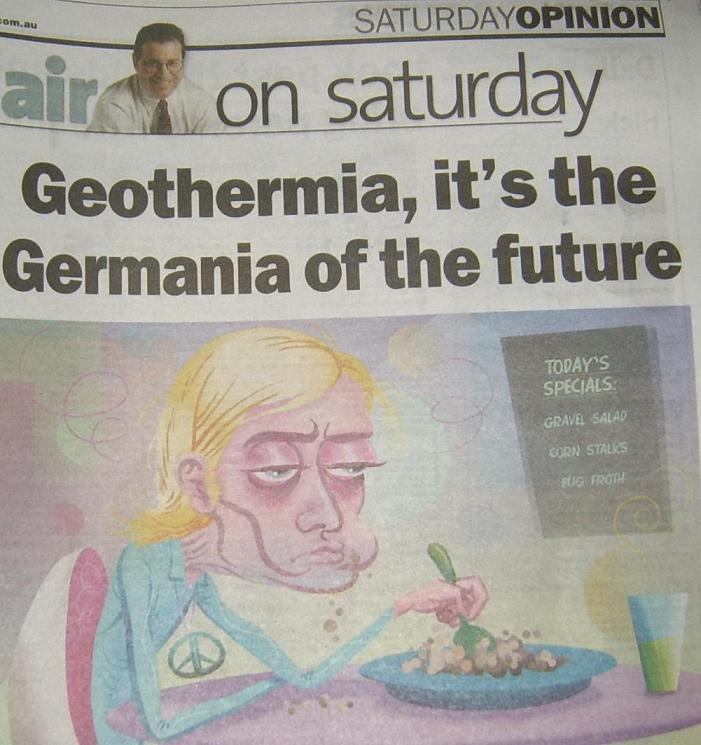 Get it? Like Kerr at Crikey he is suggesting global warming threat is stupid satire, that people like you or this writer are pseudo ecological fascists or weedy fruit loops. (Never mind in my case 2 years with Media Monitors, another 2 as a corporate lawyer, a good science degree, 4 years as a successful local councillor, oozing concern for the public interest this last 15 years of activism.)
Blair presents as quite weird and not just in appearance like some grinning human Rotweiler, or wannabe fleshy 'Will Bailey' character from West Wing tv series (son of a NATO commander). I mean would you trust your kids' future with this 'journalist' obviously doing the work of Big Oil/Coal?
One problem for boorish Blair though: The
Sunday Telegraph
newspaper, that's right the Sunday version of Blair's own paper, was a co sponsor of the Channel 10
Cool Aid
special tv show focused exactly on supporting the concerns of such as Professor Tim Flannery (who is the main focus of his sledge in the
Saturday Telegraph
). Here is the proof:.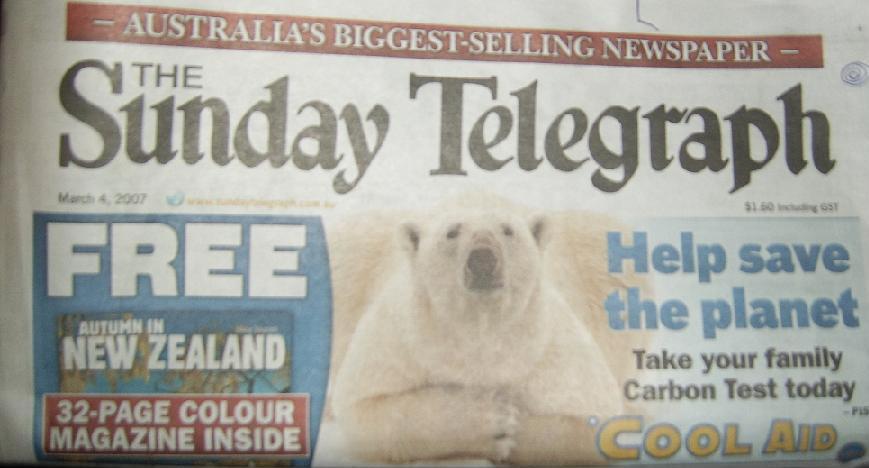 In Allende's Chile of the early 1970's they had a name for the Blair/Kerr types – the momia (in Spanish), as in ancient bandaged Egyptian mummies from the 1960ies horror movie genre, people incapable of adapting to new realities. People like real Germanic neo nazi fascist Pinochet who gunned down his rivals in sports stadiums, dropped others from helicopters into the sea and generally slaughtered 5,000 or more humanitarian activists and assorted left wingers all blessed by USA Secretary of State Henry Kissinger ("Do what you have to").
Blair's futuristic satire is easily turned around with literary devices like
-Kissinger Life Centre – where those genetically imperfect are branded, and in the worst cases gassed.
- Le Pen [ultra Right French politician] Immigration Centre, say no more.
- Howard Twin Towers – one in the shape of the original bomb dropped on Hiroshima, the other a phallic symbol of his chicken hawk manhood.
- Thatcher Sports Stadium which doubles as an interrogation, justice and execution centre. Those arrested for jaywalking are held in stocks and beaten with cricket bats made in Saudia Arabia which now has a huge forest industry after the monsoonal rains moved from South East Asia.
- Iran Iraq war celebration day. Because misery loves company.
- Plutonium Day 25th Dec.
- White Elephant Day 26th Dec
- Cheney Sunscreen against a hot hot world, and the ever useful Bush motormower: Does 20 feet of a lawn to the litre. And it's the only oil based product on the market.
- GM made electric car 0-200 km/hr in 4 seconds on compressed cng loaned to me by my neighbour, a Chinese guy who got into solar stocks back in 1998 and is now 3rd richest Australian. He has several vehicles so he can afford to let me borrow one.
Etc etc.
Meanwhile the NSW Minerals Council is attempting to censor these gung ho climate change activists doing satire on the coal industry: Industry closes anti-coal website And here Mining Lobby Silencing Community Comment. Yet another report here in the Technology Section of the SMH http://www.smh.com.au/news/web/green-group-seeks-afghan-refuge/2007/03/06/1172943416664.html
Satire aside, the social movement for energy reform is real this election period in NSW as follows:
1. www.climatechangecoalition.com.au with lead candidate Patrice Newell in the Upper House pictured below at a tour of the Addison Rd Centre Marrickville 4th March 07 here (at left) in the art studio for Boarding House residents or 'Roomies' (middle is Terry Cutcliffe a gallery owner, and Patrice's polling booth organiser at right who remains nameless.) Her ticket has clout too with Genia McCaffrey North Sydney Mayor no. 2, and Cr John McInernie of Sydney City Council at no.3.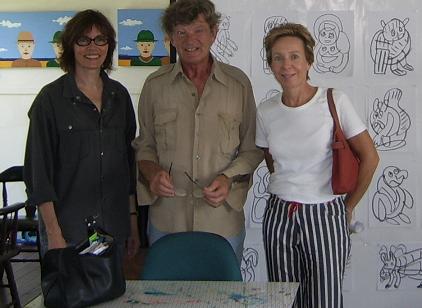 And this astute and no doubt sincere follow up:
Sent: Monday, March 05, 2007 6:45 AM
Subject: good to meet.
Tom, good to meet yesterday, Ecology Action Sydney looks like it does great work. I'm so encouraged by all the grass roots groups working in NSW. Don't get to hear about many of them in Gundy.
So why is the government so unrepresentative?????
Cheers for now, hope your compost heap thrives. PN
Patrice Newell
tel xxxxxxx
mobile xxxxxxxx
2. Protests at the pro coal mining ALP head office in Sussex St, Sydney CBD here as here: http://risingtide.org.au/node/390

3. Green Party promoted animation here:
From: "michele mckenzie" Sent: Sunday, March 04, 2007 7:06 PM
Subject: old coal animation https://www.youtube.com/watch?v=PDHSMnvtnBo
4. Public meetings in sensitive marginal seats as follows:
..........................
- WORRIED ABOUT CLIMATE CHANGE? Put your concerns, questions, ideas and frustrations to our local candidates. WHEN Tuesday 6 March from 7-9pm, WHERE Marrickville town hall

Carmel Tebbutt MP for Marrickville (ALP)
Councillor Fiona Byrne (The Greens)
Pip Hinman (Socialist Alliance)
Patrick O'Connor (Socialist Equality Party)

Each speaker will give a short explanation where they stand on key issues
like coal and new mines, new energy sources and public transport

With guest speaker Dr Chris Riedy from UTS Institute for Sustainable Futures
……Hosted by Marrickville Climate Action Now
..................................
- from The Glebe (News Ltd) free suburban press "Greenpeace will be running a climate change forum at Rozelle Public School [seat of Balmain] on Thursday March 8th, at 7pm"
...............................
..........................................
5. Down the track this conference
Climate Law in Australia CONFERENCE
12 & 13 April 2007 National Museum of Australia, Canberra
Jointly organised by The Australian National University and the University of Melbourne, Climate Law in Australia is the first Australian conference to focus exclusively on the emerging legal dimensions of global warming.
… For more information, please contact The Australian Centre for Environmental Law (ACEL): Telephone 02 6125 3487 or E-mail acel.law@anu.edu.au
Information and registration forms are also available on the web at http://law.anu.edu.au/acel/Events.asp
……………………………
The Iemma Govt understand how sensitive this issue is as per The Greens reaction to his North Coast tour in the last week:
Media Release 27 February 2007
Climate change fund welcome - but where's the train?
The NSW Greens have welcomed Morris Iemma's announcement of a $310 million climate change fund, announced whilst he was campaigning in the Tweed today.
"The Greens support Mr Iemma's announcement this morning, but the biggest policy shift that people on the North Coast were hoping for, a commuter train service between Casino and Murwillumbah, is still not on the government's agenda," said NSW Greens MP and North Coast resident Ian Cohen.
"A commuter rail service would mean less cars and buses on North Coast roads. This would reduce greenhouse gas emissions, improve road safety and travel times, and create transport options for the many North Coast residents who don't own a car.
"Lobby group Trains On Our Tracks (TOOT) have developed a comprehensive plan, based on a feasibility study by Price Waterhouse Coopers, for a light rail commuter service between Casino and Murwillumbah. TOOT estimate this would involve a small upfront cost of $22 million on upgrading rail infrastructure. The ongoing running costs would be less, and the service more frequent, than the current XPT bus service. (For more detail see http://www.toot.org.au/dmdocuments/TOOT_Now_Plan.pdf ) "This commuter rail plan, for which the Federal Government has offered funding assistance, would be effectively revenue neutral for the NSW Government.
"Morris Iemma has missed a golden opportunity to beef up his climate change fund with a plan for a commuter rail service for the North Coast. It would be an economically sensible and environmentally friendly piece of essential infrastructure.
"Nevertheless, The Premier's announcement is undoubtedly a positive. The Greens strongly support increased rebates for people that are prepared to make their home more energy efficient," said Mr Cohen.
……………………….
And we hear via radio that Iemma and a Big Media gaggle are on his campaign bus today 6th March to the South Coast maybe to promote a picfac for this greenhouse friendly gas fired power station idea in Bega:
Gas-fired power on the agenda 27th Feb 2007 http://www.abc.net.au/news/newsitems/200702/s1858097.htm
To add to the Wollongong gas fired power station here in 2006 Govt signs off on south coast power station
But will Iemma face up to this issue of the 2003 election under Bob Carr
March 03 Background paper on south coast no woodchips, no charcoal election campaign 2003, with update Jan 05 at bottom.
over a Govt project to burn massive volumes of native forests for charcoal/power which his Minister Bob Debus was forced 7 days out from the vote to rule out in the press release below, which by the by the Sydney Morning Herald refused to report (because they backed the hugely greenhouse unfriendly plan?).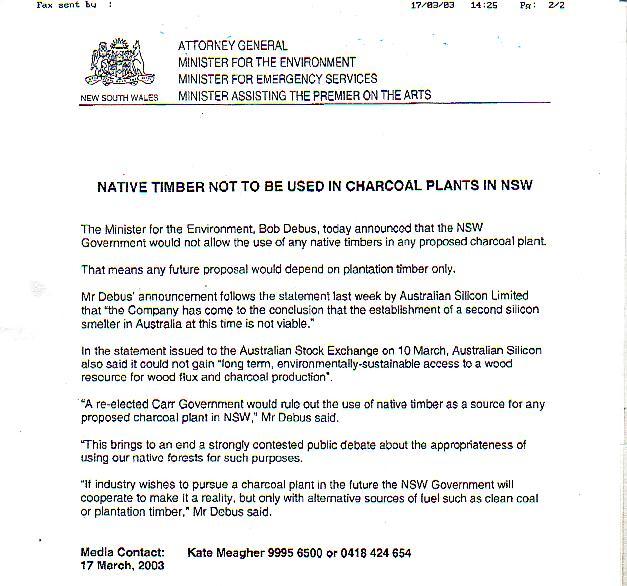 Indeed with Bob Debus retiring this election will the ALP's Morris Iemma return to trashing south coast forests as Bob Carr intended to add to the massive woodchipping of our natural carbon store still going on:
19/3/2003...NSW government 'Big Logging List' giving background to the Bob Carr/ALP government real forest performance in the lead up state election in March 2003.
One does wonder if the ALP will dishonestly support burning of forests again with Debus gone just as they support now the fantasy of 'clean coal' over the next 4 years:
The Greens NSW - Media Release 27 February 2007
"Clean coal" is a convenient untruth
Banking on "clean" coal as a climate change solution is a dangerous strategy that could end in environmental and economic disaster for Australia, according to Greens NSW Upper House candidate John Kaye.
Speaking after presenting a forum on climate change at the University of Wollongong, Dr Kaye said: "Both Premier Iemma and Opposition Leader Debnam are relying on so-called clean coal as a response to NSW's disastrously high greenhouse gas emissions.
"Responding to the biggest challenge facing this state with a promise of a technology that has not yet been proven is taking a massive gamble that places the future prosperity, health and safety of this state at risk.
"The Stern report commissioned by the UK government makes it clear that reducing emissions immediately is not only cheaper than waiting but also essential to limiting the total damage done by global warming.
"Yet Federal Opposition leader Kevin Rudd admits that it will be at least 20 years before clean coal technology is available for wide spread use. In the meantime, climate change emissions will continue and NSW will become even more dependent on coal.
"By waiting around for a technology that might or might not reduce emissions, this state will miss the boat on renewable technologies. "The Illawarra alone could benefit from more than 10 thousand new jobs in the near future if the NSW government pushes for a rapid uptake of renewable energy solutions like solar water heating and wind generation.
"While the idea that coal can be burned with low or no emissions is convenient for some politicians and the coal companies, it is a potential disaster for jobs and the environment.
"The Greens are calling for immediate investment in renewable energy technology to build an export industry. By not opening new coal mines and making an orderly and planned transition to a low greenhouse emissions economy, we can create at least 160 thousand jobs around Australia," Dr Kaye said.
..............................
Indeed there are disturbing rumours coming out of the south east community that NSW State Forest bureaucrats have designated over 124,000 hectares of public forest as 'dieback' which might be suitable from their point of view for the Eden chipper (running at 1 million tonnes a year) or for a wood to energy furnace of some kind (compared with gas energy plant above).
In our experience the ALP crony govt in NSW prefer 'pre emptive dieback' as here below (photos by this writer 9th March 2006 in Wandella public forest at Peak Alone near Cobargo):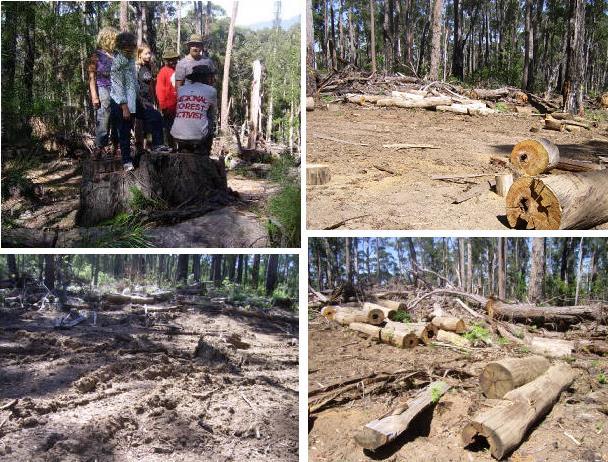 More images here: Wandella vandalism proof 3/06
Similarly in the agricultural regions: Revealed: legal land clearing's savage toll with Dr Hal Cogger ex deputy director Australian Museum via WWF reporting legal, let alone illegal clearing from 1998-2005 (Jeff Angel anointed as the so called 'greenest premier in Australian history' period) was a tragicly huge 639,930 ha with 104 million mammals birds and reptiles killed (as a conservative estimate).
We noticed another high class biologist "Allen Greer Mudgee" 26/2/07 under headline "Consuming nature", another retiree from the Australian Museum, in the letters page of the Herald sledging Minister Debus's so called 'national conservation highway' claimed to moderate the effect of climate change on biodiversity, as hopelessly inadequate.
SAM's editor estimates legal and illegal clearing is likely to be 1-2 million ha in the last 10 years in NSW. All under the ALP. Land clearing is a very significant measure of greenhouse emissions too. Laughably their rival Opposition Leader Peter Debnam on the recent Stateline 'Leaders' debate said 'our farmers are the original conservationists'. Some maybe are thus, like new farmer Patrice Newell above, but the great majority are not. And the government doesn't help at all which it could with stewardship incentives. No wonder voters are flocking to the Independents.
Truth is both major parties are hopelessly compromised when it comes to the destruction of our ecology critical to our future.
Posted by editor at 9:36 AM EADT
Updated: Thursday, 8 March 2007 10:46 AM EADT