Memo Big Media/Government: Don't run your private sorrow through the major dailies and tv bulletins
Mood:
sad
Topic: big media
5 Australians died recently in the equivalent of a very big nasty car crash. By all accounts it was an accident, pilot error or poor maintenance or both. The investigators are looking into it both in Indonesia and Australia. Some 21 mostly locals died over there in Indonesia too.
It is sad, shocking and traumatic especially for the families. No doubt about it. But it's not unusual. How many people died in car crashes this week here in Australia? (51 have died this year according to this story in a brief google http://www.theage.com.au/news/national/driver-killed-in-threecar-crash-at-altona/2007/03/03/1172868802321.html ]
Did the coverage of our military killed in Black Hawk helicopter accidents fill so many pages? Luckily they all survived in this one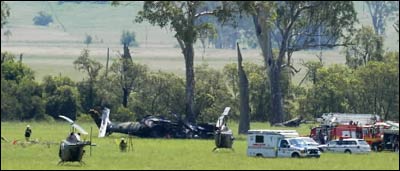 Picture: from The Age and reported further here http://www.defence.gov.au/news/armynews/editions/1091/topstories/story01.htm
But they didn't survive in this one: Remains of SAS soldier found off Fiji - National - theage.com.au; or this one
"MARK BANNERMAN: Gerard Bampton knows first-hand what it's like to go down in a Black Hawk helicopter crash. It cost him the use of his legs, but he survived Australia's worst ever defence disaster when two Black Hawks collided, killing 18 people, in 1996. That night fire was the main danger for him, but he thinks getting out of a sinking aircraft would be just as bad." in http://www.abc.net.au/7.30/content/2006/s1801534.htm
I know this must sound heartless and callous, yet the Big Media revolving door with Big Govt are losing perspective (or even more cruelly manifesting their excessive ego) about the loss of their own. It's not as big news as they think for the rest of Australia. Yes big enough for some headlines, some bigger than usual pictures of human interest. It wasn't a car, it was a dramatic aircraft crash. Yes many Australians would use Garuda airlines too but fully knowing it's the opposite in safety record to Qantas, no different perhaps to millions of Australians driving old cars every day. Yes they were ours doing public service jobs, so it was in the line of duty, but also very well paid, high status, financial security in every case, working in a dirt poor country of 200 million people plus.
For those mourning I apologise in advance for this brutal observation and simply say at times of life and death that raw honesty satisfies far more than sophistry. It behoves this alternative media outlet to make the point they cannot: The sorrow and grieving is properly a private matter so don't overdo it or the consumers will see the special treatment for what it is, just another ego trip, even at the time of horror and loss.
It does indeed say something about our Big Media culture and Big Government that the loss of these 5 professional people and injury to several others, that the Big Media and PM (desperate for another story doing live Radio National and Trioli the same morning) etc think this story is of such public interest to everyone else here. This may sound cruel but I doubt it.
Of course it's of intense interest to the families and all their connections, and of course to that employment sector, but it's getting a little voyeuristic folks. It's getting a little exaggerated. The public consumers of media are being overfed the private sorrow and grief in a quite understandable confusion of news priorities at their time of distress.
How very human (and Mark Riley on 7 Sunday Political Talkies admits the loss of their mates has thrown them for "a loop") but keep in mind the victims of your average Australian car crash. It's not a competition for sympathy sure, but remember their families are hurting and shocked as much as anyone in Big Media or Big Government: Did these folks think they were different somehow to everyone else? That we are not all fragile flowers? If anything that plane crash proves beyond doubt rich folks at the front are all flesh and blood like the rest of us.
As the profound solliliquy worthy of Shakespeare, but actually appearing in the movie Thin Red Line, goes, spoken by the silent half buried face of a dead Japanese soldier in Guadalcanal war zone: 'Do you think that because you are good, righteous, and kind that you will suffer less?'
Not in real life, I'm afraid. As Jesus makes plain, being good is for it's own sake, win lose or draw.
The real business of Life is indeed Death and the time we are allowed start to finish. They go before us but we follow as night follows day.
May they rest in peace.
Postscript: The above view was written after reading the Friday major dailies The Australian, Sydney Daily Telegraph and The Australian and consuming the press and electronic media earlier in the week. It was written before seeing the Crikey piece by one Thomas Hunter of 9th March 07 in a similar direction. Also of influece was the startling historical footage of Robert F Kennedy last speech and assassination at the Ambassador Hotel in 1968 on YouTube in 7 by 9 minute parts seen earlier this week appropo the reaction of the pro media doing their job on location but clearly in shock too at that horrible event:
Some refinements and links were added Sunday morning 11th March. May they all rest in peace.
Posted by editor at 6:53 AM EADT
Updated: Sunday, 11 March 2007 8:47 AM NZT