Warning 'sienfeld post' follows: Why washing your hair is probably a good idea
Mood:
cheeky
Topic: local news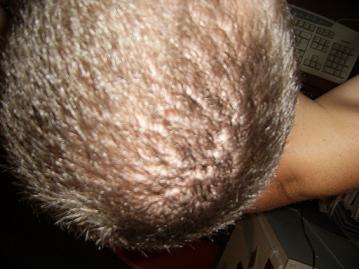 Be warned this is one of those low rent pieces serious, or wannabe, writers indulge in when they don't real have anything to say about the human condition, real politik or just how scary the world really is.
It's a post that appeals to the great masses who mostly are intimidated by the big stuff and have never been educated to cope with it really except to stay the hell out of the way if at all possible. As such its exploitative of the them because the serious writer knows they are likely to get bigger reaction from readers about how to make tea, or white versus wholemeal bread than say dangerous sea rise from Greenland and West Antarctic melting (which they are).
It's in essence a 'Sienfeld post' meaning 'a story about nothing' just like the famous tv sitcom was about mudane, inane, quirky individual harmless eccentric daily life, that we all have in our personality but prefer to keep out of view if at all possible for fear of being seen as "irregular". Hence the good laugh at someone else like Kramer getting exposed while we sit safe at home in our mediocre privacy.
This story is about my washing my hair in the shower just now. It's in the photo and feels good. As I did said wash I was mulling over the ABC 702 radio Richard Glover show 6 week experiment of not washing your mop and seeing if your oil glands in the scalp adjust so it's no longer necessary to buy shampoo or conditioner. A pretty fair theory too: Returning to au naturale and sidestepping those greedy corporations making detergent stuff.
Glover is similarly an expert at Seinfeld froth content to fill his weekly column, the odd HSC English exam paper and even books.
But here is where my over education and contrary nature comes in. I did a biology degree at Australian National University. Zoology to be exact. ANU Zoo specialised in the 1980ies in parasitology. Those little bastards in the mammalian gut, the malaria, the sheep and cattle industry etc.
So we learnt a bit about such parasites in the au naturale. It's not a pretty picture either. Just as natural humans only lived 25 to 35 years with their parasite load in the gut or other medical ailments without antibiotics etc, so we live much longer for medical science and yes hygiene, especially washing let alone household antiseptics etc.
So today we don't have parasites in our gut very much or at least usually only the good bacteria, and we don't have critters living in nice non chemical oil balanced unwashed soft bouncy head of hair.
You see the choice may not actually be between making a corporation rich buying their shampoo, or not. The choice may be between prehistoric biological arms race with parasites and modern medical age escape from the boundaries of nature for a longer healthier life. Thus humanity has escaped standard evolutionary pressures applying to all other animals and should stop kidding ourselves we live lives aproximating anything like 'au naturale' as important as nature is to our future lives, not least dangerous climate change!
My tip: keep washing your hair.
Postscript #1 April 30th 2007: Seems Richard Glover of ABC 702 public radio has had the last say on this with '86% of 500 trialists after 6 weeks saying their hair is soft and nice as good or better than when they stopped using detergent'. The key it seems is to still wash but only with water, or possibly conditioner. That's a very interesting result.
Posted by editor at 9:55 AM EADT
Updated: Tuesday, 1 May 2007 6:51 PM NZT