New 'Corporate Conservation Council' a minor reversal of global lemmings off warming cliff top
Mood:
sad
Topic: globalWarming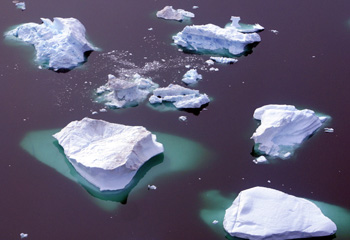 Picture lifted from Sydney Daily Telegraph today, Arctic summer ice is expected to be fully melted by 2020. This accelerates global warming for loss of white reflective surface there.
As the Big Media news cycle grinds through the industrial relations agenda of their Big Business mates in their own version of hypocritical pandering as here:
Fury at Gillard's business 'jihad'
Labor will devise a plan to allow big companies to keep flexible deals struck with individual workers under Howard Government laws.
....a far more serious reality is bearing down on both major political parties here: You know things are crook when the sceptics at the Murdoch owned News Ltd publish a picture as above today with the following:
THE ocean at the top of the world could be free of summer ice by 2020, three decades sooner than a global climate change panel's gloo
There are some bizarre disjunctions around this in the Big Media recently.
We hear just now of a full page advert [extracted below] for a compulsory carbon trading scheme from top level economists in today's Australian Financial Review 2nd May 2007, at page 13. Presumably they detect the end of the world as we know it too. Bring it on, but it still feels like the inevitability of the Titanic, such as this four page "special report Coal" last weekend looking every bit like an industry paid brochure with leading article:
Demand drives rivalry for assets | Coal | The Australian
No wonder Prof Flannery looked subdued and philosophical on Difference of Opinion - ABC last Monday night with this episode: Cool Heads In A Warm World 30/04/2007
Our advice to the good Professor with 15 years in the non profit ngo sector, is take the following approach at this historic juncture of great ecological unravel:
- it's all about maintaining your own personal honour as we go to hell in a handbasket;
- just do your duty of communicating what you know;
- preserve your own sanity by declining to internalise the huge industrial, technological, and economic momentum for impending climate and ecological destruction. It's not about you. It's the anthropological reality of our species; and
- pray like hell that humanity takes another track for the first time ever.
Regretably it all has the feel of a book we read about Singapore falling to the Japanese in WW2: The parties, the hilarity of overfed expatriates, the collective denial, the sublimated undertone of very real anxiety.
In the other direction a rare report of corporate responsibility here bottom left page 24, 28th March 2007 here
Fast-track carbon trading, says Goldman | Business | The Australian
Based on this news release here [PDF] World's Largest Conservation Organisation Launches Australian ...
MEDIA RELEASE
MEDIA CONTACT & INTERVIEWS:
26th March, 2007
Sue Davies, The PR Exchange – 0419 434 398
Worlds largest conservation organization launches

Australian Corporate Conservation Council, - Goldman Sachs JBWere founding member Sydney,
: The Nature Conservancy (TNC), the world's leading not-for-profit conservation organization today launched TNC Australia's Corporate Conservation Council. Leading Australasian financial institution, Goldman Sachs JBWere, is the founding member. Chairman of Goldman Sachs JBWere, Mr Terry Campbell AO, is inaugural Chair of the new Council.
The announcement was made during TNC's Asia-Pacific Council meeting on climate change. This forum was attended by some of the world's most influential private and public sector leaders from Asia, the United States and Australia, including James Morgan, Chairman of Applied Materials, Douglas Tong Hsu, CEO, Far Eastern Group, Victor Fung, Group Chairman, Li & Fung Group of Companies, and John Morgridge, Chairman Emeritus of Cisco Systems, as well as others.
Dr Michael Looker, Director of TNC's Australia Program, said the Corporate Conservation Council aims to engage the business community in Australia's most promising conservation projects and vital environmental issues.
"Members will pay an annual membership, providing them with connections to cutting-edge conservation initiatives in Australia and around the world.
"Australia's natural assets are increasingly at risk. Threats such as unsustainable water use, invasive species and climate change are affecting our quality of life and impacting our communities. The Corporate Conservation Council gives businesses a unique opportunity to join forces with a global conservation organization which delivers lasting, local results. Corporate Council Members will support TNC's protection and restoration work throughout Australia, including projects such as Gondwana Link, a partnership effort with Bush Heritage and Greening Australia to restore a massive 1,000-kilometre stretch of bushland in the biodiversity hotspot of the South West.

"Conservation scientists at Gondwana Link are also exploring carbon sequestration programs to help offset the impacts of climate change. Chairman of Goldman Sachs JBWere, Mr Terry Campbell AO, said:

"We are delighted to be
involved in this initiative. As civic leaders, we can play a significant role within the
community to help safeguard Australia's unique environment and quality of life in a
sustainable way over the long term."
Attending the Asia-Pacific Council meeting in Sydney was TNC's President and CEO, Mr Steve McCormick. Mr McCormick said he was pleased with the positive feedback from the Australian business community to the call-for-action to lessen the impact of climate change and to take the lead in tackling conservation issues in general.
"Australia as a nation is one of the world leaders in conservation science. TNC, by partnering with the business community in Australia, can share resources and knowledge which will provide the pathway to a better future for our lands, waters and way of life."
Further information and media interviews contact:
Sue Davies, The PR Exchange – 0419 434 398
The Nature Conservancy is a leading international, nonprofit organisation that preserves plants, animals and natural communities representing the diversity of life on Earth by protecting the lands and waters they need to survive. To date, the Conservancy and its more than one million members have been responsible for the protection of more than 47 million hectares of land worldwide. Visit us on the Web
at
nature.org
.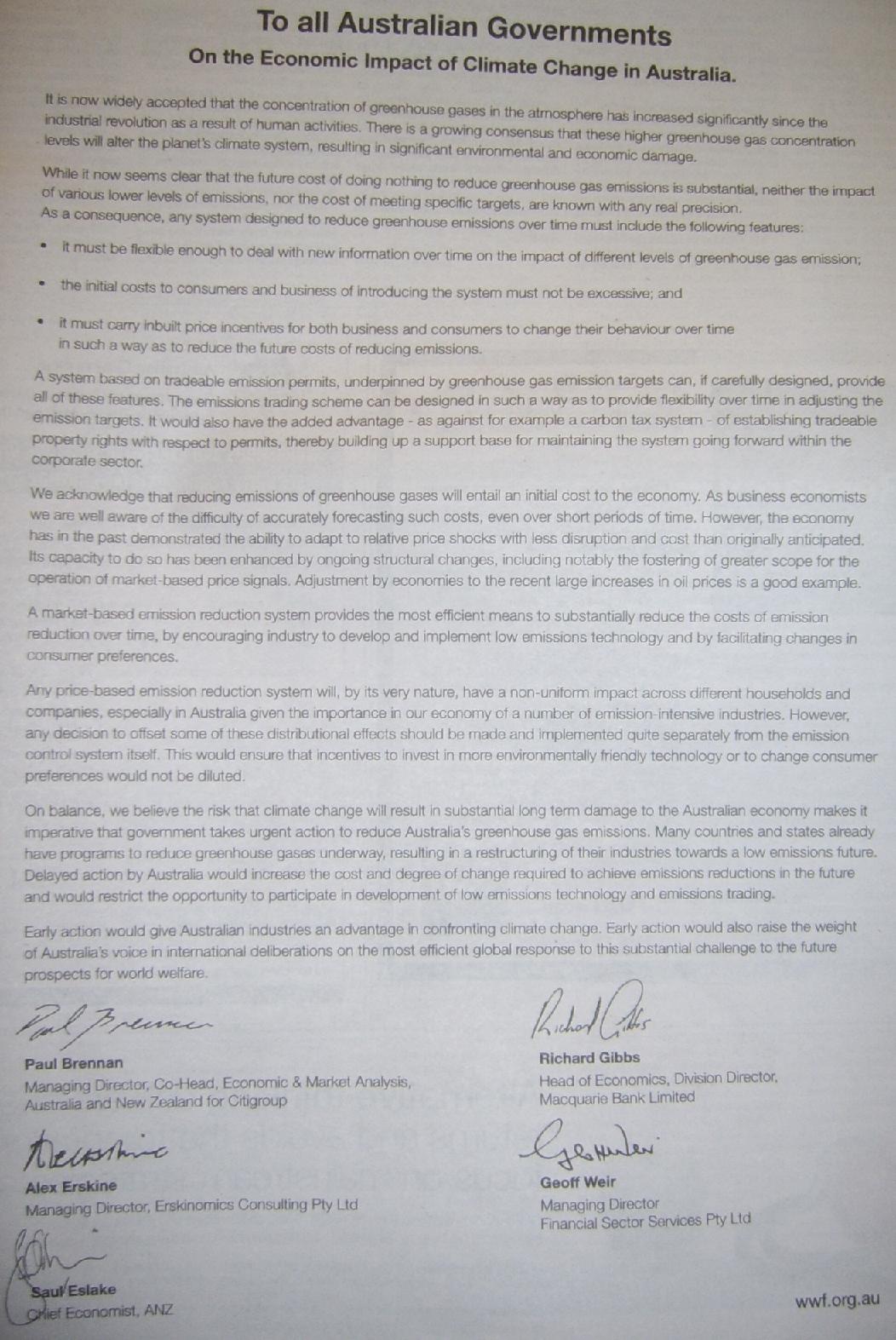 Posted by editor at 10:44 AM NZT
Updated: Wednesday, 2 May 2007 4:51 PM NZT