Imitation is the best form of flattery, Eco, Eco Shout, GE frog, whatever
Mood:
on fire
Topic: independent media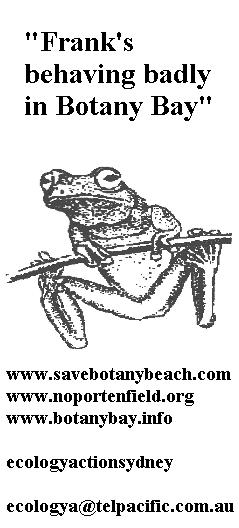 Picture: This is our frog logo and ecology networking group in local community press Sydney City Hub on page 3 for 2 years 2005-2006 up to the last NSW State election.

We noticed this latest micro news start up recently called EcoShout. When you sift through the grains, drill down through the rock you find its organised by, well associated with, Friends of the Earth in Melbourne always the strongest base for that network in Australia.
SAM's editor was associated with the moribund FoE Sydney office for too long in our working ngo lives until 2001, so we find this ironic they have adopted an outreach vehicle similar to our Sydney Alternative Media website here, with some 12,000 password protected hits per month, given our alter ego ecology action sydney.
We know something about news work they may not but that's okay, and imagine they will teach us a thing or two. Good luck Eco-Shout! And yes if they contact us we will share this profound gem.
And we already realised an Eco 2-page spread every Tuesday in the Sydney Morning Herald was a bit of a rip-off of our ecology action moniker too. But hey no one really owns it, except to say again its roughly the same news/green model, just much bigger circulation.
It's the same comment to withhold for now as to EcoShout above. Even so good luck Eco!
It's in a long line of copy reuse, and even in some more sinister cases, counterfeit - the frog sticker in NSW State Forests propaganda for that logger agency a few years back comes to mind.
Then we did a double take yesterday to see a corporate advertiser General Electric on the high quality USA Grist news site in the form of a very green cute frog. Whoa. It's on this story about Big Rupert here An interview with Rupert Murdoch about News Corp.'s new climate ... along with the athlete carrying 'clean coal' (talk about fiction becoming reality, or just plain old fiction as fiction). It's call EcoImagination apparently.
GE operate nuke plants and other scary stuff so presumably is into greenwashing too, like Big Rupert to some degree, the frog being the logo again of ecology action sydney above, which is fair dinkum green. Way green. And before you get too greenwashed check out this sobering reminder of the nuke cycle reality: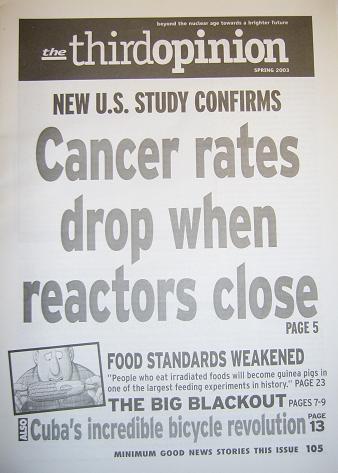 Now we don't pretend to have influenced GE's advertising dept, nor does anyone own the frog as a symbol but talk about de javu.
And now we notice a cute new tool "share this post" feature at the bottom of our blog template. Is this a hint to network our news more? As Danny Concannon of the 'Washington Post' would say - okay.
Postscript #1 23rd May 2007 7.30 pm
We have just updated the biography of the editor on our "profile" at the right hand side button, and for the sake of disclosure in this sensitive election period we include it here:
Name: Tom McLoughlin
E-mail: ecologya@telpacific.com.au (mobile phone 0410 558838)
Location: Sydney Australia
Birthday: 22 June, 1964
Bio: 1979-81 - Junior Surf Boat Victorian State Champions; ...........1979-81 - Captain under 18, Old Collegians Australian Rules FC Premiers, Best and Fairest..........1981 - Year 12 (HSC), CBC Warrnambool.........1982 - retail KM Lynch wine merchants.........1983-86 - zoology degree ANU Canberra........1987 - Trademarks Examiner, Canberra public service.........1988-9 - law degree (hon) ANU Canberra.........1990-91 - Baker & McKenzie solicitors Sydney............1993-94 - NSW Campaign Coordinator, The Wilderness Society (Australia) with significant victories including listing of several 100K ha of protected wilderness especially forest, and removal of state govt.......1995-1999 - Councillor, Waverley Municipal Council, with significant victories such as closure of Waterloo Incinerator, prevention of private rail onto Bondi Beach, paved way for 3 Greens at next election from one in '95..........1998 July - legal adviser Jabiluka protest camp NT..........1995- 2001 - office coordinator, natural heritage campaigner Friends of the Earth Sydney;............2002-04 - founder Turrella activist centre, Sydney involving renovation of 1000sqm factory site and 15 tenants...........5-6/2002 travel Chile, Western Europe...........7/2002 ongoing - founder/principal ecology action australia, significant victories include $15K funding to successful Chilean civil society rejection of Alumysa US$3B hydro/smelter scheme...........2002 ongoing - gardener p/t Addison Rd Community Centre...........6/2006 - recommencement as NSW solicitor...........1/2007 ongoing - founder Sydney Alternative Media news website ..............3/2007 ongoing - website builder for Addison Rd Community Centre Sydney..............4/2007 ongoing - structure working group of international OurMedia network.
Interests: rock climbing, cycling, media especially press, movies, books, quality modern music, body surfing, bushwalking, blogging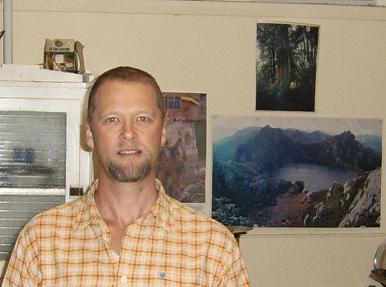 Picture: The editor sans spectacles gawping at the hand held digital camera, which probably has a time delay if we could find the booklet, thankfully set to red eye control.

Posted by editor at 1:09 PM NZT
Updated: Wednesday, 23 May 2007 9:31 PM NZT