Sunday political talkies, earnest federal election policy prep
Mood:
caffeinated
Topic: election Oz 2007
Author's general introductory note
(skip this if you know this regular weekly column):
This is not a well packaged story. It's a contemporaneous traverse of the Sunday television free to air political talkies indicating the agenda of Establishment interests: Better to know ones rivals and allies in Big Politics and Big Media. ]
Indeed it's the tv version monitoring task similar to what Nelson Mandela refers to here in his book Long Walk to Freedom (1994, Abacus) written in Robben Island prison (where he was meant to die like other African resister chiefs of history in the 19C), at page 208
"..newspapers are only a shadow of reality; their information is important to a freedom fighter not because it reveals the truth, but because it discloses the biases and perceptions of both those who produce the paper and those who read it."
Just substitute 'Sunday tv political talkie shows' for "newspapers" in the quote above.
For actual transcripts go to web sites quoted below except with Riley Diary on 7. And note transcripts don't really give you the image content value.
NSW post mortems (one off round up from last week):
Re Carmel Tebbutt standing down from NSW Cabinet, under pressure from the Greens and Port Botany expansion/Truck tunnel plan
- Enter, the minister for Nathan SMH p7 27/3/07
- Tebbutt shock, Cooks River Valley Times p1 29/3/07 "I will continue to play an active role in the government and do all I can to secure a fifth consecutive term in office …I will also be working hard over the next four to repay the trust of the people of Marrickville have again placed in me" (carries big advert for Earth Hour symbolic lights off public demo involving some 65,000 households, sponsored by Canterbury Council).
- 'mum and member for Marrckville' Four Years Hard Labor
- Son's love brings Tebbutt back home Sydney Telegraph Telegraph 27/3/07
Re Prue Goward narrow winner of seat of Goulbourn
- Heavies are going for Pru - Kate Askew CBD business column Sydney Morning Herald Fairfax
- Goward covering her flabby neck with her dainty left hand Stateline footage Family Unfriendly
- Goward sledging the independents as dangeorus to society and our economy on Glover 702 abc radio, said with ideological fervour, as the votes are literally being counted in her seat (Monday? 26th March 2007).
Re Michael Duffy, arch critic of the green movement, votes Green Party:
"One of the pleasures of going on the electoral roll has been to discover how this money is used by candidates to lie to voters. Just this week I received a letter from my local Labor member assuring me "the Liberals would bankrupt our state".
Our taxes at work.
Actually, I'm looking forward to voting today. Often there was no one I would have wanted to vote for anyway, but now there is. Developer donations to political parties are corrupting and distorting our democracy, and I intend to vote for the Greens because they oppose this and have put so much effort into exposing it, not least through their excellent website democracy4sale.org.
It's true the Greens also have some deplorable policies on the environment, but none of us is perfect.
For the same reason I'll be voting for Save Our Suburbs in the upper house. The group's president, Tony Recsei, has done more than anyone to alert us to the horrors and intellectual shoddiness of urban consolidation.
On a different note, this election sees the resignation from state politics of Peta Seaton, the Opposition spokeswoman on finance. She is leaving to spend more time with her daughter, who was born in the year Seaton came into Parliament, 1996. Seaton has been the major source of good policy for the Opposition in recent years, and will be sorely missed" Saturday March 24, 2007 No compelling argument for compulsory voting
10 Meet the Press 8-8.30 am
Transcript in due course www.ten.com.au/meetthepress
Ch 10 Paul Bongiorno is back Turnbull reacting to ALP Rudd climate change forum in Canberra with heavy science hitters and 'serious' business people.
Panel is Michelle Grattan Sun Herald/Age of Fairfax, Brian Toohey Financial Review (Fairfax).
MG – bouncer re equity richer countries do the main action. Blah blah blah answer.
MT calls ALP
religious
picking up this cartoon attack theme (itself a balancer to big Fairfax PR
Sydney Magazine
glossy on Thursday PR for Garrett):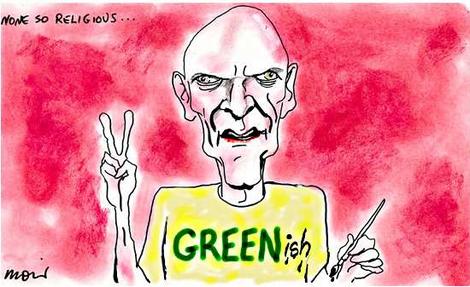 Picture: Moir in yesterday's Herald echoes the religious dimension to Garrett's public presentation, compared to his policy rival Turnbull actually pressing the heavy intellectual buttons, of a global climate problem about actual mechanisms of cause and solution. Turnbull is wrong but Garrett is not meeting him with ALP rednecks tying one hand. This cartoon critique can resonate because Garrett is known as a 'convert' to 'non denominational Christian, anti communism' and convert to ALP Big Party politics, so he better get his policy skates on, and take on the ALP red neck thugs too, or he will be just another flaky brand.
2nd guest Human rights law Julian Burnside QC admit involved in researching prosecution for rendition for torture (possibly Mamdouh Habib in Egypt)
7 Weekend Sunrise, 8.35-40 am Riley Diary
Humourous, quite edgy as usual. Web page here but no transcript usually: http://www.seven.com.au/sunrise/weekend
Focus on federal election related personalities, Carmen Lawrence retires, Costello waiting for PM to shove off, Kevin Rudd persona with the hair flick mannerism, and drinking black beer (a good PR). Great soundtrack as usual. True it is a jewel.
[Intriguing reference to punch ups with the ALP Left given this writer's experience on election day avoiding same.
Also intriguing reference by Ramsey in Herald yesterday Stop the presses: the story Rudd tried to kill (last line) to Rudd's glass jaw - a term I use to describe a power broker at the Addison Rd Community Centre, associated with … the ALP Left). The Ramsey story could have been headlined "Let Rudd be Rudd" to borrow a phrase from "Let Bartlet Be Bartlet" the 19th episode of The West Wing:
Meaning the PR spin merchants that concocted Bob Carr's political career also destroyed his currency until he simply fell over as a laughing stock and ran to daddies arms (Macquarie Bank). It would be a tragedy for Australia/Rudd professionally and personally to let such as over weight spinner Walt Secord etc do that to our country. The lesson is contained in Leunig's rather beaut cartoon also yesterday in Fairfax press - the pies of life - can't obtain a copy, but it reads "
The pie of life
Is hurled into your face
Every day,
But that is no disgrace.
A life worth living
Gets splattered on your shirt -
And though you're shocked
And rather hurt;
These pies of life
Which fly out of the blue
You're made for them
And they were made for you.]
Very odd legal gag on David Hicks discussed [especially from the land of free speech, govt politicisation of legal process is an attempt to pervert the administration of justice?]
Insiders 2
Cassidy leads in with 'does Rudd have a glass jaw?' as per Ramsey story, Cassidy being in that story text.
Costello treasurer is guest of honour. Sounds pretty flat and tired. Lacks 'virility' to borrow Ruth Ritchie description of Vinnick character in tv review yesterday again from West Wing series. Shows a bit more vigour on hypothecation of tax repeal with GST payments.
Creepy Costello quietly laying the foundations for raised GST risk of ALP hegemonic governments state to federal. "kicking a goal from fullback"? asks Cassidy with wit. No within 10 metre square says Costello. [Time will tell.]
Costello right about Rudd packaging being unsustainable, [let Rudd be Rudd is the longer term sound strategy, minders trying to over engineer his media coverage is fundamentally undemocratic].
Every person focus group in little tinny ie boat re climate credibility gap for govt, for science, for the future.
Bolt lies about destruction of old growth helps greenhouse by planting a tiny seedling.
Senator Bob Brown on live, sounds earnest, shut out of ALP forum yesterday. Setting the agenda says BB. Handles the googlies from Milne very deftly too on energy/climate change. Saint Bob again.
Strong debate by panel, and good tv actually honourable mention to Karen Middleton. Milne says Hicks subject to perjury in USA if returns with different story.
9 Sunday
–
9 Sunday – cover story on Islamic radicalism Multiculturalism: success or failure?, Oaks interview of Garret as per glossy Sydney magazine last Thursday PR gift by Big Media co option of green movement.
Laurie Oaks is losing weight and looking a bit (only a bit Laurie) healthier (and good luck to yer, keep going, give up the booze too). Intro refers to Morning Mr Garrett, in chilly formal tones. It's going to be a mugging….
LO mentions Rudd going to China to discuss climate change etc. [a great political move like Whitlam and the Vietnam war]
Garrett faces the curly how reduce 60% emissions by 2050 (notice Oaks accepts the necessity implicitly, which is very significant in itself). Notes business community onside to develop solutions, Pacific Hydro etc. [convenient article my Hogarth 'the business of greening Australia" in Sydney Morning Herald review p28-29]
Garrett rhetoric wears thin under pressure from Oaks about job losses from emission targets.
Forests question: Tas govt bypass of planning laws. PG says he is disappointed, look at the new process of the Tas govt. LO: 'You can't have conscience in the ALP' re Tas MP who crossed the floor there.
LO quotes PG: 'ALP policy RFA's flawed and discredited process in 2005' Today? Garrett endorses the ALP policy support for RFA's, that is his direct sellout of his principles. PG claims caucus policy allows for ethical principles going to the national conference of the ALP.
LO actually uses the "sold out" accusation, on US bases, on uranium mining. Very "elastic conscience isn't Peter" A devastating question in those terms. PG blah blah blah road to hell paved with good intentions kind of answer to get a change of government (and promote his lead singer persona, the clear implication).
"Can't pretend to be a conviction politician, can you?" Fast pace blather by PG doth protest too much. [PG the lead singer for someone else's songs then and now.]
…………………………….
Q & A with Laurie Oaks: Notes Hicks resolution removes from the federal election.
On climate change, Howard making ground? Ans: Rudd ahead in synchrony with Al Gore, Howard running hard to catch up. Key agenda item. Never look as green as the ALP but working hard to neutralise it.
…………………………….
Feature on wikipedia or wackypedia: Pretty good tv too, 1 billion net users. Projection of another 1 billion in 5 or 6 years especially from non western countries.
………………
10 Meet The Press extract transcript 25th March 2007 lifting CBS America morning after NSW election day – secretary of defence of USA Robert Gates:

25/03/07 - Joe Hockey and Robert Gates
CBS EVENING NEWS PRESENTER BOB SCHIFFER: Is there any indication so far that this latest addition of troops is making a difference or having an effect?
US SECETARY OF DEFENSE ROBERT GATES: I think that the way I would characterise it is so far so good. It's very early. General Petraeus, the commander out there, has said that it will probably be summer before we know whether we're being successful or not. But I would say that the Iraqis are meeting the commitments that they have made to us, they have made the appointments, the troops that they have promised are showing up, they're allowing operations in all neighbourhoods. There is very little political interference with military operations. So, here at the very beginning, the commitments that have been made seem to be being kept.
BOB SCHIFFER: But the violence seems to go on. While there has been something of a downturn in the violent events in Baghdad, where we're putting these additional troops, we're seeing more violence in the outskirts. Obviously we've changed our strategy but it appears the enemy is changing its strategy as well?
ROBERT GATES: Actually, General Odierno, the ground forces commander out there and General Petraeus, the overall commander, both warned that as the surge took place into Baghdad and as we cleared people from Baghdad that there would be kind of a squirting effect, that some of these people, particularly the al-Qa'ida and the insurgents, would begin to operate in other places and try and still bring off spectacular attacks in Baghdad and so that's why we have to wait and see what kind of trendline appears over the next weeks and few months.
BOB SCHIFFER: This week in the House of Representatives there'll be another vote on a bill that will seek to put constraints and set up some sort of a timeline for bringing the troops home. You have been against that. Give me your best argument about why we shouldn't do that.
ROBERT GATES: Well, first of all I think it's very important for people to know that I believe everybody involved in this debate is patriotic and looking for the best thing for America. I think most people agree that across the political spectrum, that leaving Iraq in chaos would be a mistake, a disaster for the United States, and so we're all wrestling with what's the best way to bring about a result that serves the long-term interests, not only of the Iraqi people, but of the United States, and I think everybody is wrestling with that problem on all sides of the issue. With respect to the specific bill in the House, the concern I have is that if you have specific deadlines and very strict conditions, it makes it difficult, if not impossible, for our commanders to achieve their objectives and, frankly, as I read it, the House bill is more about withdrawal regardless of the circumstances on the ground than it is about trying to produce a positive outcome by incentivising the Iraqis. The issue that we're all trying to figure out is how best do you get the Iraqis to reconcile their differences because after all this is not going to be solved by the military, it has to involve political reconciliation in Iraq among Iraqis. We're basically buying them time, that's the whole purpose of this strategy, and they're going to have to step up to the plate and we can help them by giving them the time to do that and to make their military forces able to carry the burden by themselves.
BOB SCHIFFER: Let me just challenge the conventional wisdom here. The President said that if we leave they're going to follow us here. This appears to me to be a civil war. Why would they stop fighting each other, which is what they seem to be doing now, why would they take a break in that and decide to try to challenge America somewhere down the line if we leave?
ROBERT GATES: This Washington game of "Is it a civil war or isn't it?" I think is a problem - this characterisation is a problem, because it oversimplifies. The reality is that stoking sectarian violence is a very specific strategy on the part of al-Qa'ida and the insurgents. That was behind the bombing of the Samara mosque, it's behind their efforts today, and they make no bones about the fact that it's their strategy, so you don't have thousands of Shia and Sunni falling in on each other or attacking each other. You have hit squads going around the city. So this is a purposeful strategy. It seems to me that there is the opportunity to create a political environment in which these issues can be sorted out among the Iraqis themselves and that's basically what we're trying to do.
BOB SCHIFFER: I want to shift just a bit. I read that you are now writing personal letters to every family who has lost someone in Iraq. Why did you decide to do that? It must be a very difficult thing.
ROBERT GATES: This is what I do, unfortunately, virtually every evening, and I guess it's because I feel a personal responsibility for each one of these men and women who have made the ultimate sacrifice for our country, and it's just - it's a small gesture to the families that I personally am involved and that I personally very much care and have great sorrow over the sacrifice that their son or daughter or husband or wife has made.
Posted by editor at 10:49 AM NZT
Updated: Monday, 2 April 2007 12:27 PM NZT