When will it be Our Media?: #1 report: Conference of international practitioners kicks off
Mood:
chatty
Topic: independent media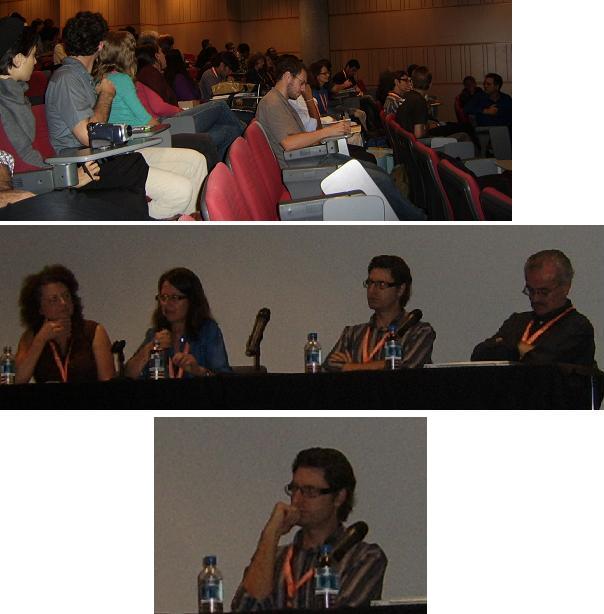 Picture: A t bottom Dr Juan Salazar main organiser of UWS ponders the opening plenary, with some of the local and jet lagged attendance. At top on right On the opening panel is UWS colleague Penny ODonnell (left) and Our Media veterans conferences 1 to 6, Clemencia Rodrigeuz and Alfonso Gumucio. Notice the strong Latin collaborative influence.
This is the first day report of a sceptical activist blogger at the OurMedia conference in Sydney starting proper on Tuesday 10th April 07 (written 11th April revisions 14th April):
'Grey men' as pictured below, opened the OurMedia conference yesterday: Harsh but true. One was dean of Uni of Western Sydney Prof Wayne McKenna at right below. The venue was central Uni of Technology Sydney (UTS) in the CBD, after a film night on Monday at Sidetrack Theatre, Addison Rd Centre Marrickville (which we missed).
Picture: At right dean of UWS Prof Wayne McKenna. At left Dean of UTS Professor Theo Van Leeuwen (who surely is related to Hans Van Leeuwen formerly AFR journo, green media adviser to Lee Rhiannon MLC (Greens), then in the news as house hubby to the editor of Woman's Day).
There was a wonderful attendance of some 70 overseas participants which is a real credit to main organiser Dr Juan Salazar of UWS. However it was not quite enough to overshadow the weak showing of the dynamic local community/alternative/grassroots media sector in Sydney itself, if not Australia, and therein lies a serious story.
Dr Juan, 10 years in Australia, from Chile has some reflection due on that. [We understand most
but not all
of the other conferences 1 to 5 had similar lack of local grassroots activists and has been more a gathering of expert practitioners/academics.]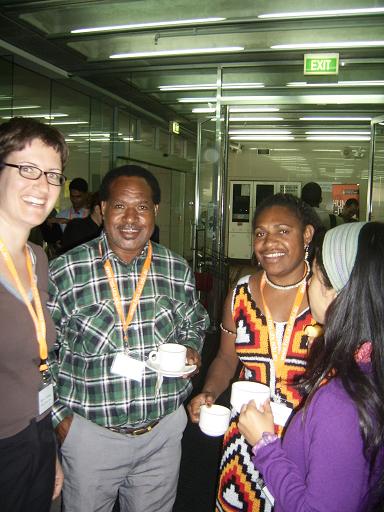 Picture: Radio providers from Enga Provice in PNG with whom we had a friendly chat recalling a visit to the Kokoda area and Lae over 17 years ago (with obligatory bout of malaria - a real teacher).
This 'experts rather than diverse grassroots energy' tone was dissipated a fair bit by the afternoon specialised sessions. Community media folks are by nature interactive and open and the workshops were an inspiration: Workshops attended by this writer included
- New Technology/Creative Commons intellectual property issues,
- Prisons radio
- Japanese FM in shopping centres,
- RRR here in Sydney, based in Ryde area.
We took 6 pages of notes during the day with many more angles to report, with perhaps the biggest one being one to one interview with dean McKenna re the future of free to air Sydney Channel 31 community tv
(our own contested community television tv station controversially taken over to boost educational programmes at Penrith campus at UWS, when it was already serving authentic local community media practitioners for 10 years prior to that).
It is notable that Dr Salazar presenting as a 'high caste Latin' with all his suave humour and good looks is beholden to the UWS dean McKenna, even as he noted Our Media "should not just be about revenue." But why the poor turnout of local students to this high status event?
[Actually we found Dr Juan expressing very strong participatory democratic values as the conference wore on, which was a great antidote to this writer's initial cynicism.]
The key note address by self described 'aging' Prof John Downing, founder director of Global Media Research Center [sic] at Southern Illinois University in strong UK Queens English was a very impressive intellectual traverse. He also managed some serious ironies that seemed shocking to this 15 year community media practitioner:
- he correctly sledged blogs as western english artefacts mostly but also praised their 100 to 500,000 potential audience reach. Mmm that's confusing if valid criticism, noting radio or mobile phone media dominates African and other mass audiences.
- Prof Downing teased out the undoubted language barriers in the sinews and muscle of dominant English vis a vis the other several billion non English speaking global brothers and sisters. Yet the Prof was a living example of English language excellence too, giving the keynote address and with great learning. Was he too good?
I found Prof Downing jarring to hear his view responding to the audience a fairly airy comfort with community media sector folks moving into over paid big media careers. His rationale sounded idealistic but frankly naive on my side of the school of hard knocks:
Sure there is alot of truth in wanting decent people with moral credibility 'inside' (and I know one or two) to influence the often reptilian Big Media including the Govt's ABC here. But I would never read down the capacity of Big Media to capture and indeed sabatage their competitors in the community sector to sustain their big wages and revolving door into politicians' offices.
[The additional layer of irony, as I discovered, was that the Prof has an Afro American wife by the looks, and is a fluent Spanish speaker, so he probably didn't need to hear my 'snot nose' critique of his apparent self contradictory westernism. But I gave it to him anyway, no fear or favour in the plenary. The next day as I was conspicuously wolfing down morning tea muffin(s) having missed breakfast he caught my eye and suggested in passing just 'don't talk', which was very amusing and fair enough, and pretty unlikely Prof.]
After day one I thought, well, it's one thing for me to lay down the intellectual gauntlet as regards proud autonomous identity of the indy sector, to the builders of my own alternative, community and (mainstream) indigenous media sector, and quite another to prove we are worthy to run our own race.
The stage was set for day two with a bit of friction and worry in the mix.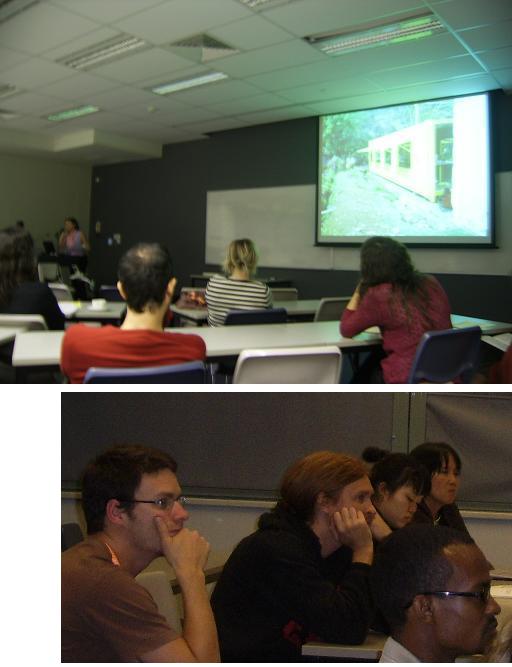 Picture: At top -workshop explaining the shipping container project computer room in Jamaica as presented by local artist, and it seems globe trotter, Francesca Da Rimini.
Bottom image, at right in the background: Japanese interpreter translating record of this parallel session number 5 'New Techologies and Social Action', on left Andrew Lowenthal from EngageMedia community sector version of YouTube with much more ethical revenue sharing IP model. (This bloke AL had all the acuity and charm of a latter day Predator aka Mike Cartlon (RIP) who invented IndyMedia for the world from here in Australia. We suggested to AL he must be channeling the Pred and this seemed quite e a spooky coincidence and 'responsibility' too.
Posted by editor at 9:55 AM NZT
Updated: Saturday, 14 April 2007 3:07 PM NZT