Australian Climbing Festival: Gorgeous, risk agreeable people on a full diet of personal exploration, friendship, humour
Mood:
lyrical
Topic: local news
They say lifting furniture burns a lot of fat for the image conscious in this world of mass media advertising assault. With obesity the subject of popular reality tv shows like The Biggest Loser , imagine lifing yourself over an 8 mile knife shaped ridge line in the High Sierras of California as sainted, elite climber Peter Croft described in his humble tones this weekend at the Australian Climbing Festival 2007 in the Blue Mountains. Indeed a great deal of the crowd were as slender as whippets and looked as strong as, well ... rock climbers.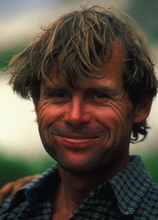 Picture: Peter Croft (Canadian) with his quietly spoken, gentle style and humour appealed greatly to the crowd with applause at his ethic of "climbing for the right reasons" sitting on a ledge no shirt listening to nature, no other climber anywhere. Famous for shocking solo climbs, yet happy to admit backing off a derisory grade 8 unsafe rock, and honest about a rescue "not fun to talk about" for climbing too soon after "a long road trip to Yosemite". A great person who had the hard core audience stuck to their seat at the 'end' of the talk.
The crowd of 500 including hard men and gymnast women at this Easter weekend event were literally in awe of this wiry middle aged solo expert Croft of North America with a face like a map of the world's cliffs. And the competition for most amazing living adventurer at the festival was strong as per this promotion last Friday in the Herald Cruise control the easy way to reach Blue Mountains.
Picture: Don't try this at home: flying suits made famous by Glen Singleman and wife Heather Swan who were also featured on the ABC TV Australian Story :: Lovers Leap
No wonder the crowds came.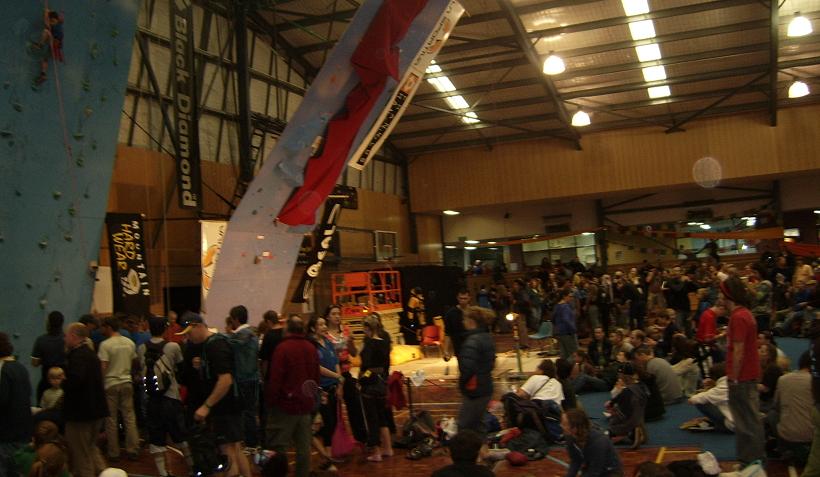 And imagine how this writer felt a country mile from the speakers' level and half a mile from most of the audience: Nervous, intimidated, inadequate but in the sum also inspired not least by the quiet humility of these worthy role models of a vibrant sub culture:Gorgeous lithe strong people, some with brats bouncing around on the safety mats under the sport climbing wall.
Other elite folks stood out at this 2 day festival like Garth Miller who apparently won a climbing competition (?), at least I heard the roar of the crowd next door. I was in a rival event, in this jam packed schedule, of Bolivian music culture and slide show by the Monasterio Brothers including serious mountaineering guide Dr Erik Monasterio. By the time I made it across it was all over.
Luckily I had already met locally based The Garth on the eve of the festival cradling his pudgy babe in arms (introduced by film maker Gary Caganoff also exhibiting at the festival who did some electrical work for our old factory lease in 2001 in Sydney). Miller is distinctively slender and wiry, medium height and again somewhat waifish like Croft. Perfect build for sticking on rock. Almost bird like. This was a body shape to be repeated: Timmy O'Neill (USA), even Malcolm Matheson aka HB (Australia) more chunky yet surprisingly compact, similarly Jonathan Clearwater of Sydney.
The festival website note of Miller:
"By 1998 he had a tick list including two 32 and a dozen 31 on sight including two in the same day, red pointed 33 in three tries and a v11 boulder problem flashed. At the time he was one of two people in the world to on sight at this level and still the only Australian to do so."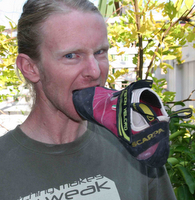 Picture: Garth Miller hams it up for the camera on the official website, compared to the doting father with baby in arms we met on the eve of the festival.

To understand these climbing grades compare a gold medal olympic pole vaulter, high jumper or floor gymnast. It's that good, or as one speaker noted "in other sports he'd be on a million dollar sponsorship but we climbers just do what we do"
I asked Caganoff was he intimidated living up here in the mountains mixing with these top level climbers and adventurers. "No, more my peers. I don't do that much climbing now though. At Kendall [Kendal Mountain Film Festival in the UK] I was in the room with 30 Everest summiteers. Chris Bonnington and Doug Scott. They were my childhood heroes."
This sparked my memory of an already middle aged Doug Scott signing a poster of one of his Himalayan trips at a the ANU (Canberra) film club in about 1984, which I have dragged around with me for 23 years, creased and tatty but somehow just as grand as gritty DS himself who from memory crawled off The Ogre for a week with two broken ankles after taking a 'Very Big Swing'.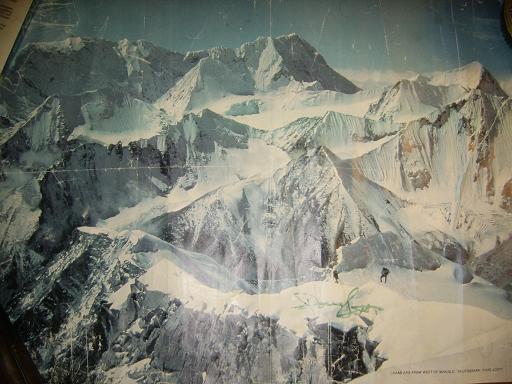 Picture: Chamlang west of Makalu (Himalayas), photo by Doug Scott sold to the writer in 1984 at a fundraiser for his next expedition, note signature.
Although it was chilly, we were reminiscing in the relative safety of
Katoomba
in the Blue Mountains some 1017 m elevation and the Australian Climbing Festival was yet to begin.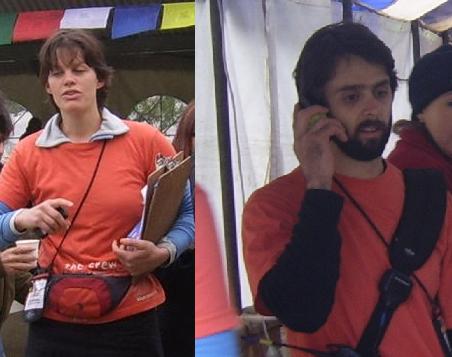 Picture: Clair and Adam Donoghue the dedicated calm partnership behind a successful team of vollies delivering a tourism booster for Katoomba, busy as ever the first morning of the festival. Both were acclaimed several times during the next two days for rebooting this 'every 2nd year' event from the 90's after an 8 year lay off.
Trucks and exhbibitors were industriously crowding into the local sports complex on this cold Friday night as prep for the next 2 days as tourists oblivious, enjoyed Echo Point and the cafe culture: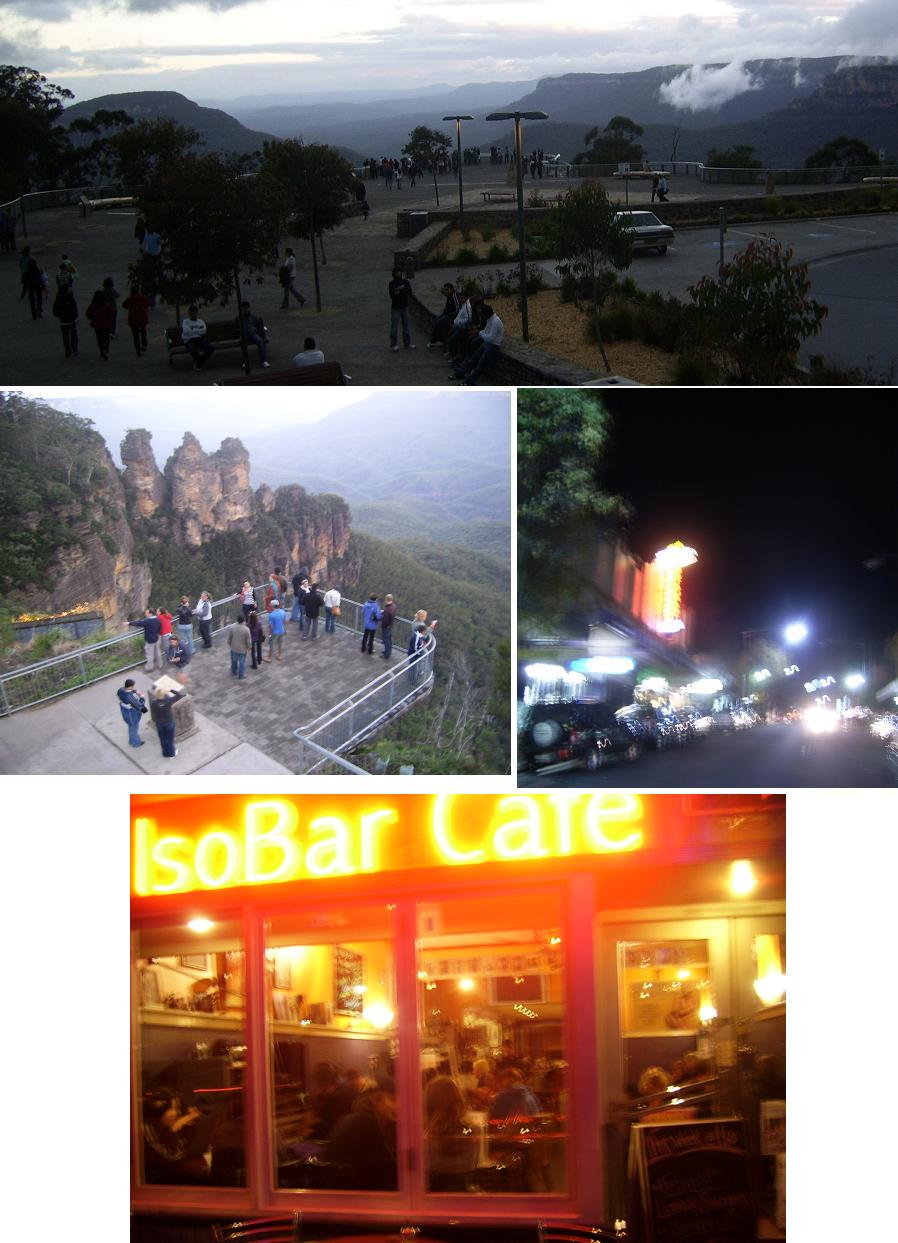 Picture: The usual passive interactions of visitors to Katoomba at Echo Point, still quite satisfying to the foreign tourists who seemed very happy soaking up the cool high oxygen as children romped around excited, 20 year olds paraded, others to retire to the warm cafes Paragon, Niagara or as here piano playing Isobar Cafe. The tea and pumpkin soup was a treat. Local sculpture at Echo Point reads "When I reached the lookout at echo point the light was thick and golden/ As if it had passed all day through a butterfly's dusty wing."
My problem however was this: Now that I've pursuaded the organisers to give me a free media pass to an otherwise modestly priced 2 day event ($100), how can I do justice in this blog report, to earn my keep as it were? How indeed to talk to these elite folks at all without blubbering like a fool? And they do have their jargon like Trad, Free and Sport climbing styles. Without realising it I found my answer by applying the climbers' axioms: Attention, focus, commit, accept, and there were a few others I forget now (via speaker Arno Ilgner ).
In other words adapt to your conditions in the now, which in my case were these press reports over the Easter Break on global warming which naturally related to the frozen alpine regions.
But first we were treated to a gracious and highly appreciated welcome to the country of the traditional Aboriginal owners by these Indigenous ladies who had some sly and amusing things to say about the extreme rock climbing ability of the festival participants: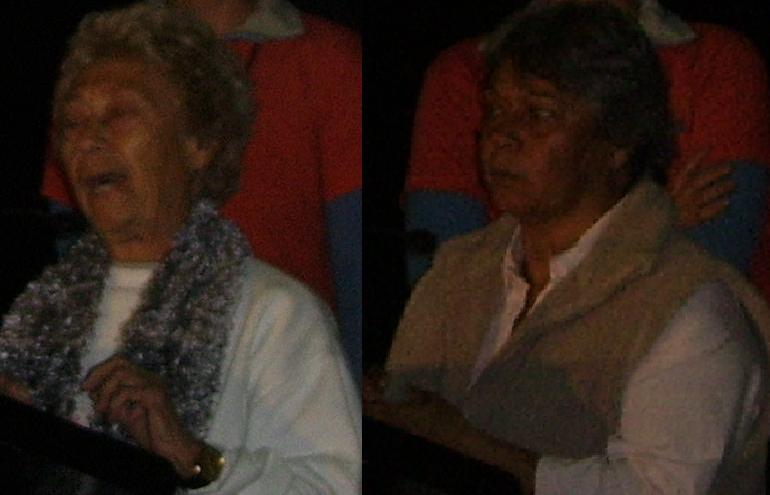 Picture: Welcome to country. More information on the Indigenous of the Blue Mountains here.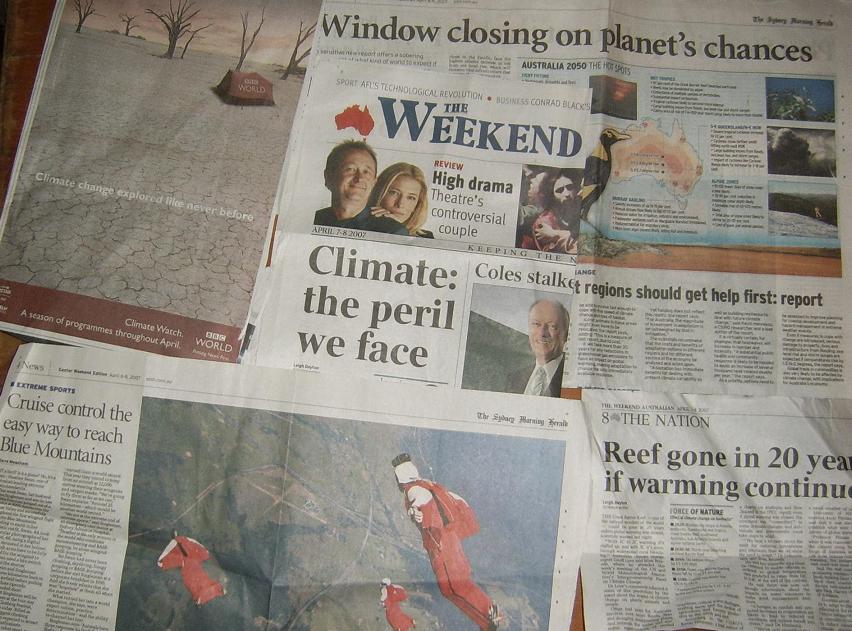 Picture: Mountaineers and outdoor ventureres are likely excellent lay front line witnesses to global warming changes as their guide books and living memory reveal something is indeed on the move. This was borne out by personal observation of presenters Croft, Matheson and Monasterio.
Yep the planet is likely fucked, and the the climbing veterans just might have an opinion about the reality of that, and they DID, hardly needing any prompting as per this in the
Sydney Morning Herald
this same weekend:
Window closing on planet's chances - Environment - smh.com.au
: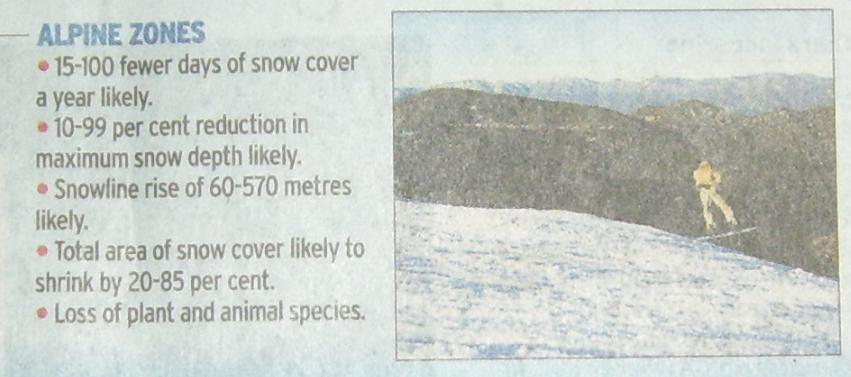 Here are some of the comments we obtained, to paraphrase the conversations, here:
SAM. How do you react to reports like this in the local Sydney Morning Herald about rising snowline and less days snow cover, in your personal observation?
Peter Croft: It's true. You see it in the High Sierra in California. In Canada too the glaciers are retreating. In the [European] Alps classic ice climbs are disappearing, just not there anymore. Even places like the Eiger are bound together by the ice and they're unstable.
Q. So at your elite level, it's a topic of conversation amongst your peers?
Peter Croft: Yes it is. It's discussed at other mountain festivals too. It's crystal clear it's happening.
.......................
SAM. Dr Erik Monasterio yesterday was a little confronting in his talk, saying climbers exagerate low risk and under rate high risk. He gave the example of expert rock climbers shifting over to mountaineering lacking the right skills. Do you think global warming will increase objective risk and climbers will understand that? Erik even mentioned an example of a boulder coming loose and nearly killing him.
Malcolm Matheson aka HB: Yes, for sure. My friend Steve Monks [Wild and Rock Index - Issue 27] whose been a guide in the European Alps for 22 years says the Mattahorn is getting dangerous.
I've been climbing for 28 years and never had an accident, and that's not to say I haven't experienced some dangerous situations or done some serious climbs.
Me: Yes, your record speaks volumes for properly analysing risk. Thanks for your time I can see your young daughter is ready to go.
[5 year old in face paint getting towy for Dad to stop his work for a mo]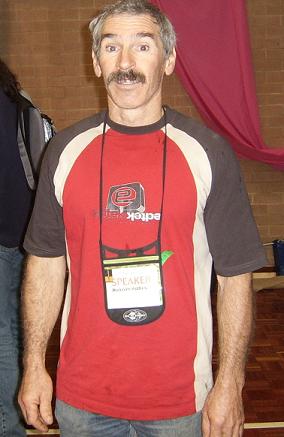 Picture: home grown excellence. Malcolm Matheson or "HB" a veteran and pioneer of innumerable climbing routes in Australia, and like other elite climbers unassuming and very self confident. Presents like the original 'cougar man' only compared with that funny advertising campaign here in Sydney HB is the real deal, no bullshit. A real master.
............................
Dr Erik Monastario of Bolivia and mountain guide, mentioned above gave some worrying analysis in one presentation of expert climbers at grade 5 in mountaineering terms (very high) who were still experiencing catastrophic injury or death at 5-10% out of a limited sample of 50 subjects over 4 years suggesting that mountaineers even of high ability tend to make weak risk assessments exagerating low and under rating high risk. He gave the example of the 'safe' moderately sloping ramp to Mt Aspiring in NZ which killed 4 climbers in 2002-3.
He also gave the example of an unstable boulder that whisked past his nose in Bolivia leaving the burning smell of rock clashing on rock as an example of our warming climate. If mountaineers underestimate global warming induced instability this fatal or near fatal injury rate may increase: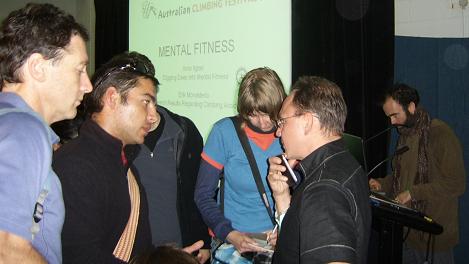 Picture: Dr Erik Monasterio at right answers further earnest questions from climbers directly after his challenging talk.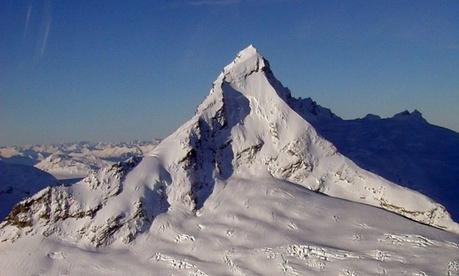 Picture: The beautiful Mt Aspiring west face near Wanaka NZ south island, deceptively dangerous, just under 10,000 feet from a 6000 bottom step (climbed by this writer 1990). Image from Google Earth.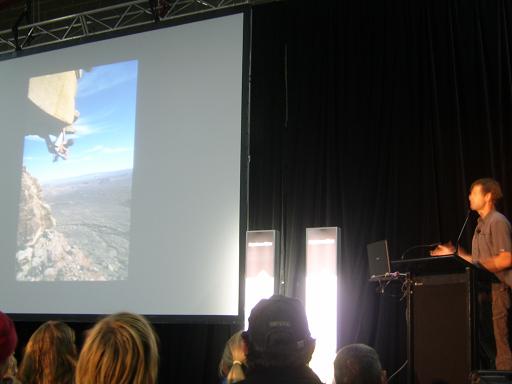 Picture: Peter Croft mesmerises the large audience, winning indelible respect from the audience.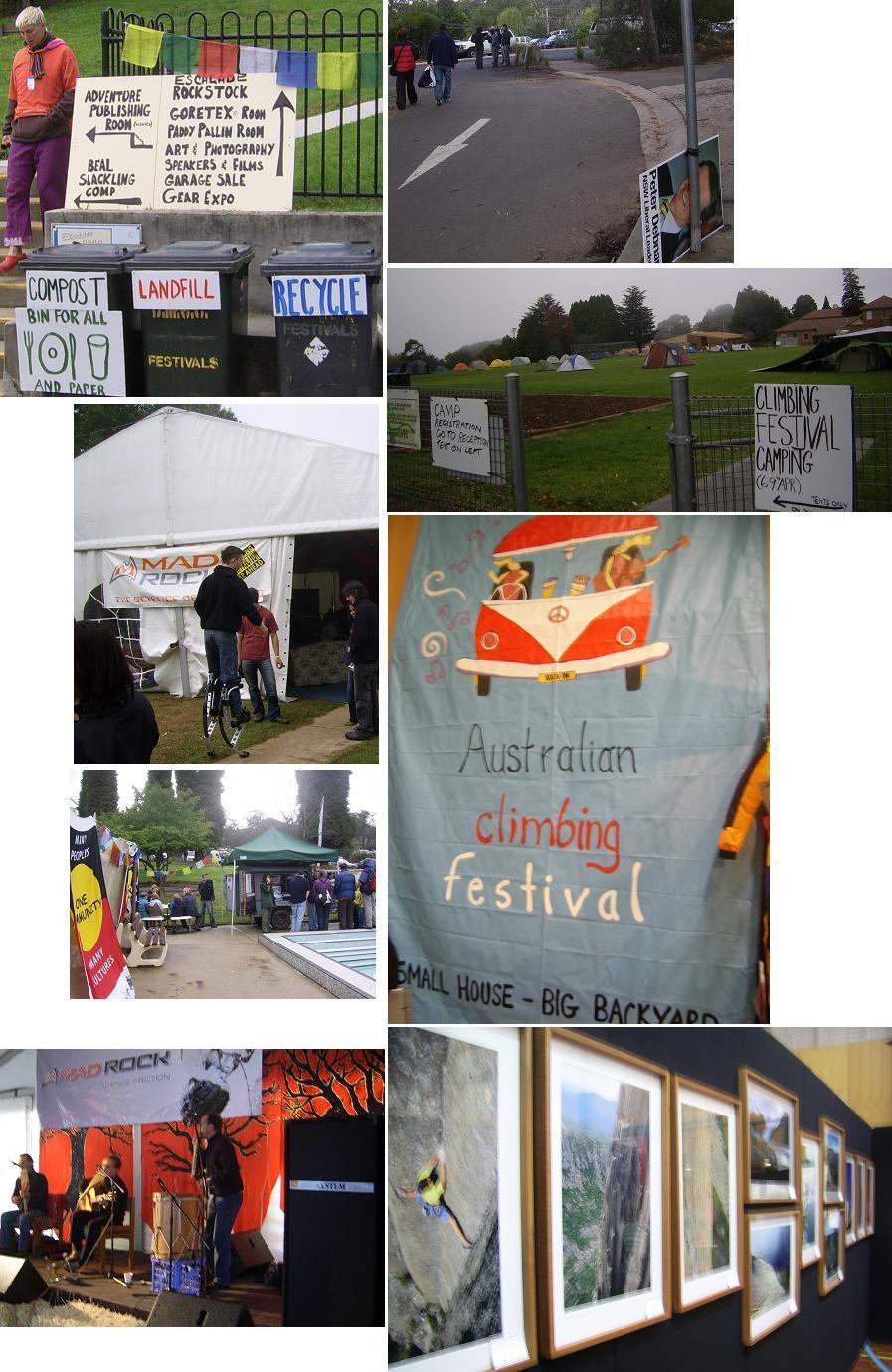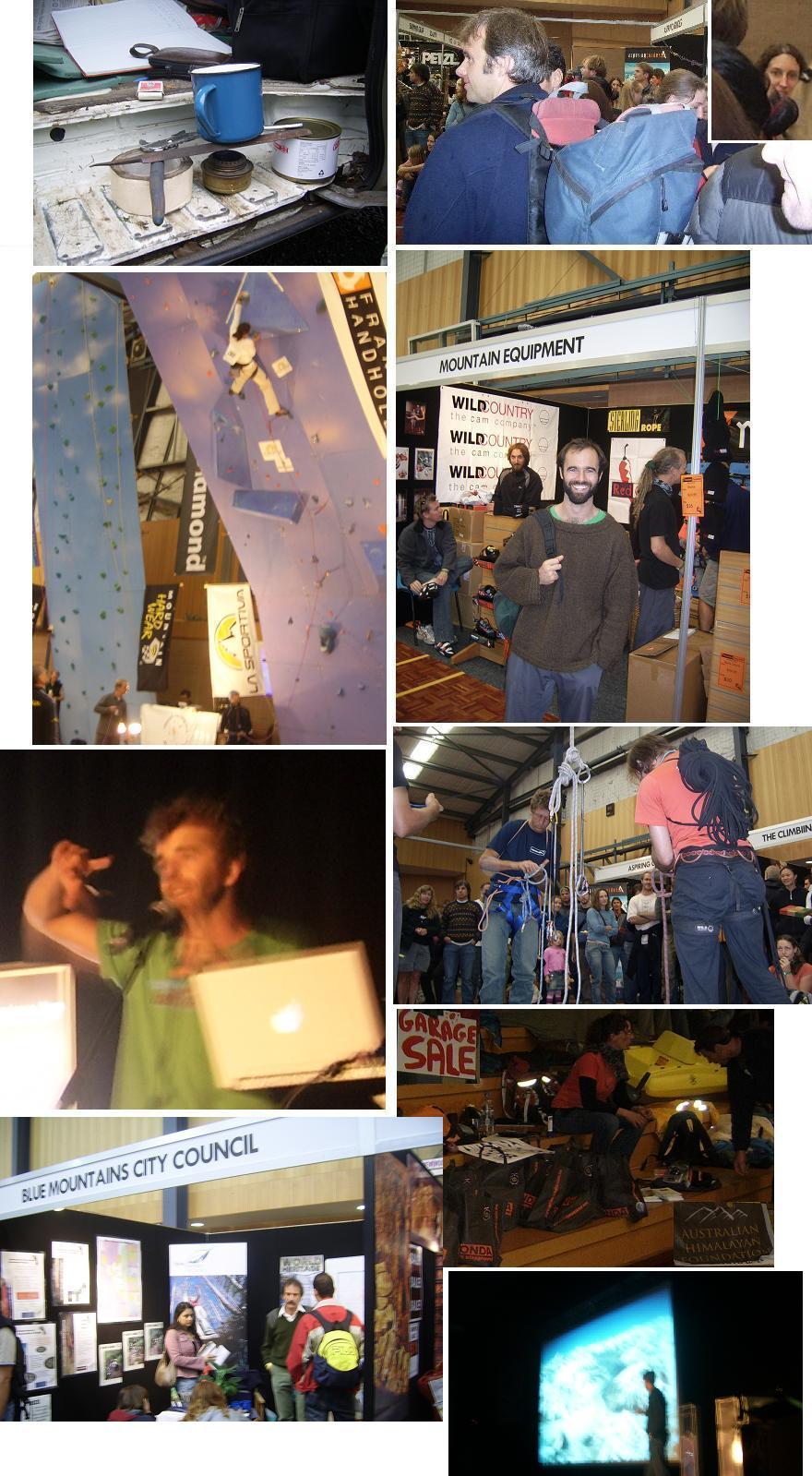 Pictures: Collage of conference experiences including
- everest veteran Tim Macartney-Snape talk (bottom right) for World Expeditions,
- Blue Mountains Council supporting the event,
- garage sale for Australian Himalayan Foundation - giving something back (a charity for the Nepalese);
- Timmy O'Neill , a seriously good speed climber and veteran of El Capitan at Yosemite in the USA but also exceptionally ribald and hilarous comedy prankster, mixed with inspired compassion working with disabled climbers (brought the house down)
- Jonathan Clearwater in front of Mountain Equipment stall, who presented on Epics and Ethics about a 5 day climb in Pakistan
- the beautiful climber woman across the crowd (inset)
- they funny guy on spring legs
- the jury rigged coffee cup when we didn't have access to Mama Java fair trade coffee
Several other events have not been reported. Like the sport climbing which was hugely popular, the slack line tightrope walk over the pool which attracted a big crowd, the food stalls, bar, lots of live music up to 10pm or so.
There were some glitches in such a big operation worth noting for next time. Some of the films were cutting edge productions eg Cannibals and Crampons but somehow the DVD's were not road tested on location in the exact equipment and some failed until polished or replaced for the 2nd day. Similarly a slide show on the second day was woefully out of sync which really vexed the presenter. But with these minor hiccups it was a satisfied crowd that bailed out on Sunday night having laughed for a full hour with Timmy O'Neill and then sat like stunned sponges soaking up the unique character that is Peter Croft even by comparison with other elite presenters, as much to do with his subtle personality as his gift for climbing.
On a positive environmental note at the festival we also met an old environmental colleague and climber from New Zealand, Brent Hoare living in Katoomba. Just as we are very concerned about global warming effect on climbing environments, he is working on a practical reversal of that problem regarding ethical refrigerants which seemed ironic given the cold nights up there. We promised to add some info to our festival report because that is exactly what catching up at such events is all about. Reconnecting, reskilling, new directions and contacts: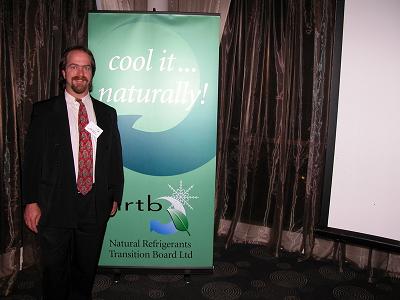 Brent writes today:
Sent: Monday, April 09, 2007 10:22 AM
Subject: NRTB info
Hi Tom,
Here's what I put out in advance of the NRTB launch, and some additional info at the bottom. Great to catch up look forward to staying in touch. Hope the picture is usable. Other websites to look at include www.nrtb.org.au , and for an international slant, www.mipiggs.org

Cheers! Brent Hoare 0417 478268
In short his non profit group have a $2 million grant Feb 2007 from the Australian Government to promote safer hydrocarbon refrigerants in big business like Coles, Woolworths, Streets/Unilever, Roche to replace HCFC and HFC refrigerants which are up to 4000 times worse than CO2 for global warming. If memory serves Brent mentioned this about 14% of greenhouse emissions (in Australia?).
The NRTB is comprised of professional engineers, equipment designers and manufacturers which aims to promote the use of natural refrigerants. Bravo!
................................
Clair Donoghue says the Australian Climbing Festival is planned as an every two years event as it was in the 1990's, so look out for it in 2009, it should be very good. And assuming it is to be held in the Blue Mountains again notice this shop on the way up to Katoomba from Sydney:

Also the last picture below should go to Malcolm Matheson who solo climbed El Capitan 3000 foot vertical rockface, and then spent the coldest night of his life in this perched platform structure at the summit hanging from a tree: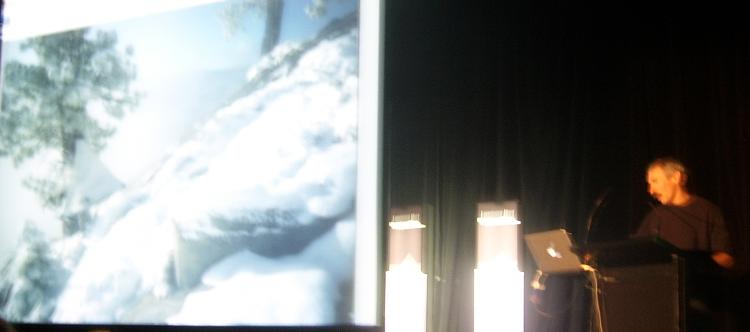 Postscript #1: Sydney Morning Herald 19th April 07 UN rebuff for Britain on global warming with this quote at the end: "China has created artificial snow in Tibet after experts warned of melting glaciers in the Himalayas. The Tibetan meteorological station had created a fall of 2.2 millimetres, which accumulated to one centimetre, last week, about 4000 metres above sea level in northern Tibet, the Xinhua news agency said yesterday."
Postscript #2 A tengential article sympathetic to the above was in Good Weekend of Sydney Morning Herald p29 April 21 2007 called "Powder Keg" about an area on the border of Pakistan and India prone to avalanches, and very popular with elite skiers. There is no overt connection made with global warming threat but one wonders. It does capture the spirit of adventure, and misunderstanding objective danger, as written by expert sports reporter Jacquelin Magnay.
Postscript #3 Another related article in the Big Media: A ripping tale of Lincoln Hall's lucky escape with help from just below the summit of Everest in 2006 after suffering a brain oedema (brain swelling) shutting down most of his survival functions: "Left for dead", p18 April 28, 2007 The Good Weekend, Sydney Morning Herald.
The title refers to direction from base camp to abandon the immbolile speechless Hall putting his sherpas lives at risk as night approached. We at SAM wonder if one significant reason Hall got so much help at serious cost to other climbers when rediscovered next morning was at least in part because of his highly respected reputation, both as a climber and person i.e. good karma.
Postscript #4: We like to think at SAM we started an 'avalanche' of stories about the outdoor mountains scene in the Big Media, with our conference report above. Who really knows. Similar to the Lincoln Hall reference in postscript 3 see Fran Kelly ABC Radio National here recently: Radio National Breakfast - 2 May 2007 - Lincoln Hall
There definitely is a public interest in learning more about global warming from that adventurer perspective and so again here on SBS Dateline last week, and wow what beautiful photography:
| | |
| --- | --- |
| Wed, May 2 2007 | |
The Great Meltdown
Welcome to a special Dateline on what has to be the global topic of the moment - climate change, its true impact and what the heck do we do about it? Right now, our own increasingly dry and drought-ridden continent seems clear proof that something drastic is occurring with the world's climate ...more >
David Miliband Interview
This morning, Australian business and political leaders woke up to this full-page ad in the 'Financial Review' placed by five senior private sector economists ...more >
The Shrinking Alps
And now to Europe's snow-clad Alps - or to be more precise right now - Europe's normally snow-clad Alps ...more >
Posted by editor at 11:40 AM NZT
Updated: Friday, 4 May 2007 8:07 AM NZT