Rudd's first day flop with mediocre wallow in personal insult
Mood:
d'oh
Topic: election Oz 2007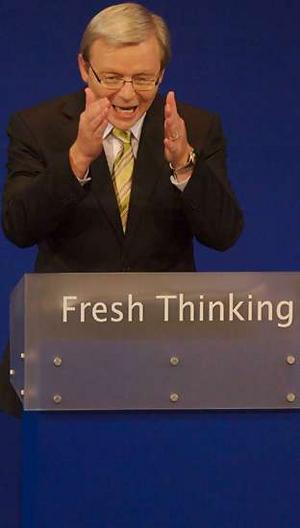 Picture: Lifted from Sat April 28th ambiguously pandering Sydney Morning Herald with this caption "Kevin Rudd delivers the openning speech to the Labor Party National Conference in Sydney this morning
[Fri 27th April]
Photo: Wade Laube"
We at SAM say beware the familiarity of Big Media that breeds contempt. For instance notice already Paul Kelly of The Australian at a fork in the road assessment of Rudd here: Singing same old tune
Postscript #1 as preface: Saturday Sat. 28th April 2007 in "Preaching to the converted" in Spectrum, Sydney Morning Herald book reviews, quoting Professor of Politics Dennis Altman, La Trobe University, reviewing Allied and Addicted by Alison Broinowski, 2007:
"The Howard Government has been elected four times and in the last election won sufficient support to gain a Senate majority. A convincing criticism of Howard needs to engage with the reality of his electoral success and his genuine popularity over the past decade. Those of us who don't like John Howard have an obligation to engage with those who do."
[Story written late Friday 27th April begins here]
So this is the baby the ALP is depending on, the country is depending on, the environment is depending on?
Cheap jack personal insults about PM Howard stuck in the black and white tv age. The giggling little mummy's boy on the dairy farm. Or dancing with Kerry Anne at least.
Way dumb. Way stupid.
So you tribal ALP barrackers think indulgent personal ridicule and a fat lead in the polls will get you the reins of power?
I'm about ready to call the election already – for Howard.
The most accomplished and successful politician in a generation. Maybe in the history of Australia. A man who has refashioned this country to his own sense of correctness, tone and direction. A man with 4 elections behind him.
And you make a speech dripping with disrespect? Throw away lines about Howard being clever yet somehow living in the past. Well if he is then the Australian voting public are too. Have been 4 times at the polling booth.
Here's a wet fish slap in your face Kev. You are a joke. You are stupid. Howard is far more mature. That's why he said you were showing inexperience. Because it has resonance. Not because your Fair Work Commission really lacks constitutional legality but because inexperience echoes in comparison to this 11 year Prime Ministerial veteran.
How dare you betray your own true sense of the task ahead that 'it's a long long way to climb the summit to the vote'. You can't have it both ways, a long way behind and a huge task ahead to get the trust of the People, and at the same time regard Howard as a figure of ridicule and backward attitudes. If Howard wins he will install nuclear weapons, an unprecedented step for Australia. And you call him old fashioned? Well how dumb is that? It might be an old idea but it's a totally new reality Howard aims to achieve here in defence, in IR, in climate policy, in foreign relations, in refugee policy, and all the rest.
New ideas? Who cares when he's remaking Australia with the ones he wants? And the People may well want too when the pen hits the paper.
If you can't respect your political enemy for the frighteningly scary opponent he really is, then you should resign now and give someone who understands the gravity, responsibility and privilege of being a real Opposition Leader to someone who does. If anyone exists. Or can that still be you to emerge at this conference or sometime soon? Because I haven't seen a winner yet. I saw a cheer leader for a football club, an MC for a 21st birthday party, a gawky prefect on School Night, but I didn't see a Prime Minister in waiting.
He's hiding somewhere scared of being the real Kevin Rudd perhaps, doing stupid speech tricks written by lightweight media manipulators. But that won't cut it, not in the polling booth. A real PM in waiting would respect John Howard, not ridicule him. And take a good chunk of his voters off him in the process.
After leaving the ALP conference street theatre this morning I took the daily press to a café on King St in Newtown which is very left and green voter territory. The café owner in his late thirties or forties likes to get my political summary. And here's the warning Kev – he said Howard deserved to win, he's done a good job. Wake up to yourself champ. You're going backwards.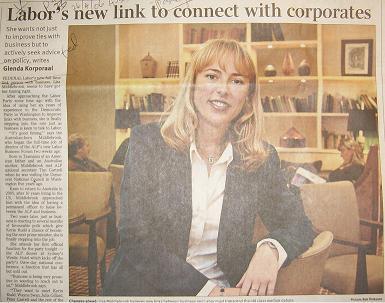 Picture: Team Rudd were progressing nicely as per this article above at Labor's new link to connect with corporates | Business | The ...
last Thursday 26th April, until they went the personal sledge to appease the culture of muck raking first day of the ALP conference.

Postscript #2, on why the Big Media like today's Rudd friendly press can't report the important information in a timely and proportionate way, by way of illustration quoting from "In an electric storm" by Bernard Zuel 28th April, SMH Spectrum,
"..given its contemporary status as a groundbreaking film, Don't Look Back was rejected by all the big film distributors in 1966 and 1967, with one telling
[film maker]
Pennebaker that it was "ratty, badly focused - it's hard to hear what anybody's saying. It's just a disaster film."
[perhaps like this blog?]
It was a porn-cinema magnate, trying to become respectable for his wife, who picked up the rights and screened it in an adult cinema in San Francisco. You get the feeling even the Bob Dylan of 1966 would have laughed himself hoarse at that."
In other words pioneering profound truths are not about making money. They are about telling the truth. Big Media on the other hand is exactly about making money and always way out of date. To be specific the press today are very complimentary about Kevin Rudd's Australian Labor conference on day one because it will sell papers, not because it is true, leveraging current perceptions of polling success to date. Just as the market was not ready for the raw Bob Dylan doco 30 years ago but hungrily sponge it up today.
But the headlines today (including the reverse fillip of Howard's Strangelove embrace of nuke power) are the lull before the nightmare of bleeding poll numbers. The truth is Ruddy looked and sounded weak on the first day of the conference unlike say Julia Gillard on Lateline last night. Truth is Rudd looked overwhelmed by a convention of his peers capable of frightening professional violence.
But Rudd's history shows he is not weak or ineffective, and it's that history which he must manifest for his future. The grit that learned Mandarin, that raised 3 kids, that supported a successful business woman as wife and indeed their long fruitful marriage. The grit that got over the death of his dad turning his world upside down. The grit that saw him strike out in his own direction to be his own man. That's the grit that Australians are impressed by, have warmed too, and he must project over the next several months to climb the summit to the vote. Not the other guys so called flaws, but the better item he wants the Australian People to buy.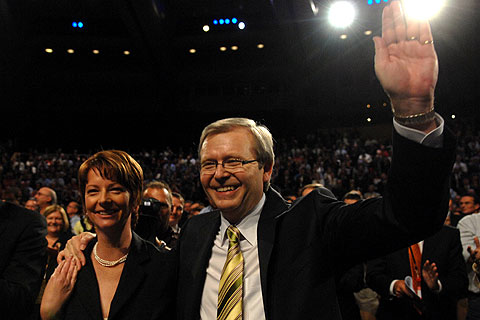 Image from The Australian, above Paul Kelly influential opinion piece Singing same old tune. This moment apparently caused a cheer in the audience.
Which truth does Ruddy want to gain traction about his true nature? The nervous nerd, or the gutsy talented surprising leader who learnt Chinese when everyone else was ... doing regular stuff like law, or economics. (The kind of thing you hire other people to bark for you.)
It's going to be a nerve wracking white knuckle trip all the way to the vote, assuming any contest at all.
Posted by editor at 11:30 PM NZT
Updated: Saturday, 28 April 2007 3:18 PM NZT